DVD Review: Deadwood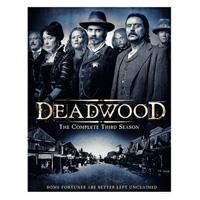 Season 3 HBO
---
Series ••••½ Picture ••••½ Sound •••½ Extras •••½
Once considered the heir apparent to the
Sopranos
throne,
Deadwood
has seemingly ridden off into the
in medias res
sunset. But whether
Dead-
or
Alivewood
, this 12-episode third season is riveting in its depiction of a frontier town nearly torn asunder by the whims and machinations of maniacal magnate George Hearst (Gerald McRaney, in what should have been an Emmy-nominated turn).
In these brilliant transfers, the 1870s of Deadwood could hardly get more lavishly brown, as the dirt, dust, and mud of the town are practically characters in their own right. You can see grit, sweat, and grime in close-ups of many of the male faces - and on one notable female face, that of perpetually besotted Calamity Jane (Robin Weigert). However, some of the gents seem to suffer from teeth-too-white syndrome (yes, I'm talking to you, Timothy Olyphant, a.k.a. Sheriff Seth Bullock). Favorable lighting is justifiably deserved for bank entrepreneur Alma Ellsworth (a luminous Molly Parker), and at certain angles, you'll be able to navigate the patterns of her freckles.
The show's costuming also looks resplendent, clearly benefiting from the standard HBO practice of spreading episodes piecemeal over multiple discs to avoid compression issues (in this case, six discs do the trick). Blacks are well rendered, especially evident in the folds on lace sleeves. And you'll want to reach out and touch the crushed-blue-velvet dress that drapes reformed madam Joanie Stubbs (Kim Dickens). But the dreaded moiré occasionally creeps in, to the point of distraction - as when it dances on a jacket worn by swarthy saloon proprietor Al Swearengen (Ian McShane) or a shirt that adorns charismatic traveling actor Jack Langrishe (Brian Cox).
The show's indelible theme music gets full surround treatment. All dialogue is properly centered, but there's appropriate Dolby Digital 5.1 ambience whenever scenes take place in crowded gin joints (clinking glasses, ragtag ragtime piano) or in the ever-bustling thoroughfare (hammers clinking on anvils, clip-clopping hooves, nattering townsfolk).
The extras on Disc 6 are tasty, though they left me wanting more. (HBO often broadcasts, and posts on its Web site, things like cast interviews at premieres and behind-the-scenes or on-set chats; why can't they be included here?) Both documentary shorts clock in around 20 minutes each. Deadwood Matures is a scholarly look at the changes the town was facing with the elections of 1877, the location of the schoolhouse, and the introduction of the theater - all major plot points of Season 3. The Education of Swearengen and Bullock examines the changing relationship between the two main leads. Olyphant gets it right: "The show's about the camp, not me or Ian." You also get daguerreotypes showing the camp's changes over time and portraying some of its principals, but the selection hardly feels exhaustive.
LATEST VIDEO