DVD Distinctions Page 3
RCA DRC510N In a world increasingly populated by iPods that put thousands of songs in the palm of your hand, RCA's DRC510N is a behemoth. On the other hand, it is a changer that holds five discs and plays MP3, WMA, and JPEG files. And it takes the mirrored aesthetic to the extreme - fried-chicken lovers beware.

RCA DRC510N
DIMENSIONS (WxHxD) 17 3/8 x 3 3/4 x 15 3/4 inches PRICE $99 MANUFACTURER Thomson/RCA, www.rca.com, 800-336-1900
PLUS • Good audio/video playback quality • Plays MP3, WMA, and JPEG files • Simple operation
MINUS • Huge mirrored front panel • Skimpy features
Compared with the Panasonic changer, the DRC510N is a no-frills model with a modest set of features and a simple (yet elegantly styled) remote control. You'll find Introscan for previewing CDs, picture zoom (1.5x, 2x, and 4x), a virtual surround mode for two-speaker setups, and a slide-show mode that lets you display JPEG snapshots while listening to MP3 or WMA music. RCA keeps things simple in terms of picture-adjustment options, too, providing only a black-level control.
Music Performance Starting with music, I loaded in Velvet Revolver's Contraband CD and braced for an assault. What else would you expect from a band that brings together Guns N' Roses and Stone Temple Pilots? In "Spectacle," the electric guitars were ablazing and the drums apounding, sounding every bit as big and bad as you'd expect.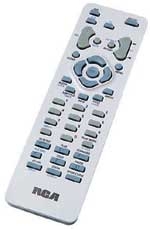 Movie Performance For movie magic, I returned to Equilibrium, picking up as the chief enforcer tirelessly works to eradicate any trace of emotion or humanity from society in Chapter 2. People sit motionless in long rows as they're lectured on the evils of humanity. These stark scenes use muted colors that might have looked too dull and muffled, or too pronounced, on some players. Here they looked just right. On the other hand, with progressive-scan output, I saw some color smearing on menu screens as well as traces of this in some movie scenes.
---
If you're looking for a basic player that's simple to set up and use and are more interested in spinning discs than futzing with menus, RCA's DRC510N changer will appeal to you. PDF: Features Checklist PDF: In the Lab