DVD Distinctions Page 2
Panasonic DVD-F87S You can spot carousel changers like Panasonic's DVD-F87S a mile away because they're so big. But giving up some real estate in your A/V rack gets you a player that handles five discs instead of one. The F87S embraces the mirrored styling theme that seems to be taking over the DVD world. (When's the next styling breakthrough?) Among the smattering of buttons on its slim faceplate is one to engage CD mode, which skips over any DVDs or photo discs in the carousel, and numeric keys for direct access to CD tracks or DVD chapters.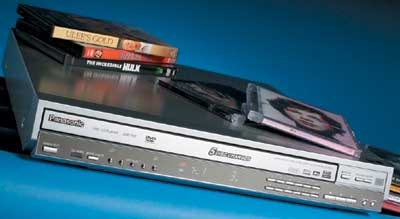 Besides CDs and regular DVDs, the DVD-F87S plays DVD-Audio music discs, which deliver the same sort of surround sound experience you've come to expect from movie soundtracks. It's also one of the first DVD players to support HighMAT (High-Performance Media Access Technology), a file format that lets you share digital media between PCs and consumer players. Throw in compatibility with MP3 and WMA music and JPEG photo files, and you have a nice bridge to your PC.
Panasonic DVD-F87S
DIMENSIONS (WxHxD) 17 x 2 3/4 x 16 1/4 inches PRICE $130 MANUFACTURER Panasonic Consumer Electronics, www.panasonic.com, 800-211-7262
PLUS • Convenient carousel changer • Solid CD/DVD playback quality with useful CD and Cinema modes • Plays DVD-Audio discs • Plays MP3, WMA, and JPEG files • Multi Re-Master processing to improve sound of compressed audio sources
MINUS • Uninspired styling
Hitting the remote's Menu button provides access to four processing options: Bass Plus adds oomph to the low end, Cinema automatically adjusts picture contrast to improve the visibility of details in dark scenes, Multi Re-Master is said to improve the sound quality of MP3 and other compressed music files, and Depth Enhancer reduces video noise. All of these perks are available through the player's serviceable but ultimately plain-vanilla remote.
Music Performance I immediately fell in love with the changer's fast-forward/reverse modes, which can rocket through songs and scenes. I cued up the surround sound version of the Styx comeback album, Cyclorama, on DVD-Audio. It has plenty of head-banging guitar licks and mighty walls of drums, and the sound quality was first-rate.
Since more and more music we listen to is stored in MP3, WMA, and other compressed audio formats, I was anxious to check out Panasonic's Multi Re-Master processing. When I popped in a CD loaded with WMA files and hit the Multi button, I was impressed with how it gave the treble a more natural sound. And I could select from Light, Medium, and Strong settings to get just the right tone.
Movie Performance Ready for some movie action, I cued up the DVD of Equilibrium - a Metropolis meets Brave New World meets Minority Report movie about a society where everyone takes medication to block emotions and enforcers maintain order. When enforcers raid an artists' den in Chapter 1, guns blaze, windows explode, and smoke fills the air. Everything looked chillingly real - especially the gradation from light to dark areas, which can reveal playback problems in lesser players. I also appreciated the player's Cinema mode - as advertised, it brought out detail in the dark areas. The Dolby Digital processor did a terrific job of reproducing the movie's dark and gloomy soundtrack. Be sure to check out the shrieks as the Mona Lisa goes up in flames.
---
Panasonic's DVD-F87S is an impressive player that accommodates a variety of disc and file formats and offers a well-thought-out set of features. Add to that its five-disc capability and low price, and you've got a winner.
PDF: Features Checklist
PDF: In the Lab