DVD Distinctions Page 4
Toshiba SD-V392It's easy to forget just how powerful VHS was (and is) now that tape is fading into the sunset. Fact is, billions of videotapes are still in circulation, and you'll find a working VCR in eight out of ten American homes. Furthermore, the VCR is still a great way to record video on the cheap. So Toshiba's SD-V392 DVD/ VCR combo makes a lot of sense.
Toshiba SD-V392
DIMENSIONS (WxHxD) 17 x 4 x 9 3/4 inches PRICE $130 MANUFACTURER Toshiba, www.tacp.toshiba.com, 800-631-3811
PLUS • Good audio/video playback quality • VCR onboard • Simple operation
MINUS • Skimpy DVD features
Its utilitarian faceplate abandons any attempt at styling - no mirrored surfaces here. Among the player's few features is Spatializer virtual surround sound for two-speaker setups, a black-level picture control, and a slide-show mode so you can cruise your JPEG snapshots on the big screen. Of course, the player also sports a component-video output with progressive-scan processing, which provides an image that's a cut above regular (interlaced) DVD playback. The remote is typical for a modestly priced player, with extra buttons for VCR control.
The VCR is a four-head design with SP and SLP recording speeds. It'll play tapes recorded at LP speed as well as those recorded on a Super VHS deck (but with standard VHS quality). There's a handy Commercial Skip (CM) button that jumps ahead 30, 60, or 90 seconds as well as "one-touch" recording. The VCR won't record copy-protected DVDs through either internal or external wiring schemes. But you can record on the VCR while you're playing a DVD.
CD and DVD Performance I started by popping in Mark Knopfler's Ragpicker's Dream - a masterful recording and one of my favorite music "test" discs. Knopfler's blend of country, blues, and rock sounded crisp and full, leaving no doubts about the Toshiba's abilities as a CD player.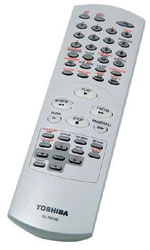 Moving on to DVD, I cued up Chapter 3 of Equilibrium, where the enforcer meets up with the very intimidating Vice Counsel. The two men are dressed in dark colors, in a dark room, and lit from above. Their pale faces don't have much flesh tone, and the player properly conveyed their sallow hues as well as shadow details in the room. When the Vice Counsel closes a book sheathed in brushed metal, the texture of the metal was clearly visible, as was the type on the pages inside the book.
VCR Performance To check out the VCR, I loaded a VHS copy of the original Terminator and fast-forwarded to the climactic factory scene. While I was quickly reminded of just how inferior videotape is to DVD, the VCR put up a decent picture through its composite-video output.
Zeroing in on the movie's raucous soundtrack, I thought the Dolby Surround tape sounded pretty good - although no match for the DVD's enveloping Dolby Digital 5.1 track. When I recorded some off-air programs, the deck's performance was typical of standard VHS recorders. Frankly, in this DVD age, it's hard to get excited about VHS recording. Still, it's a cost-effective way to time-shift your soaps.
---
There is nothing fancy about the Toshiba's SD-V392. Its feature set is so sparse that the VCR has more features than the DVD player. But if you have a valued collection of VHS tapes that you still enjoy and also want a good yet simple DVD player, this space-saving combo will do the job for less than what you paid for your first VCR. PDF: Features Checklist PDF: In the Lab