Don't let me hear you say life's taking you nowhere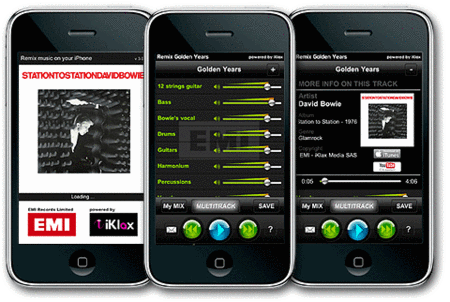 Some new stuff-or new takes on old stuff-from the David Bowie camp. He's releasing the results of his Golden Years remix collaboration with Los Angeles public radio tastemakers KRCW as an EP this June 6, featuring mixes from four of the station's DJs, along with Bowie's own 2002 digital remixes. All of the mixes are now available for streaming, with plenty of extra info on the work that went into creating the pieces. It's a mixed bag of approaches and styles-ranging from the expected blips, glitches, and bleeps to a full-band rerecording with period instrumentation and gear. Worth a listen, and not just for the Bowie completists. See here for a making-of minidoc.
There's also a Golden Years iOS app in the works, from iKlaxmedia, and like last year's Space Oddity app, it presents the single as a broken-out multitrack session, letting you mute and solo stems, shake your phone for a random remix, and otherwise mutilate or improve upon the timeless Bowie original. Like the EP, it's set to hit streets in June (the 7th).
Of course, it's old news now that some of Bowie's own reinterprations of his old material have leaked out recently, so you might want to look around for inspiration.
- Michael Berk
LATEST VIDEO
WHERE TECHNOLOGY BECOMES ENTERTAINMENT