Django Unchained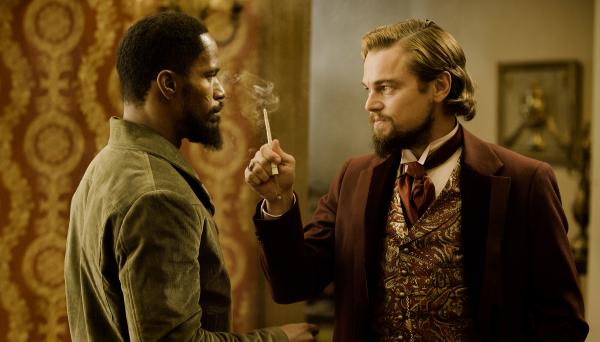 Django Unchained.
A surprisingly good-hearted, forward-thinking bounty hunter (Christoph Waltz, Oscar'd again here) purchases and frees the slave of the title (Jamie Foxx) in exchange for his help in tracking down three big-ticket wanted men. But liberal white guilt gives way to genuine respect, then friendship, and the two become partners with a plan to rescue the wife taken from Django. It won't be easy, however, as she is now the property of a twisted Southern dandy (Leonardo DiCaprio) who pits his slaves against others in brutal fights to the death for fun and profit. Watching Django pump hot lead into his enemies—some with a price on their head, some not—with a ruthless precision is shocking, yet also strangely empowering. Clearly the hyperbolic violence adds a visceral impact to these acts of vengeance, like fictitious blows for civil rights. Brace yourself for this one, folks, as we're subjected to copious use of the N-word and other Tarantinoisms, including some frank depictions of man's unending cruelty.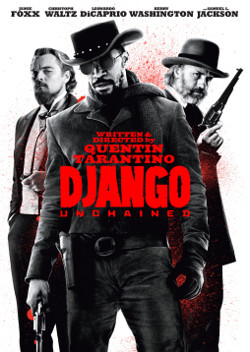 Perhaps in homage to the films of his youth, the 2.4:1 Django displays warm tones, with interesting effects as when skies appear to be overexposed. There are also deliberate shifts in overall quality during the flashbacks, whereas the black areas of the image have a pleasing, organic look even though they are not particularly nuanced. My main gripe about the picture quality is the slight softness throughout, surely no accident by the director of photography, the great Robert Richardson, but it stops short of real HD splendor as a result.
The DTS-HD Master Audio soundtrack is big and cinematic: Quentin at his best. The subwoofer adds a menacing rumble to the approaching hoofbeats, and a definite boom to the gunshots. Birds chirp in the surrounds, while off-camera characters are discretely placed and cleverly phased about the 5.1-channel soundfield. The jingle of chains is high and clean, and the crisp crack of the whip fills the room, along with some subtle echoes. A big shootout late in the film could serve as a great go-to clip on some future DTS demo disc, were it not so unabashedly bloody.
The extras are lean, really just looks at the costumes, production design, and horse stunts. (The Best Buy version reportedly includes its own exclusive making-of.) A standard-definition DVD and a Digital Copy for both iTunes and UltraViolet are onboard, and I just know I'll be taking advantage of those soon.
Blu-ray
Studio: Anchor Bay, 2012
Aspect Ratio: 2.40:1
Audio: DTS-HD Master Audio 5.1
Length: 165 mins. MPAA Rating: R
Director: Quentin Tarantino
Starring: Jamie Foxx, Christoph Waltz, Leonardo DiCaprio
The antebellum South returned to modern screens by way of '60s/'70s-style Blaxploitation in Quentin Tarantino's electric
LATEST VIDEO