Dirac Launches Dirac Live Processing for Cars
Dirac Research
, the Swedish technology company best known among
S&ampV
readers for its
Dirac Live
speaker setup/room-correction system, is bringing that technology to cars through a partnership with China's miniDSP.
The new miniDSP C-DSP 8x12 DL in-car audio processor ($899), the first Dirac Live-equipped product designed specifically for the automotive aftermarket, is based on Dirac's extensive experience in developing sound optimization solutions for Bentley, Rolls Royce, BMW, and Volvo .
Dirac Live processing corrects the frequency response and impulse response of speakers in a given space — in this case, the interior of a car, which is one of the most acoustically-challenged environments due to the presence of reflective finish materials and less-than-ideal placement of multiple speakers at differing distances from the driver.
These factors introduce timing differences between speakers, which wreak havoc on stereo imaging and make bass boomy and uneven, according to Dirac.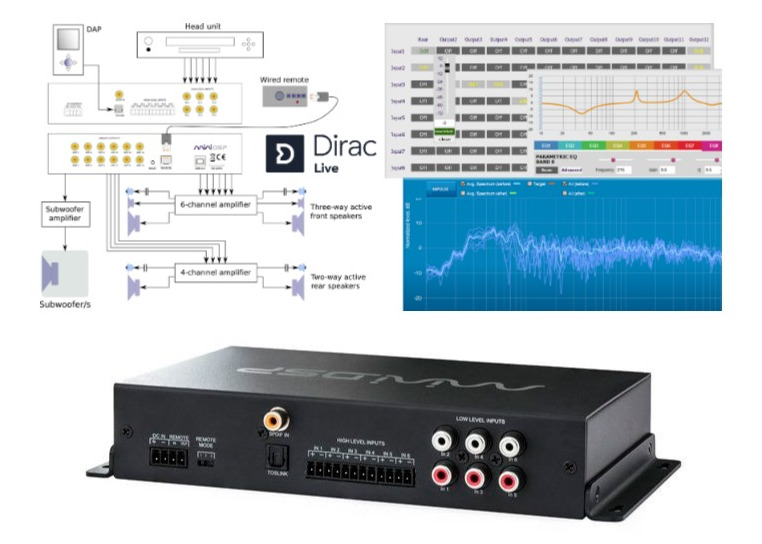 In addition to Dirac Live processing, the miniDSP C-DSP provides a parametric EQ, compressors, adjustable time delay, crossovers up to 48 dB/octave, and an advanced matrix mixer with rear/center capability.
Twelve RCA outputs combined with eight channels of Dirac Live processing make the unit adaptable for active crossover systems as well as multichannel/surround installations with subwoofer integration.
On the input side, the processor has six line-level differential analog inputs for low-noise connections, six speaker-level inputs for connecting to head units with built-in power plus optical and coaxial digital inputs.
"This new Dirac Live-enabled miniDSP processor was born out of demand by the automotive aftermarket community — who long installed our home theater products in their vehicles to produce a refined listening experience," explained Dirac's general manager Niklas Thorin. "However, the miniDSP C-DSP 8x12 DL is specifically designed for a vehicle environment and provides this community with a device that compensates for inherent flaws that arise from any in-vehicle stereo system."
For more information, visit minidsp.com.