Devialet Dione Atmos Soundbar Review Page 2
The Devialet app can also be used to select inputs and perform other functions. You can choose the default listening mode for each input, activate a Night mode that does an excellent job of attenuating bass, deactivate the room-calibration microphones, and set the status LED to either turn off or automatically dim based on an onboard sensor's reading of light in the room. You can also exercise multiroom control over any Devialet Phantom or other AirPlay 2-compliant wireless speakers on the network.
What you won't find in the app are any adjustments for EQ or speaker levels. I might normally cite this as a negative, but like the Sonos Arc—which benefits from in-room auto calibration—the Dione uses an app-activated calibration routine that relies on test tones picked up by mics in the soundbar to optimize its sonics. It's a super-quick procedure, unlike the Sonos Trueplay routine, which involves walking around the room and using the microphone in your mobile phone. However, despite having onboard microphones, the Dione lacks compatibility with the popular voice-based services you find on the Arc and other soundbars, so you can't connect with Alexa or Google Assistant. On a similar note, there's no way to add ambience enhancing rear-surround speakers to the Dione, which would be a nice option for such a premium system, even if it is at odds with the notion of an all-in-one solution.
Setup was a simple matter of plugging in Dione, downloading the app and hitting a button on the home page to detect the new device. It connected quickly and, once the app confirmed the positon of the soundbar, guided me through the auto-calibration routine. Done.
Performance
The first thing you notice when listening to the Devialet Dione is the quality of the bass. It's not overbearing or boomy, it's just present in the most natural sense of the word. With music you hear well-defined, tuneful bass notes that reach low but never overexcite the room no matter how loud you go. Kick drums, electric and double bass lines, or low-end EDM synth notes work in perfect balance with the rest of the music. And with soundtracks you not only feel the impact of explosions and other rumble effects but hear bass elements in the score that might otherwise be lost in the chaos. I can't even begin to describe how this changes things. While watching a mundane home renovation show on HGTV, I was surprised to hear well-defined bass in the low-level, interstitial music beneath the voice narration. There's a fullness to everything you watch that just enhances the experience.
Moving up from the bottom, the bass is joined by an extremely open, unveiled midrange and high end I'd characterize as exceptionally smooth and highly detailed, but without any of the edginess or hyper-etched upper-frequency exaggeration you sometimes get with aluminum domes. All of this combines with exceptional imaging that, thanks to the side-firing and height drivers, goes wider than the bar, up to the ceiling and out into the room.
For most of my listening, which included stereo and Dolby Atmos music tracks streamed from the Tidal app on my TV, I chose the Movie mode over the stereo Music mode. It was always more open-sounding, with a natural but expanded soundstage in both height and width, and it rarely suffered from the reverb effect on vocals you hear with some preset listening modes. There was little to no loss of focus on centered voices or instruments, and little of the echo-chamber effect that can occur when vocals are partially assigned to speakers beyond the center channel. On the other hand, the Spatial mode, which replaced the Movie mode when I was listening to wireless streams from my phone over AirPlay 2, did suffer from these deleterious effects. It expanded the image more aggressively than the Movie mode but pushed centered vocals and soloists too far back in the mix. I much preferred the two-channel Music mode, despite its tighter soundstage, when listening to wireless music sources.
Even with plain stereo tracks, the Movie mode's excellent staging made for superb listening, especially on tracks like "Moten Swing," the lead cut on Count Basie & His Atomic Band, Complete Live at the Crescendo 1958, a strikingly natural and highly dynamic live night-club recording. The Dione nailed everything from the low-level atmospheric crowd chatter and clinking glassware that opens the track to the incredibly well-projected piano and powerful horn blast that leaps out a minute in. I loved listening to bigger-than-life pop vocals—tracks like John Mayer's "Gravity" or Maroon 5's "Sunday Morning"—that projected a large, well-embodied voice out into the room.
Atmos music was superb. The remix of The Doors' "Riders on the Storm" exhibited a convincing cover of rain above Jim Morrison's large and well-projected lead vocal with perfectly metallic and detailed cymbal taps and an incredibly well-defined bass line from Ray Manzarek's keyboard. Another Atmos track, the John Williams orchestral theme Obi-Wan, offered surprisingly smooth massed strings mixed with delicate, pensive horn accompaniment and subtle dynamic pacing.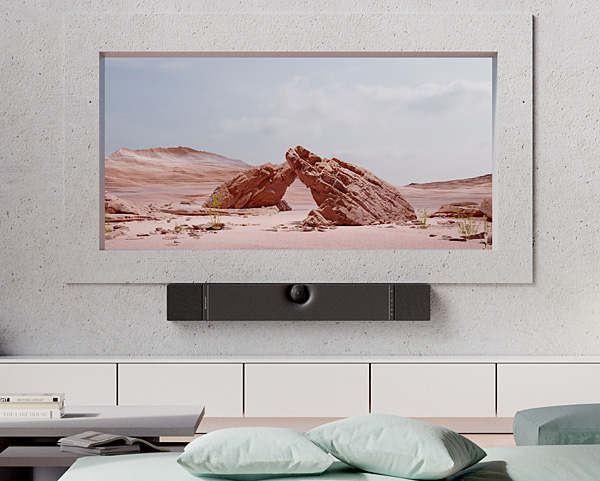 Movie soundtracks were outright balls-to-the-wall fun on the Dione and extraordinarily detailed, balanced, and dynamic. There's a scene near the beginning of The Batman where the Caped Crusader shows up on a dark, dank subway platform to deliver some vigilante justice to a gang of thugs. The rain effects in this Atmos soundtrack floated well above the screen and out into the room, and I was impressed with the natural, metallic sound of a sword being drawn from its sheath. Once the combat began, I was taken aback by the convincing, visceral impact of clubs, pipes, and other weapons as they struck Batman's suit. The system's woofers and ample power reserves proved capable of delivering amazing dynamics and coherency. The Dione also did a great job rendering the movie's challenging, low-level dialogue and moody, strummed guitar soundtrack, and reached its volume limits with no detectable distortion or edginess, hitting 101dB peaks from a distance of about 9 feet in my room—right in line with Devialet's max sound-level rating.
Conclusion
There is one other standalone soundbar—Sennheiser's $2,500 Ambeo—that competes directly with the Devialet Dione. It's a 5.1.4-channel Atmos bar that received a Sound & Vision Top Pick in 2019 and offers similarly impressive surround processing, kick-ass bass and dynamics, and a sophisticated auto-calibration scheme. However, its 40-pound weight and 5.3-inch height make it cumbersome to place in front of a TV, and its pedestrian looks certainly won't wow your family or friends.
By comparison, the Dione is a sexier, more attractive solution that seems to deliver most of what the Ambeo offers sonically, and does so with a mix of elegance and ease of use that won me over from the get-go. It's a truly impressive accomplishment, one that will slip seamlessly into your den or living room and expose you to creative elements of your favorite music, movies, and TV shows that you didn't know were there. If you've been listening on any other soundbar, you won't believe what you've been missing. And if you're wondering if it's worth spending $2,400 on a soundbar, well, this time I can say yes. If you have the budget and care enough to fully engage with movies and music, the Devialet Dione is highly recommended and money well spent.