Detroit Startup Embarks on a Unique AV Mission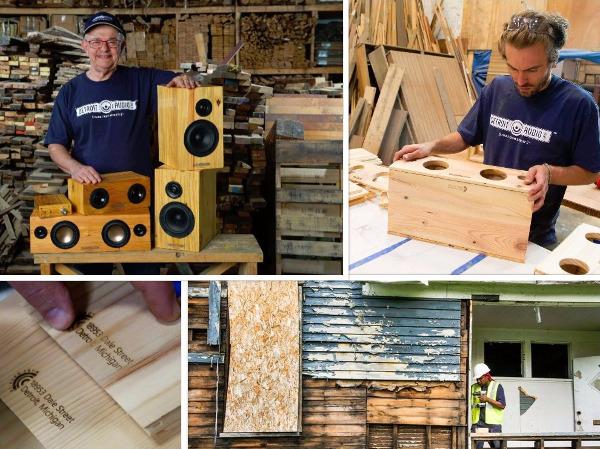 Startup Detroit Audio Lab has embarked on a unique AV mission: Bring audio manufacturing back to the U.S. by handcrafting audiophile-quality speakers using wood reclaimed from blighted homes and businesses that once thrived during
Motor City
's golden age, which dates back to the first mass-produced automobile—Henry Ford's Model T.
In a most interesting twist, the specific address of where the wood was reclaimed is laser-engraved on each speaker.
The company, founded by Mike Bauer, a retired engineer and avid audiophile, has launched a campaign on Kickstarter to raise $50,000. With 23 days to go, 19 backers have pledged $5,093. The plan is to use the funds to invest in additional equipment and training to expand production.
"Made From Detroit reflects the very heart and soul of who we are," Bauer said. "Our products showcase and preserve Detroit's history. Rather than dooming our structures to landfill, we breathe new life into them. We also comply with global best practices and regulations on waste and sustainability throughout their construction, meaning that our products not only preserve the past, they also protect the future."
All electronic components are sourced in the in the U.S. and the company has commissioned Michigan firms to design and manufacture proprietary circuit boards and crossover networks.
The Detroit Audio Lab product lineup with discounted pledge pricing/retail pricing is as follows:
• D:Audio Solo ($425/$500 each): Sealed Bluetooth speaker with two full-range drivers. Connectivity is via Bluetooth or a minijack input and it includes an AC/DC adapter and rechargeable/replaceable battery.
• D:AudioRiff ($675/$770 each): Powered two-way, bass-reflex speaker. Connectivity is via Bluetooth, a minijack input, or standard RCA inputs. May be a standalone audio source or complement an existing system. Powered by AC, with an optional rechargeable/replaceable battery.
• D:AudioBack-Beat ($1,250/$1,400 a pair): Two-way, bass-reflex bookshelf speaker rated down to 45 Hz.
• D:AudioAmp ($200/$250 each): A 100-watt Integrated stereo amplifier in a small footprint. Connectivity via Bluetooth and a minijack input.
• D:Audio Voice ($65/$80): A passive "amplifier," essentially a wood horn/stand that passively increases the speaker volume of smartphones or small tablets.
Estimated delivery is February 2017 for all products, except the D:Audio Voice, which is expected to ship in December.
For details on the products and Kickstarter campaign, visit: kickstarter.com.