Designing Women . . . Sort Of
"A TV designed by women, for women."
While that isn't exactly what Philips said at their CES press conference today, it might as well have been.
What they did say about their new Aurea set is that it has "feminine lines" and is designed to appeal to women, who play a large role in CE purchasing decisions.
The new form factor is from Philips' design collection and it's meant to stand out in a "sea of sameness" on the retail sales floor.
Believe me, there's absolutely no worry that this set won't stand out. It's a clear departure from traditional HDTVs which, these days, come in high-gloss black from nearly every manufacturer in the known world. Visually, the set resembles the world's largest Mac, and only needs a wireless keyboard, side-loading DVD-Rom drive and Leopard OS to complete the illusion.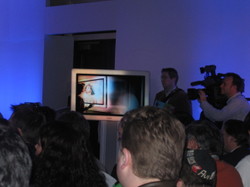 The Aurea set features a translucent bezel that uses the latest version of Philips' Ambilight technology that illuminates different colors in response to what's displayed onscreen. Technology-wise, the sets are packed with the latest must-have features such as 1080p and 120-hertz refresh rates.
Other than the TV being less than macho looking, my worry is that the whitish bezel will affect perceived contrast. Only time — and a full review (hint, hint) — will tell.
—John Sciacca
LATEST VIDEO
WHERE TECHNOLOGY BECOMES ENTERTAINMENT