Denon Electronics Releases New Products
At its Summer 2007 press conference today, Denon Electronics (a division of D&M Holdings) announced an all new line of A/V Receivers and its first entry into next-gen HD with an exciting new Blu-ray Disc player.
Denon's Jeff Talmadge detailed a dizzying array of product features in the new AVRs. HDMI 1.3a is included in every new model, from the $349 AVR-1508 to the flagship THX Ultra2-certified AVR-5308CI at $5,200. HDMI video switching and 1080p upconversion is prevalent throughout the line, though different grades of video processing solutions are used.
The AVR-5308CI (150-Watts x7, available in December) includes six HDMI 1.3a inputs and 1080P upconversion over its two HDMI outputs via Silicon Optix' Realta HQV processing chip set. Its HDMI inputs can accept and decode Dolby TrueHD and DTS-HD Master Audio. AV receivers in the new line, starting with the $1,599 AVR-3808CI and moving up, feature an all new graphically pleasing and easy to use GUI. The top tier models (those ending in CI) are Wi-Fi equipped, and IP addressable allowing for a full range of wired and/or wireless networking multi-zone capabilities as well as remote maintenance, upgrades and updates via the Internet. Customers experiencing technical problems or who get lost among the menus can get remote help using the Internet.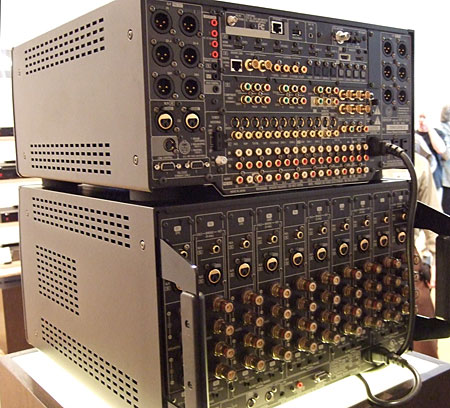 The streaming audio/networking capabilities include multi-format music streaming (AAC, FLAC MWA lossless, MP3, WAVE) and iTunes support for both PC and Mac (with the purchase of Twonky Media software) as well as JPEG photos. HD Radio, Rhapsody and XM (subscriptions required) are included in the "CI" models along with "compressed audio restorer" software to enhance the quality of compressed music playback. Talmadge demonstrated remote zone metadata display capabilities featuring album artwork and other information on both remote display devices and via Denon's new optional Internet-based programmable remote control (RC 7000CI, $299.99) that make wireless home networking truly convenient and impressively flexible.
Denon also addressed the A/V receiver "confusion factor" by cleaning up rear panel layouts, re-writing and re-organizing its manuals and delivering products to the end user with pre-assigned (but re-assignable) inputs.
The host of receiver features and capabilities came flying fast and furious from Mr. Talmadge, but unfortunately the PowerPoint presentation was not included in the press CD-ROM, so more AVR specifics will have to come in the near future as Denon rolls out product details in press releases.
Denon also introduced its new DVD-3800BDCI Blu-ray player ($1,999), featuring BD-ROM version 1.1- in other words it will feature dual video and audio decoders, which allow it to support picture-in-picture interactivity features.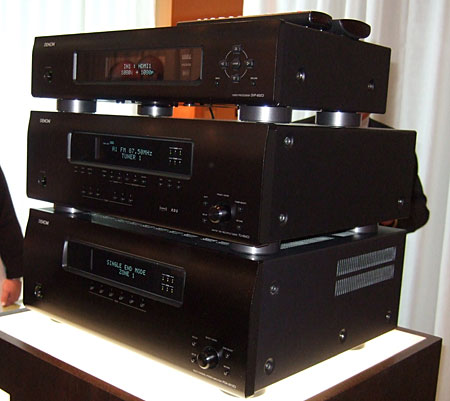 [Although PIP interactivity features are supported by every Toshiba-built HD DVD player on the market, this is the first standalone Blu-ray Disc player announced that will support such features. No Blu-ray Discs currently ovailable offer true PIP features, but they are sure to arrive at some point- Ed].
The 3800BDCI outputs Dolby TrueHD and DTS-HD MA as native bitstreams via its HDMI outputs and is reputed to the first Blu-ray Disc player on the market to feature the Silicon Optix Realta HQV chip set.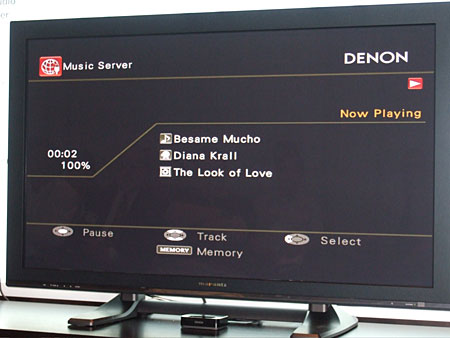 Overall, this was one of the most concentrated, purpose-driven product launches this writer has ever attended. Denon aims to continue its audio performance tradition while adding multi-zone, wireless networking capabilities not previously found in standalone A/V receivers.
LATEST VIDEO