Denon AVR-989 A/V receiver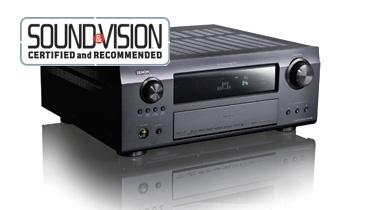 Denon has achieved a strong rep in the ongoing wrestling match that's been the A/V receiver market for the past several years. And it has done this by delivering a steady stream of fine-performing products, mostly at rational prices. The latest Denon recipe from this pressure cooker is the AVR-989, which manages to pile on functions and features while coming it at just $200 over the magical $1,000 price point.
The AVR-989 eschews the fancy high-def color graphical displays that are becoming common on receivers, contenting itself instead with a rather dated-looking - but perfectly functional black-and-white text menu system. It also omits the home-network connectivity and media-player functionality that is fast becoming standard on up-market receivers.
What this new Denon does offer is the full palette of Audyssey-licensed audio processing. These include MultEQ XT auto setup/room equalization; Dynamic EQ, for massaging equalization and relative channel levels on the fly so that a movie soundtrack will retain its integrity when listened to at lower-than-reference-level settings; and Dynamic Volume, a "smart leveler" that adapts the receiver's master-volume setting to changes in the source or program signal (including those damn infomercials).
SETUP
Audyssey's MultEQ XT setup routine is by now a familiar one: plug in the mike, call up the Setup screen, and hit Go. To perform the second step, you have to invert the AVR-989's remote and flip open the bottom panel to reveal keys that are mostly used for setup and tweaking. The routine includes moving the included mike to various positions (as many as eight) within the listening area. Rinse and repeat.
As usual, MultEQ XT's results proved reliable, with just about spot-on channel levels and crossovers. The Denon adjusted my dipole surrounds a dB or so too high, but every robotic setter-upper I've used does this. In truth, you almost always have to tweak dipoles by ear anyway.
MUSIC & MOVIE PERFORMANCE
It didn't take me long to confirm that the AVR-989 maintains the Denon-receiver tradition of excellent-quality amplifiers. Its rated 115-watt (stereo) output proved easily able to drive my medium-sensitivity full-range front speakers to realistic levels with truly elevated sound quality, eliciting the clarity, impact, and detail of which I know they're capable. Multichannel music was even better. The Dolby TrueHD soundtrack on the Dave Matthews and Tim Reynolds Live at Radio City Blu-ray Disc is a magnificent surround production. Just listening to the opening crowd noise and then the open-tuned drone introducing "Bartender" offered enough proof that the Denon was more than capable of reproducing this production's spatial and tonal richness.
Harry Potter and the Order of the Phoenix has a world-class soundtrack, and the Denon again handled the DVD's wide-ranging demands, delivering pristine music, dialogue, and effects with ease. For example, the dense spatial activity in the exam-room fireworks scene was wonderfully represented, with outstanding dynamic "pop" and transparency.
Denon uses Faroudja processing for the AVR-989's analog video paths, a reliable solution that in this case delivers deinterlacing and rescaling of analog video up to 1080p format by way of the HDMI output. As usual, this processor passed my eyes-on tests without a hitch, delivering crisp, full-resolution, artifact-free images.