Denon AVR-5308CI A/V Receiver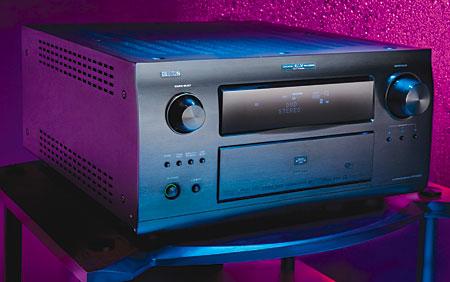 Denon redefines the surround receiver.
Tom Waits once wrote a song constructed solely from a lengthy string of clichéd advertising pitches and Ron Popeil–style retail provocations. Some were familiar ("That's right, it filets, it chops, it dices, slices, never stops"), and some were hilariously ludicrous ("It gets rid of unwanted facial hair, it gets rid of embarrassing age spots, it delivers a pizza... and it finds that slipper that's been at large under the chaise lounge for several weeks").
Like Waits' song, "Step Right Up," one could review Denon's overachieving AVR-5308CI THX Ultra2–certified A/V receiver by stringing together a list of its operating, control, and configuration features. Unfortunately, that would leave no room in the allotted review space to discuss its user-friendliness and performance.
That won't happen here, so don't expect a thorough and detailed description of every feature nested within the many configuration trees planted within the AVR-5308CI's fiendishly complex operating system.
Straddling the Rocky Road Between Computer and Consumer Electronics
At its heart, the AVR-5308CI is a multizone, 150-watt, seven-channel home theater receiver that's similar in many ways to the one you probably already own. Unlike yours though, this one has an IP address and Ethernet/Wi-Fi (802.11b/g) capabilities. This gives it the ability to go online and explore and organize Internet radio stations. The AVR-5308CI can also access and deliver a Rhapsody music subscription and act as a music server to stream content stored on your computer. It can even download operating system updates and new features as Denon makes them available.
The AVR-5308CI is a modern consumer electronics appliance as well. It has three high-speed DSP processors and 12 channels of dual-differential Burr-Brown DACs. It decodes every format known to man, including old-school compressed Dolby Digital EX and DTS ES Matrix and Discrete, DTS 96/24, and new-school lossless Dolby TrueHD and DTS-HD Master Audio.
The receiver integrates HD radio within its programmable AM/FM stereo tuner. It's both iPod and XM Radio ready and there's even a moving-magnet phono input.
In addition, the receiver is equipped with the highly regarded Audyssey MultEQ XT room-correction and auto- calibration program. Using a supplied microphone you place at up to eight listening positions, it automatically determines how many speakers you've connected and their locations. It also checks their size, frequency response, and phase, and determines their distances from the various listening positions.
To optimize the speakers, the system sets a crossover frequency for each one and corrects for room and/or speaker frequency and time response aberrations. The only thing it doesn't do is slice, dice, chop, grind, and find that slipper hidden under the chaise lounge.
Most importantly, if you don't agree with—or like—the results Audyssey produces, you can modify or defeat them to suit your personal preferences. In fact, the AVR-5308CI offers you the ability to modify and adjust virtually every parameter of every audio/video option you can think of. It also allows you to adjust many you've not thought of—assuming you can find the settings hidden in the nest up in the tree.
The AVR-5308CI's extensive video facilities center around the Silicon Optix Realta HQV video processor, which many consider to be the best solution on a consumer chip. It can upconvert any incoming video format to 1080p, outputting it via HDMI. The video switching facilities include six HDMI 1.3a inputs, five sets of component video inputs, and two HDMI and two component video outputs.
Go Configure!
Despite the rear panel's complexity, the layout's cleanliness makes connecting sources and loudspeakers relatively straightforward, especially if you've had previous experience.
Fire up the AVR-5308CI, and you'll get no sound from any source (at least the review sample didn't produce any). While this is frustrating, it's also a good thing, as anyone who has visited a household with an ineptly set-up A/V receiver will attest.
Given the complexity of most A/V receivers and the ineptly written manuals that accompany most of them, many consumers' eyes glaze over. They then fish for some sound, and upon hearing any sound, are content with it and proceed no further.
Denon's engineers see to it that you get no sound from the AVR-5308CI until you're willing to invest something (even if the investment is wads of hair pulled out as you attempt to decipher and comprehend the often confusing instructions).
The manual is laced with cumbersome, passive-tense construction and undefined arcane terms. ("The A to H & H to H can set the input source assigned to the HDMI input connector.") There's neither an index nor a comprehensive glossary.
Fortunately, the onscreen GUI is well laid out and intuitive, which makes the basics, such as assigning digital inputs and using the Audyssey program, reasonably straightforward.
Living With the Denon AVR-5308CI
The ergonomic challenge involved in designing a complex receiver like the AVR-5308CI is to create the illusion of simplicity and ease of use in front, while preserving convenient access to the maze of features lurking just behind. Once you understand how the two remote controls work (again, poor instructions turn it into a puzzle you'll have to solve on your own), you'll find the AVR-5308CI relatively easy to use. All of its day-to-day functions are accessible, and the more seldomly used features are within easy reach, metaphorically speaking. You'll need a flashlight to identify the controls behind the front panel's drop-down door, even in a well-lit room. An LED would have been nice.
Please see Kris Deering's piece from the June issue of HT for an objective evaluation of the receiver's video performance, which was, in a word, excellent. The Blu-ray HDMI video passthrough presentation using a Panasonic DMP-BD30 Blu-ray player was spectacular. Among other Blu-ray Discs, I watched Spider-Man 3, Across the Universe, and Remember That Night: David Gilmour Live at the Royal Albert Hall, which I'd previously watched in HD on the Rave cable channel. Anyone who says DVD is "good enough" should not be believed. Still, the Realta chip made DVD and even analog VHS and cable look better than I've ever seen them look on my 65-inch monitor.
As impressive as the picture was, the Dolby TrueHD and 5.1-channel PCM sound impressed me more. For audiophiles, surround sound isn't worthwhile if it lacks suppleness and misses the sophisticated textures and low-level dynamic contrasts presented in higher resolution digital audio and in good vinyl playback.