Denon AVR-2803 A/V Receiver and DVD-2900 Universal Disc Player
Denon punches their ticket to the universal dance.
When you boil it all down, you realize that most format wars are somewhat ridiculous. Sure, it's fun to get the blood up every few years, and those of us in the A/V press certainly appreciate the opportunity to ramble on about these conflicts' various aspects and ramifications. Format wars ultimately belong in the software section, though, where the most that a wrong decision will cost you is the $20 or $30 that you spent on a disc, tape, or whatever else. When it comes to hardware, format wars can cost people hundreds, if not thousands, of dollars. Ultimately, that's no good for either side, let alone the buying public as a whole. Thanks to universal disc players' rapid emergence, the previously contentious (and occasionally ugly) high-resolution-audio war is now software-based, as it should be. This doesn't mean that the DVD-Audio and SACD camps don't still take shots at one another. Now high-resolution-player buyers have the luxury of either ignoring the conflict altogether or simply enjoying it for what it always should've been, secure in the knowledge that big bucks are no longer on the line. With competition between the various and ever-growing assortment of universal-player makers, capitalism survives, but nobody gets burned. The result should be a boom in universal-player buying over the next couple of years.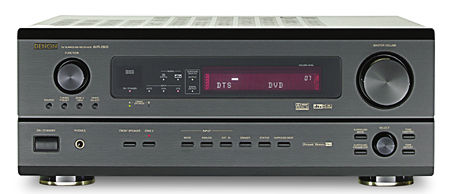 Relative to some of their big-manufacturer competition, Denon was fashionably late to the universal party, but they've now arrived with the DVD-2900. At $999, the DVD-2900 will mate well with a midpriced receiver—like the new AVR-2803 ($799) I teamed it with here—but its features and internal components tell you that it won't back away from higher-end receivers or separates, either.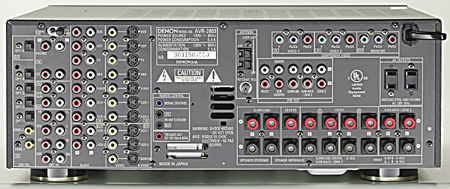 The DVD-2900's features naturally start with playback: DVD-Audio, SACD, CD, CD-R/-RW, DVD-R/-RW, videoCD, and MP3. Silicon Image's Sil 504 engine (the same one found in the $3,500 DVD-9000) supplies progressive scanning. There are progressive modes for flagged and unflagged material, and the DVD-2900 handles 3:2-pulldown detection and deinterlacing rather well. Analog Devices' 12-bit/108-megahertz digital-to-analog converters are also aboard. On the audio side, the DVD-2900 contains Burr-Brown DSD-1790 24-bit/192-kilohertz DACs, and there's full bass management for both DVD-Audio and SACD (some universal players don't offer bass management for SACD), with selectable crossover slopes. There's a pure-audio mode that deactivates all of the video circuitry, which further minimizes any potential for interference. The DVD-2900 has a wide range of audio and video settings, as well as programmed playback features and parental controls. Connections include multichannel analog audio outputs (with two sets of front outputs); coaxial and optical digital audio outputs; component, S-video, and composite video outputs; and a relatively rare (for a player) RS-232 jack that lets you link the DVD-2900 to a high-end control system.

Considering its price, the AVR-2803 A/V receiver has an impressive features list in its own right: seven amplifier channels at 90 watts per and almost every major processing format. Dolby Digital 5.1, Dolby EX, Dolby Pro Logic II, DTS, DTS ES, DTS Neo:6, and even the new 24/96 soundtrack format are the headliners. All that's missing is THX Ultra 2, but Denon has added their own 7.1-channel scheme that works with 5.1 or surround-encoded sources. Being a receiver, the AVR-2803 also has some DSP modes, including five- and seven-channel stereo modes. A 32-bit Analog Devices Melody 100 SHARC DSP engine crunches the numbers, and Analog Devices' AD1835 24-bit/96-kHz DACs on all channels do the conversion. You can adjust the subwoofer crossover point from 40 to 120 hertz (in 20-Hz steps), and the AVR-2803 supplies the standard mode adjustments for its various processing formats (e.g., panorama, dimension, and center-width controls for DPLII).
The AVR-2803's connections should be more than ample for most of the systems it will anchor. There are six digital audio inputs (four optical, two coaxial) and an optical digital output, 10 analog audio inputs (including a phono input and a tape loop) and three outputs, seven composite and S-video inputs with three outputs (one with OSD), and two high-bandwidth component video inputs and an output. There are 10 channels of preouts (with two dedicated to a second zone and two that you can use for back speakers in a 7.1-channel system or for a second zone) and an eight-channel analog input. Speaker connections include the five main channels (with A and B connections for the front speakers) and an additional pair of powered channels with their own volume control, which you can use for back speakers or power for a second zone. Two AC outlets, remote connections, and a 12-volt trigger round out the back panel.
The AVR-2803 is as easy to set up and use as a receiver should be, and the DVD-2900 isn't far behind. If you have any A/V experience, you should be able to set up both in well under an hour (including connections), and even those with no experience will find both the onscreen displays and the manuals to be highly user-friendly. A pair of good remotes facilitates the process. Some of the key buttons on the AVR-2803's remote are backlit, and other key buttons on both units glow in the dark. It's not an ideal solution, but it's certainly better than nothing at all. The AVR-2803's remote has some learning capability, and both units are comprehensive and relatively well laid out.
No matter the price, I've always found that Denon receivers share a common characteristic of warm, approachable sound, and the AVR-2803 is no exception. I won't tell you that it has quite the effortless musicality and impressively large soundstage of the flagship AVR-5803, which puts out a sound that is as close to separates-quality as any receiver I've heard yet. The fact that the AVR-2803 is even in the neighborhood at $799 definitely gets my attention. Its natural, easygoing handle on music easily rivals that of receivers that cost considerably more. With the second Burmester CD collection, the AVR-2803/ DVD-2900 combo gave a two-channel performance that was fundamentally sound in every regard. If you're familiar with this compilation (still one of the best-engineered CDs ever, if you ask me), you know that it runs the gamut from full-scale orchestra to big pipe organ to Spanish guitar to Pink Floyd. It even includes a fantastic tuba-driven, old-timey number.
Yes, I know that many people don't consider $1,800 to be inexpensive for a source/preamp/amp combination, but you'd be surprised to know how many systems at this price point have fatal flaws. You won't find those flaws here. The midrange was fluid and engaging, bass was deep and rich with tonality and an impressive lack of bloating or boom, and the upper frequencies were well controlled, even through my Energy Veritas V2.4s in a more-reflective room. The soundstage remained impressive, even with the punishing organ of "Lindenkirche Berlin." This system kept compression to a minimum; it was only obvious at high volumes.