Denon AVR-2112CI A/V Receiver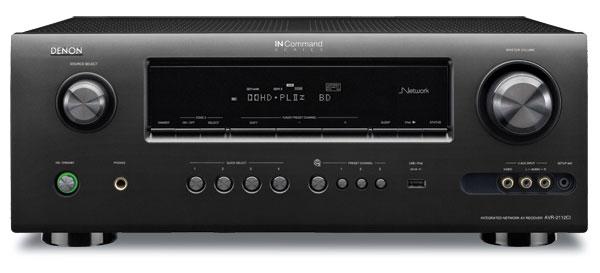 Price
: $650
At A Glance
: AirPlay and direct iDevice link • Expansive Audyssey suite • Browser control, network audio features
In A/V receivers, there are two prevailing philosophies when it comes to certain must-have features—room correction and dynamic volume modes being good examples. Some manufacturers prefer to develop their own in-house versions. This gives them the ultimate control over what they sell to consumers, sometimes offering greater versatility or an unusual spin. Others are content to license features from other companies. The advantage of resisting the "not invented here" philosophy is that technology licensors such as Audyssey devote all of their attention to making their stuff work and are constantly improving it.
Which philosophy will triumph? For AVRs, the licensing path is probably the way to go. With things like Dolby and DTS surround standards, licensing is already a fait accompli. And you can't fault the licensing strategy when it results in a product decked out—as this one is—with the full suite of Audyssey features described below.
As if that weren't enough, Apple-centric features are increasingly making licensing a must for the ambitious AVR brand. The Denon AVR-2112CI's Apple AirPlay wireless playback is enough in itself to make hearts beat faster. For this review, I went out of my way to find an interesting use for it.
Made for iFun
The AVR-2112CI is the least costly of three new AVRs with the In-Command designation and model numbers ending in -12CI. The others are the AVR-2312CI ($850) and AVR-3312CI ($1,100). In-Command is Denon's way of integrating content and technology so you can have your fun "in the simplest and most straightforward ways possible," as Denon's literature puts it.
You want to play music from your iPod, iPhone, or iPad? Just start iTunes, and AirPlay will boot up the A/V receiver, select the right input, and play. Want to plug your iDevice directly into the AVR? The front-panel USB is Made for iPod certified, so you needn't mess with one of those annoying (to my mind, extremely annoying) docks. It will also access music files directly from non-Apple USB drives.
The -CI designation stands for custom integrator. In the top two models (but not the one reviewed here), that means your trusty custom dude can use Audyssey Pro setup, which can measure up to 32 listening positions, versus a mere eight for the consumer-level Audyssey MultEQ XT. All of the -CI A/V receivers offer remote access via Internet, RS-232, and IP control for third-party controllers. They are also Control4 certified.
These AVRs have a new look, or at least new to Denon. It replaces the large center compartment below the front-panel display with a row of buttons.
The two knobs, source select and volume, still survive. It's a simple look, and simple is always good. A few jacks are tucked into a small covered compartment at bottom right, but the iThing-capable USB jack isn't among them. It is brazenly displayed on the front panel, out of the closet as it were.
In addition to the Apple-licensed features, the A/V receiver also has a full complement of Audyssey attractions. They include the aforementioned MultEQ XT auto setup and room correction—the second from the top of four variations, with higher filter resolution than its two lower-rung siblings. DSX embraces Audyssey's height- and width-enhanced listening modes. Also on board are Audyssey Dynamic EQ and Dynamic Volume, whose volume leveling and dynamic range adjustments I have discussed (and praised) in the past. Every AVR should have something like them, and increasingly, most do.
For those who aren't Apple fanboys, this model offers other network audio moves. It's compatible with Windows 7, allowing Windows Play To streaming of music or photos from a router-connected PC. DLNA certification lets it pull music, including lossless FLACs, from a PC. (Why doesn't Apple support FLAC? Why? Why? Why?)
The Rhapsody and Napster subscription music services are present. Non-subscription services include Pandora personalized music streaming—which I hesitate to call Internet radio because I associate the latter with actual Internet radio stations. Conventional Internet radio is also provided, and you can register your favorite stations via vTuner at radiodenon.com.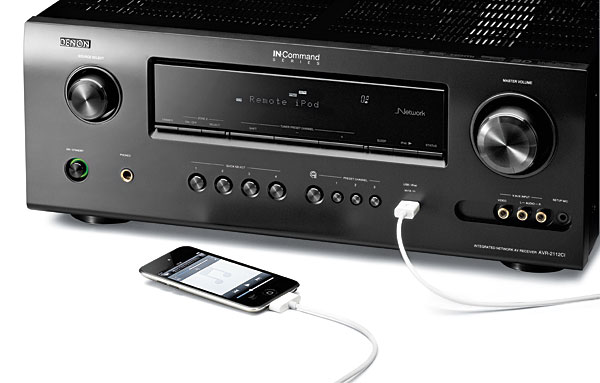 It would be hard to overstate what a wealth of international audio content Net radio brings. The Denon supports over-the-air AM and FM, of course, but with so many stations reduced to Clear Channel pap and talkradio thugs, Internet radio is increasingly what I regard as real radio. Flickr will access your cloud-stored photos.
A/V receivers are complicated beasts. To allow simpletons (like myself) to set them up properly and get the most out of them, designers resort to auto setup programs, usually coupled with room correction programs. In this AVR, Denon has sensibly integrated the Audyssey auto setup and room correction into a Setup Wizard: You step through it, and MultEQ XT is one of the steps.
We're off to see the Wizard. He's the newbie's best friend. He nurses you through the setup process, spelling out every step, as you connect each speaker cable, each HDMI cable, and the IP network. He even helps you program the remote control. If you'd like to tweak settings later, you can burrow into the menus either in the conventional way, with remote control and front panel display. Or you can do it via Web browser: Look up the AVR's IP address in the onscreen menu, type the numeric address into your browser, and you're in business.
AirPlay users: Please note that to enable the feature, you have to grab the remote and punch through menus to enable Network Standby. Why not enable Network Standby out of the box? The manual answers: "When Network Standby is set to on, the unit consumes more standby power." I've previously noted the same problem with an AirPlay-enabled Pioneer A/V receiver. At least Denon offers a plausible explanation.
While things like AirPlay and Web browser control are designed to liberate you from the remote control, this remote isn't a bad one. Volume keys are big, as they should be. There are four dedicated buttons for Internet radio, one to select it as a source, plus three presets for your favorite stations. Tweakers will be irked that Denon didn't provide direct remote access to Audyssey settings. However, there are four Quick Select buttons, each of which memorizes input source, volume, surround mode, video select, plus Audyssey MultEQ XT, Dynamic EQ, and Dynamic Volume. The buttons are imprinted with logos of suggested functions—disc, TV, games, iPod—but you can set them up however you want.
Denon also offers a free control app for iDevices and AVRs whose models end in -11 or -12. It controls power, volume, input, listening mode, soundfield balancing, multizone, and other functions. This second-generation app offers a new Search by Character function.