Denon AVR-2105 A/V Receiver and DVD-2910 Universal Disc Player
It's a speaker system away from an HTIB, with more bang for the buck.
Back in the days before HTIBs, there was another kind of home-theater-in-a-box—better known as an A/V receiver. In this era of consolidation, we probably don't entirely grasp the impact that A/V receivers had when they debuted some 25 years ago. A preamplifier, processor, and amplifier all in one box (literally), with a radio tuner thrown in for good measure, was impressive stuff back in the early '80s. Receivers were the Swiss Army knives of home audio, and they, along with surround sound itself, are probably as responsible as anything for the audio explosion amongst the masses that we now know as home theater.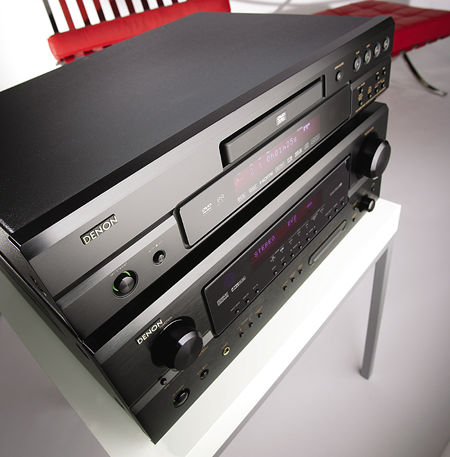 Within the context of source units, universal disc players are no less curious. Even though we take consolidation for granted these days, you still have to be somewhat impressed by one machine that will play just about anything on a 5-inch disc. And there isn't much that isn't on a 5-inch disc that's much worth playing—except for those funny, black 12-inch-disc things. I suppose you'd find universals even more impressive if you hadn't run out and bought an SACD- or DVD-Audio-only player when they first came out, only to find universals coming close on their heels. The price of early adoption is never cheap—literally or figuratively.
More Than an HTIB
I took a sample of each of these examples of audio versatility—more specifically, the new Denon AVR-2105 A/V receiver ($649) and DVD-2910 universal disc player ($679)—and stuck them together for a solid combo that only needs speakers to morph into a full-fledged home theater audio system. For a little more than $1,300, it's inexpensive enough to be a second system in a bedroom or office, but it also has enough punch to function as a main system in the right environment.
At $649, the AVR-2105 finds itself more on the entry-level side of receivers, price-wise, but I continue to be impressed by the features and internal components that even entry-level models have these days. Certainly, these are not the guts you'll find in the flagship models, nor in many of the other units priced in the four-figure domain, but neither are they the bargain-bin components that used to adorn many inexpensive models, in terms of quality or capability. Case in point are the AVR-2105's Analog Devices 24-bit/192-kilohertz digital-to-analog converters on all eight output channels, and HammerHead 32-bit DSP processor. There's plenty to process, including the full Dolby and DTS contingents (even PLIIx and DTS 24/96). About all that's missing on the processing side are THX-specific modes.
Each of the seven amplifier channels is rated at 90 watts into 8 ohms, and you can assign two of the channels to power a second zone—always a bonus in receivers at any price. Speaking of valuable bonuses, the AVR-2105 has an automatic calibration system with an included microphone that makes setup that much easier. The onscreen menu, quality remote, and well-presented manual also make things easy for do-it-yourselfers. As you can see from the spec box, connections are ample, although I wouldn't have minded seeing more than one coaxial digital input. There are four optical inputs, including one on the front panel, where you'll also find S-video, composite video, and analog audio inputs. The three component video inputs and single output are high-bandwidth, and the AVR-2105 will convert composite video to S-video. You can assign full bypass to the 5.1-channel analog input. The speaker binding posts are tightly spaced, as they always seem to be on receivers. Unless you've got small fingers, banana plugs are the way to go.
The Denon DVD-2910 universal disc player is nicely outfitted, as well. Audio highlights include Burr Brown 24-bit/192-kHz D/A converters, and video gets Faroudja's latest DCDi engine (FLI-2310), providing (among other things) quality progressive scanning. There are DVI-D and HDMI connections, with copy protection, for digital video output. The HDMI also handles Dolby Digital and DTS, although it doesn't support high-resolution, multichannel audio output. A 5.1-channel analog output is also supplied, of course.
In addition to DVD-Audio and SACD (with full digital bass management for both), the DVD-2910 handles DVD-R/-RW, CD-R/-RW, video and picture CDs, and MP3, JPEG, and WMA files. There's even an HDCD decoder, for you few, but proud, fans of this early enhanced-resolution audio format. The onscreen menu system is well done and supplies an array of audio and video tweaks. The progressive mode has two film presets and three video presets. The DVD-2910 does a nice job with 3:2-pulldown recognition, and it also converts anamorphic to letterbox nicely. It delivers full resolution with DVD, and both its color and black-level reproduction are solid. For audio purists, the Pure Direct mode defeats all video circuitry and any potential they may have for interference with audio signals.
Trial by Music
You never entirely know what you're going to get with music from an entry-level receiver—even one on the higher side of entry level—but Denon has always impressed me with their consistency from the top of their line to the bottom; nothing changed that opinion here. This isn't to say that the AVR-2105 sounds nearly as good as the AVR-5805 or the other big-ticket Denons, but it will clearly hold its own with much of what I've heard in the less-than-$1,000 receiver class. I immediately liked the fullness of the AVR-2105's delivery. It's got the guts to drive a full-bodied bottom end, the delicacy to unveil a crisp, tight top end, and enough of both left over for the critical midrange. The low frequencies usually avoided bloating and muddiness, the high frequencies usually avoided harshness and aggression, and proper tonal balance was generally the rule. You must be reasonable in your requests, though. This is not an amplifier that will blow the doors off a big room without some strain or create a seemingly boundless stage with every subtle nuance clearly developed. That's why the audio gods created high-end equipment. But the AVR-2105 should have no problem in the vast majority of environments, and it will fill those spaces with a musicality that belies its price tag.
The DVD-2910 is solid with music, as well. When it comes to high-resolution, multichannel material, a universal player in some ways lives and dies on the quality of its DACs; with the DVD-2910, it's the former. Inferior internal components can torpedo so much of what makes DVD-Audio and SACD stand apart. A run-through of some of my well-worn high-resolution material, including Bucky Pizzarelli's Swing Live (Chesky, DVD-A or SACD) and Muddy Waters' Folk Singer (MCA, SACD), confirmed that the DVD-2910 is not a target. Many players these days can pass digital signals with relative success, but it still takes some quality and precision to get analog right. The DVD-2910 shows both.
Going to the Movies
While quality musical performance is essentially a bonus in my mind with lower-priced receivers, I do expect capable movie performance from any receiver, regardless of its price. The AVR-2105 didn't disappoint here, either. Again, the size of the stage was not limitless, but it was solid and consistent and supplied ample thunder for our medium-sized listening room. I liked the balance that the AVR-2105 showed through the frequency range, as well. Instead of hot-rodding the top or bottom end as some lower-priced receivers do (usually in a misguided attempt to catch your attention on the showroom floor), the AVR-2105 gave the key midrange frequencies their due. Dialogue was clear and intelligible with any decent center-channel speaker, and musical performance within movies was solid, as I discovered with music-heavy films like Blues Brothers or South Park: Bigger, Longer and Uncut. Blues Brothers supplies its share of explosions, car crashes, etc., and, given its age, it isn't the most pristine of soundtracks, which only makes these sounds more difficult to handle with composure. The AVR-2105 did, though, and more impressively than I'd expect a $650 receiver to.

The DVD-2910 contributed its part to this system's solid movie performance, both audibly and visually. Blues Brothers isn't the cleanest picture anymore; but, as with the sound, it's a good barometer of how gear handles movies that, whether due to age, cheap production, or whatever else, aren't pristine. As any movie fan knows, most aren't. The DVD-2910 sorted Blues Brothers out nicely, dealing with the occasionally overdriven and blooming colors—blue in particular—contrasted with the deep blacks of hat, tie, and mohair suit, atop the white shirt of the official Blues Brothers uniform.
The DVD-2910 handled video just as well. It picked up the 3:2 sequence fairly quickly. With less-than-perfect material (like our torturous DTS Demo Disc #3), it processed the image with almost no combing or stairstepping. Video processing was equally good. The waving flag from Video Essentials had almost no jagged edges. Resolution output (both digital and analog) was out to the limits of DVD.
Call me old-fashioned, but I had more confidence in home-theater-in-a-box systems back when they were just A/V receivers. After all, it's enough to ask that everything stuffed into a receiver gets along with everything else. By the time you expect that one box to also supply a successfully compatible speaker system, you're often asking more than many HTIBs are capable of. You certainly can't dispute their ergonomics and accessibility, but freedom of speaker choice is an inalienable right in the home theater code. I'd rather use a limited budget on a solid universal player like the DVD-2910, a solid receiver like the AVR-2105, and whichever speaker system sounded best with them to my ear. The end result could be a complete audio system for around $2,300 that I would almost guarantee would outperform any similarly priced HTIB and would be virtually as simple to handle—even if it comes in a few more boxes.
Highlights
• Quality internal components and features
• Solid performance for the price