Definitive Technology SoloCinema Studio Soundbar System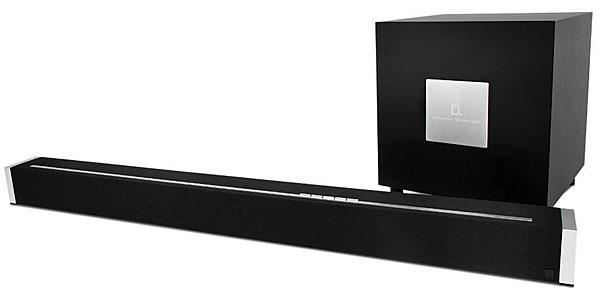 PRICE
$1,199
AT A GLANCE
Plus
Super-svelte dimensions
Natural voicing and excellent subwoofer blend
Surprising volume ability
Minus
Limited stereo image width
Mediocre remote-control range
THE VERDICT
Solid tonal balance, unusually good soundbar/subwoofer integration, and substantial volume for so slim a design make the SoloCinema Studio a fine performer in its category.
Love them or hate them, soundbars are a big part of what's keeping audio manufacturers afloat these days—those, at least, that haven't already repaired to Davy Jones' Locker. Baltimore's Definitive Technology, a firm whose "real" loudspeakers have for two decades and more set high standards of performance and value, is no newcomer to the bar scene. Its latest effort is the SoloCinema Studio, a two-piece job, and the bar half is tiny, quite literally a bar: just 3-plus inches square by 42-plus wide. It's a visually engaging package: Wrapped in fine-mesh black cloth on three sides and including accent trim, it has end caps of brushed aluminum and slim, top-mount pushbuttons. Wall-mounting via keyhole slots on the rear panel is presumed, and Def Tech includes simple spacers to ensure secure, rattle-free, properly oriented mounting. For the furniture-bound, they also supply a quartet of neat-o, stackable magnetic feet that stick onto the bottom extremities by pairs (you use two or four, depending) to raise the soundbar just enough to bridge a typical TV set's base: very clever.
Keep It Simple
The Studio's accompanying wireless subwoofer is a more conventional cube with a single downward-firing 8-inch driver and a rated 200 watts of power, while the soundbar itself relies on six 2.5-inch woofers and three 1-inch aluminum-dome tweeters. The soundbar section is an active design with onboard amplification specified as 120 watts spread over nine channels—one for each driver. Both Dolby and DTS surround flavors are decodable from incoming digital audio, and the soundbar processes surround from stereo. Surround manifests purely via Def Tech's Solo Surround Array (SSA) processing, which exploits time-domain and interaural-crosstalk manipulation to conjure subjective spatiality; there are no surround speakers, physical or otherwise. And there are just two listening modes, Movie and Music. In the soundbar world, simple is good, and simpler is better.
Simpl-est would of course be best of all, but in our HDMI age, that's unlikely. Nonetheless, Def Tech's brief printed quick-setup guide (a full manual is available online) bravely says, in essence, "plug an HDMI cable from the bar's output to your TV's input, and another from each source to an HDMI input, and you're good to go." For the majority of users, this will prove true. For the minority with special circumstances… well, the online manual includes a good bit of explication and diagramming, and the SoloCinema Studio proffers both an optical digital input and a single stereo-minijack analog one. A bit surprisingly, there's no mention of HDMI's Audio Return Channel, so for a system where the TV's own onboard tuner or streaming platform is a source but the set lacks a dedicated HDMI output (fairly common), a digital-audio or analog feed to a separate input would seem the only solution.
Setup
I placed the SoloCinema Studio bar on a low stand, almost against the wall, which aligned it directly beneath my 52-inch Samsung TV, about 3 feet off the floor and about 3 inches off the wall: effectively, wall-mounted. The sub went just to the right, also against the wall, its wireless link handshaking automatically upon turn-on. A couple of long HDMI cables from my Comcast box and streaming Blu-ray deck completed the setup.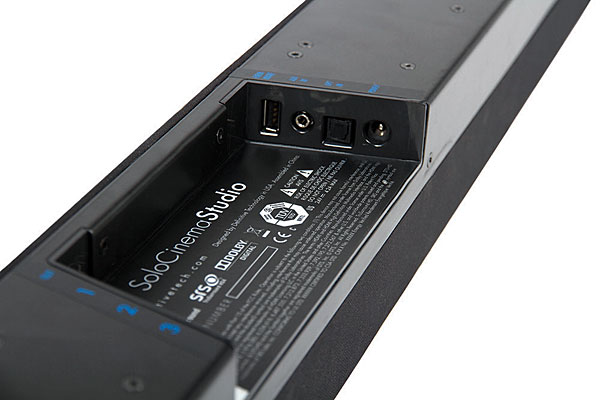 However, I began auditioning with no wires. Commencing as usual with two-channel music, I paired my iPhone 5S with the Def Tech and cued up the Kentucky Headhunters for some down-home fun. (The Studio can do no-touch NFC—Near Field Communications—pairing, but my gadget collection isn't quite so 21st century yet.) The soundbar employs Bluetooth's better-sounding aptX protocol, which unfortunately isn't supported by Apple iOS devices (only its OS X operating system for Macs), and both must be compatible to reap the benefits. However, the soundbar also supports the AAC codec for improved Bluetooth from Apple devices. I was rewarded with quite decent playback quality and a sonic landscape that sounded more like that of real speakers than any mini-woofered soundbar I can recall. Lest you think I am damning with faint praise (or praising with faint damnation), I mean this in the un-snarkiest possible way: The Def Tech soundbar played loud, solidly, and with none of the obviously ragged-midrange colorations (honk, hoo, etc.) so common among virtually all cheaper (and some not-so-cheaper) soundbars, while producing relaxed but present treble octaves and a surprisingly solid, gap-free bottom few octaves.
This last is no small achievement for any soundbar with mini-drivers, and especially because the Studio's subwoofer has very limited adjustability: on and off, plus a sub-volume control on the remote yielding ±10 decibels of adjustability. There's no crossover adjustment, nor any phase-invert; even its auto-on/off is permanent. Plug the sub in, move it around to where it sounds best, and call it good. (Alas, in many cases, this will be where it fits best.) My sub ended up just to the right of the soundbar's right-hand end, about 6 inches from the wall and some 7 feet from a corner; any closer, and the 60-to-120-hertz octave began threatening boom, of which the Studio was otherwise mercifully free. Much farther from the wall, the duo lost some of its impressive continuity of male vocals and other low-midrange sounds. Some of the credit here surely goes to Def Tech's long experience in designing tiny, long-throw drivers with surprising bass capabilities. But some of the credit must also flow to the Studio's all-active design. With an amp channel to every driver, there are no power-robbing passive crossover circuits. DSP crossovers do the honors—presumably with at least some response-shaping and dynamics-extending smarts thrown in.