"David Bowie Is" Immersive at the MCA Chicago
In the center of an all-white video screen, stands a young David Bowie. He is miming the story of a man who finds a mask that generates him enormous success and yet ultimately causes his suffocation. And so it's fitting, perhaps, that the
Bowie retrospective
at Chicago's Museum of Contemporary Art (September 23 through January 4, 2015), titled "David Bowie Is," contains little detail concerning the life of David Jones, the man who would become Bowie.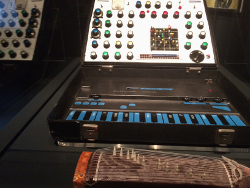 Personally reclusive, yet artistically prolific, David Bowie has saved extensive archives of his career, a collection of which are on display as part of the exhibit. From hastily sketched drafts of lyrics, to extensive designs of elaborate stage show concepts, detailed props, sumptuous costumes, instruments and synthesizers, photography, paintings, choreography notes, scripts, and letters from collaborators; those who peruse the show are treated to an in-depth profile of a profound scholar in all mediums of the arts.
Organized by concepts rather than chronology, the exhibit highlights how the artist known as David Bowie devoured the culture around him and processed it all into a consistently evolving public identity and volumes of works. Yet despite the electric and ephemeral nature of David Bowie's characters, there is a thread that ties them: his music. This same thread draws you through the MCA's multimedia exhibition, immersing you in Bowie's music and words.
Upon arrival at the exhibit, you are issued headphones and a transmitter that is linked to Sennheiser's guidePORT system. Rather than a linear path that pushes you from space to space in a set order and timeline, guidePORT senses your presence near a display and begins streaming you the audio associated with what you are viewing. This means that participants are able to choose to browse quickly or study areas in depth, move in whatever room order they prefer, as well as experience several different videos, musical demonstrations, or archival audio in the same space without enduring complete cacophony.
The effect is seamless, and elicits a far more emotional response to visual objects. Costumes are paired with the music videos in which they were featured, hand-written scores and charts are given life as you hear them while you see them. Familiar tunes feel completely new when experienced in the light of David Bowie's extensive influences and care to detail. Fellow students of the arts can contemplate the effect of Brechtian theater on "Heroes," while casual movie fans can geek out at the staff carried by the Goblin King in Labyrinth. Like Bowie's music, there's a little something for everyone.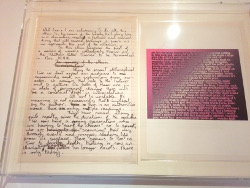 Although the majority of the show is a solitary journey, the final room before the exit is a communal one. MCA guests enter a room surrounded by ceiling-to-floor scrim with alternating front-side video projections and rear displays of mannequins in pertinent costumes. Some mannequins, like many throughout the gallery, are wearing silver David Bowie lifecast masks. This is the one stop in the show where you'll want to take your headphones off. At regular intervals, a live Bowie performance, including "The Jean Genie" from Top of the Pops is projected larger than life on the wall, as well as in your ears.
The entire song was re-mastered by audio engineer Gregor Zielinzky from the original BBC broadcast mono to a 360 degree, 9.1-channel experience created by Sennheiser's 3D Audio. Similar in concept to Dolby Atmos, Sennheiser's take uses four overhead speakers as well as four ear-level speakers and a sub to simulate a psychoacoustic sense of space, as well as to allow for more freedom of movement without being plagued by a defined sweet spot. Upconverted using Sennheiser's algorithmic software, but tweaked by hand to each individual stop on the tour, the sonic result is the feeling of being in the front row of a stadium show. The speakers are vintage Klein + Hummel IS123s, which are unique, as they never made it to market, due to Neumann purchasing K + H before the PA's release. This combination of futuristic technology with retro speakers sounds wrong on paper but feels very right when utilized in the context of Bowie.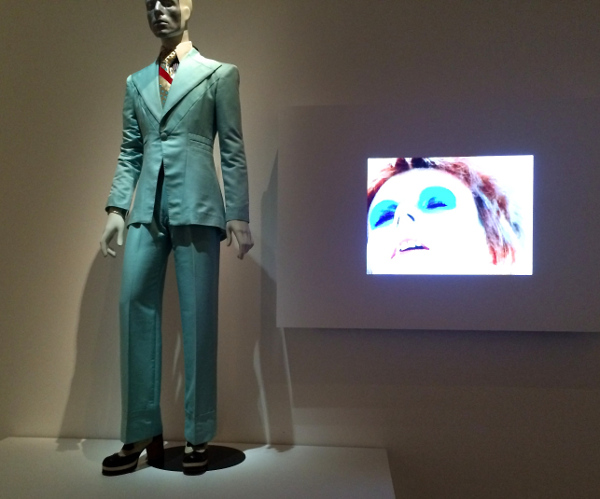 "David Bowie Is" reflects the enduring legacy as well as vitality and "now-ness" of Bowie's work. It highlights his inspirations, and is in turn, inspiring. The entire show is example of what happens when a lifelong student of the arts meets talent, passion, and technology. Throughout his career, David Bowie has evolved in harmony with the zeitgeist, morphing from Ziggy Stardust to Aladdin Sane, The Thin White Duke to Pierrot… mime, rock star, painter, poet, actor. Yet the masks he's worn were, in a way, created by us. Bowie, like a prism in a bolt of light, has absorbed our human culture and refracted it back to us, forever changed.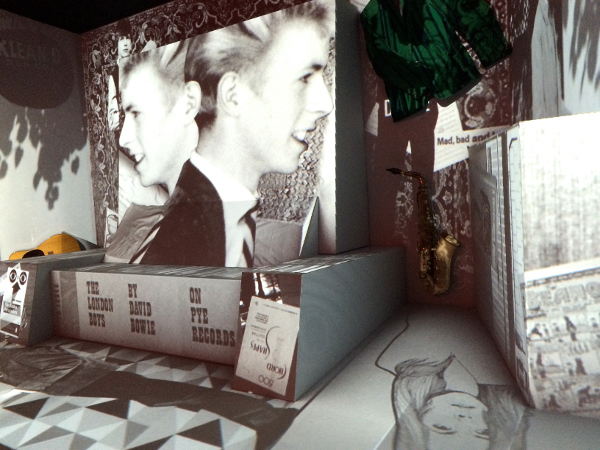 SPONSORED VIDEO