The Dark Knight Rises
But everything is about to change. A violent revolutionary named Bane (Tom Hardy) has targeted Gotham with an elaborate, horrible plan that goes beyond even what Ra's Al Ghul attempted in Batman Begins. Circumstances draw Batman out of retirement, and his inevit- able confrontation with Bane ends badly, leaving Wayne a broken man stuck in hellish prison halfway around the world, forced to watch helplessly as his beloved city is destroyed. The only hope for millions of innocent Gothamites will be the comeback of a lifetime.
A three-hour Batman movie with surprisingly little Batman in it might seem like a dicey proposition for audiences, but by now writer/director/producer Christopher Nolan has certainly earned our trust. Here he has given us a sprawling parable about heroism, truth, revenge, and the nature of evil itself, contrasting a succession of genuine nasties against new ally Selina Kyle (Anne Hathaway), a cat burglar with high heels and a heart.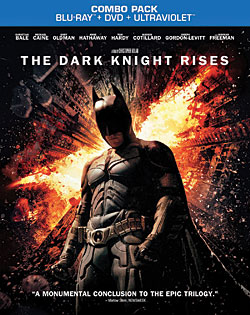 The Blu-ray aspect ratio shifts between 2.4:1 and 1.78:1, as Nolan famously incorporated a record one-hour-plus of large-format IMAX footage to craft a visually spectacular motion picture. The transitions are seldom jarring, and both the 35mm and IMAX scenes are often breathtaking in their precision. Gone is the unfortu- nate edge enhancement that plagued the previous Dark Knight Blu-ray, leaving a pure image that grounds this gritty fantasy with its credible realism.
The thrills are wonderfully enhanced by the aggressive DTS-HD Master Audio mix, rife with discrete off-camera surround cues, sharp directionality as Batman's latest vehicle zips across the sky (sometimes chased by multiple missiles), and unified 7.1-channel moments as when voices bark out at us over a football stadium PA system. Bass is mighty and generous, undeniable in the primal new direction for Hans Zimmer's musical score, but also manipulated to keep the mood subtly, appropriately unsettling. Bane's booming discourse is not any easier to understand in the home theater, but at least now we have optional subtitles.
Instead of Warner's Maximum Movie Mode, this Blu-ray supports a free, downloadable Second Screen app that displays synchronized bonus content on a tablet or smartphone while we watch. The rest of the extras are on disc two, including an hour-long history of the Batmobile that actually goes far beyond the artistic evolution of the iconic car. "Ending the Knight" consists of multiple featurettes, grouped into themes of Production, Characters, and Reflections, providing new insight and per- spective. There's also a DVD of the movie and a unique printed code for an UltraViolet Digital Copy in the cloud.
The Dark Knight Rises concludes Nolan's trilogy on a grand scale, and while ending the journey of the rebooted Caped Crusader after just three installments might seem somewhat abrupt, considering the character's long and storied career, these three adventures will long stand as an example of how good a modern comic book movie series can be.
Blu-Ray
Studio: Warner Bros., 2012
Aspect Ratio: 2.40:1/1.78:1
Audio Format: DTS-HD Master Audio 7.1
Length: 165 mins.
MPAA Rating: PG-13
Director: Christopher Nolan
Starring: Christian Bale, Anne Hathaway, Tom Hardy
Eight years have passed since the complicated events of The Dark Knight. The Batman (Christian Bale) has taken the blame for the death of district attorney Harvey Dent in an attempt to inspire the people of Gotham City to stand strong against crime. With the subsequent passage of the Dent Act, Gotham is tougher on criminals than ever, even while The Bat has disappeared, his alter ego Bruce Wayne living in self-imposed exile.