Criminal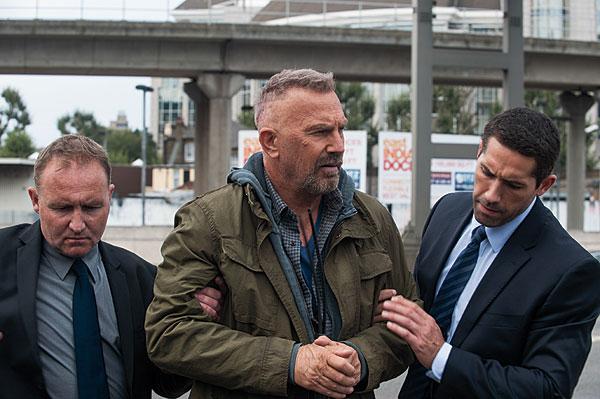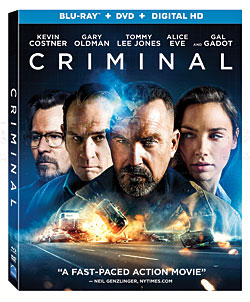 Sharp, extremely widescreen compositions are filled with detail: There's palpable texture to brickwork, and books in library stacks are all individuated. Numberless lines in Tommy Lee Jones' face are revealed, as are individual hairs on Kevin Costner's chin. Contrast is good, with deep black of jackets, sunglasses, and guns and a gritty, moody palette of rich browns, yellows, and blues in darkened rooms lit by computer monitors and pools of light. Skintones are natural.
The punchy soundtrack is immersive, with different aspects of the chest-tightening, relentless score well separated into each channel. In one old-school montage scene, dance music is really pumped up, and it sounds fantastic in 5.1. Elsewhere, bassy kettledrums and boomy electronic noises are mixed in with atmospherics of doves, dripping water, and, in a torture scene, electric shock crackle and screams. Despite all this audio action, car door slams, the tinkling of shackles, and dialogue are all clear and natural sounding, as are the plentiful, accurately panned effects of motorbikes, choppers, and planes.
An interesting 40-minute featurette tells the story behind the story, casting, and locations with clips and on-set talking heads. Forty minutes of director's commentary ably adds more background, and four minutes of deleted scenes are entertaining, as is the music video of Madsonik's "Drift and Fall Again."
Blu-Ray
Studio: Lionsgate, 2016
Aspect Ratio: 2.40:1
Audio: DTS-HD Master Audio 5.1
Length: 113 mins.
MPAA Rating: R
Director: Ariel Vromen
Starring: Kevin Costner, Gary Oldman, Tommy Lee Jones
When a CIA operative is killed by a team of anarchists, invaluable information is lost—or is it? Not now that a scientist has developed an experimental procedure for transferring memories from a dead man into another man's brain. The scientist's name, of course, is Doctor Franks. Not Frankenstein or Frahnkensteeen, but close. The concept's made all the more unlikely by the choice of recipient—an imprisoned psychopathic murderer called Jericho. The CIA head has chosen him because they have no moral problem forcing him to give up his personality and, more importantly, he's one in 10 million people who has frontal lobe syndrome, hence no feelings of love or hate, right or wrong. But it also means that after Dr. Franks inserts a fiberoptic package into Jericho's brain to stimulate unused stem cells, brain waves can be transferred in. The information is the whereabouts of genius hacker, The Dutchman (everyone here's got a great name), who has a flash drive with a wormhole program that can penetrate into the Department of Defense controls that launch their nuclear missiles. An anarchist villain intends to get the drive and, of course, blow up the world's capitals.