Convergence: The Future Is. . .Soon
We glimpse the shape of things to come.
Last fall, the editors of Home Theater beat a path to our industry's CEDIA Expo to see and be seen, as we do every year. This time around, we were surprised by the opportunity to witness the bona fide evolution of entertainment gear. We learned the names of three manufacturers (and so will you) whose creations—each multizone-friendly and high-end in its own fashion—bring next-generation features to the home theater and beyond. At press time, these products were still too new for a full hands-on review, so we'll share what we do know thus far.
Antex Electronics
Antex, a playa' in the digital audio industry, has finally found a way to piggyback (or converge, if you will) another next-generation entertainment technology onto your existing wholehouse audio system. Their three-zone Sirius satellite-radio receiver, the SRX-3 TriplePlay, puts multiple tuners into a single component, allowing listeners in different rooms to play different streams simultaneously over a single distributed-audio system. The TriplePlay is the first satellite-radio device specifically designed for use in a multizone system.

Sirius' satellite-radio service is like the digital video recorder: It's an innovation with more than its share of skeptics; yet, once properly exposed to its features, people seem to genuinely appreciate the newfound convenience. I never once missed the commercials that seem to drastically outnumber the songs on standard radio these days, and the high-quality audio combined with top-notch playlists makes for a listening experience akin to setting my entire CD collection on shuffle. The Sirius approach is, of course, much simpler than that CD business, and the Antex solution addresses the withdrawal that was formerly a problem for many people: If you leave your Sirius-equipped car or living room, you're deprived of music or, worse, bombarded with hair-restoration ads and static at other listening posts in the home.
Designed with custom installation in mind, the single TriplePlay box is content on a tabletop, but you can also rack-mount it. It has a 160-by-240, backlit LCD display on the front panel. Although an infrared remote control is included, the box also integrates with pre-existing remote-control systems from companies like Crestron, AMX, Sonance, Niles, Kenwood, Elan, and others, utilizing RS-232 or IR via outputs on the back of the unit. Antex is working with control-system manufacturers to develop macro commands. Only one antenna is required, and it's included. The SRX-3's RF input is demodulated and split into three different data paths, each of which contains the complete range of Sirius streams.
For multizone use, you'll need a basic audio-distribution controller in your multiroom system, which then shares the signal with the appropriate destinations via analog or digital connections. You can configure 10 music presets for each of the three independent, simultaneous Sirius zones, and you can select favorite channels for faster, easier surfing of the channel or category lists, although all are available at all times. Parental Lock is also a handy feature, for those rough-edged rap and talk-radio channels among the 100-plus streams.
For simpler installation today with room to grow tomorrow, you can also use the TriplePlay as a single-zone receiver and just plug it right into an existing A/V receiver, at the standard service rate of $12.95 per month. The necessary subscription to the Sirius service for the full noncommercial, three-zone application of the SRX-3 TriplePlay is $26.85 per month.
Inteset
Versatility is certainly one of the hallmarks of convergence, and our next discovery has plenty to spare. The Denzel home theater system from Inteset is one of those fascinating, comprehensive devices that we knew would come our way sooner or later. To enjoy the Denzel TP400-S's full benefit, you'll need a large, widescreen digital television with a DVI input and a robust multichannel audio setup. This not-so-little black box will do just about everything else—and that's no exaggeration.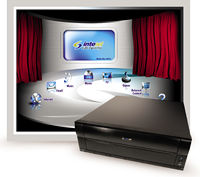 For television, the Denzel has a built-in 125-channel cable-ready tuner and an HDTV receiver for broadcasts via terrestrial antenna and DBS passthrough. The high-speed, 750-gigabyte hard drive, with an 8-megabyte buffer, can record vast quantities of both standard- and high-definition TV, which you can burn internally to DVD-R at a 4X speed and DVD-RW at 2X. DVDs play in progressive-scan mode, with Dolby Digital/
DTS passthrough to your receiver or processor via either digital optical or coaxial output. The TheaterTek HTPC-style software DVD player is preloaded. Although it doesn't support DVD-Audio or SACD, the Denzel is a jukebox for CDs, MP3s, and WMA tracks, as well as streaming media from the Internet. You can create CD-Rs at 16X and CD-RWs at 8X. Stomp's RecordNow is the supplied burning software. Because the Denzel's massive chassis houses a full computer running Windows XP Professional with a Pentium 4 2.8-gigahertz processor, an ATI Radeon 9800 graphics board, and 1 GB of RAM, it can also play games that most people have never seen in the living room before, since many of the hottest titles are exclusive to the PC, the platform of choice for many hardcore gamers. While you're at it, run any Windows XP–compatible program, for work or play. The unit purportedly operates surprisingly coolly, with an unobtrusive, low-noise power supply.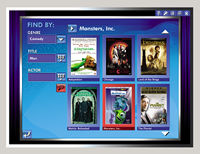 The wireless infrared keyboard with an integrated mouse works from over 20 feet away with line-of-sight; the preprogrammed RF remote control works from 40 feet, even through walls. You can modify your PocketPC device to sync up with and operate this theater system. The Denzel is also multizone-capable to stream audio to different rooms, via wires or Wi-Fi. Pairing up just two of its many features, such as the ability to browse the Internet via broadband while watching and recording HDTV, gives you some idea of what an unusual product this is. Here is true multimedia, including the ability to read from and write to Compact Flash Types I and II, SmartMedia, Memory Stick, Multimedia Card, Secure Digital, and other memory cards containing music, still photos, and more. Two FireWire and six USB 2.0 ports—two on the front panel—offer even more connectivity, while the built-in digital mixer for mastering and recording comes in handy for transferring old LPs and cassettes to CD or simply adding them to the Denzel music server.
Kaleidescape
Although the Kaleidescape system incorporates a DVD player, that is the least of its strengths. It offers control of your movie collection in ways that we didn't believe were legal, let alone possible. The Kaleidescape might best be described as a DVD server: DVDs are loaded—or, more accurately, copied—in about 20 minutes each. By copied, I mean that an exact dupe of all of the DVD's files, right down to the copy protection, is read and imported onto the Kaleidescape Server, rendering an entire movie collection ready to be streamed to any room in the house where you've installed the Movie Player box. Strict security measures on this device, such as the inability to send loaded movies anywhere beyond your own system, make it perfectly legitimate. This is a closed, in-home, network-based entertainment product/service that's based on neither PC nor set-top-box technology. Its proprietary operating software offers a user interface with multiple ways to browse and play movies, jump to favorite scenes, pause, and exercise parental control that can effectively hide movies from unwelcome viewers. Only DVD-Video works here, not DVD-Audio or even CD.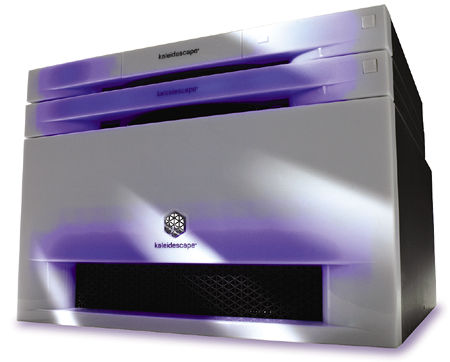 The Kaleidescape Movie Guide service, accessed over the Internet, automatically provides detailed information about loaded DVDs, such as title, cover art, cast, director, synopsis, etc. The service also provides video bookmarks that allow users to begin playing the movie directly, without navigating through the DVD menu. These bookmarks can send command cues to AMX and Crestron control systems—say, at the beginning of a movie when you might want the lights dimmed or the curtains opened or during the end credits when you'd want the reverse. Users can set their own custom bookmarks to quickly play favorite movie scenes.
The rack-mountable Server, the heart of the system, arrives with five hard-disk-drive cartridges, although you can add up to 12 more for a total of up to 3.6 terabytes (or about 400 movies) with potentially less clutter and easier access than the physical DVDs offer. Response times during all playback functions should improve, as well—a result of copying the original DVDs to faster hard-drive storage. The Kaleidescape system includes a Movie Player and a DVD Reader, both of which are rack-mountable. Ethernet bandwidth constraints allow a single Server to play approximately seven movies simultaneously, but multiple Servers and more Movie Player units will enable many playback zones and an even bigger library. A wired home network interconnects the hardware, since wireless LANs (even 802.11g) can't handle such high-quality video streams. Component video output supports 480i and 480p, but also 720p and 1080i with an eye on the HD future: The Kaleidescape can only import content from today's DVDs, so no HD material is currently available, but a new DVI version of the Movie Player with HDCP copy protection is in development. In a sense, the hardware is waiting for the entertainment providers to catch up. The Kaleidescape also supports S-video and composite video, along with digital coaxial, digital optical, and analog stereo audio.
Intended for custom, multizone home theater installations, the Kaleidescape can distribute video throughout the house, with each room receiving its own selected audio format and the appropriate aspect ratio. You can configure an AMX or Crestron touchpanel to navigate the proprietary onscreen display, but a universal IR remote that's programmed with the codes for Zenith, Toshiba, or Kenwood DVD players will work, too.
SRX-3 TriplePlay Receiver $1,999
Antex Electronics
(310) 532-3092
www.antex.com
Sirius Satellite Radio
(888) 539-SIRIUS
www.siriusradio.com
Kaleidescape DVD System $27,000
(The base system holds 125 movies)
Kaleidescape
(650) 625-6100
www.kaleidescape.com