Coming Attractions
Integra
Universal players are becoming more and more appealing to consumers, and Integra's new DPS-10.5 universal player ($2,500) is a good example of why. This THX Ultra–certified player is compatible with nearly every format in use, including DVD-Audio and SACD. It sports an HDMI output to pass video in the digital domain, plus two iLink ports to allow the digital transfer of high-resolution audio signals. The O-Plus FlexScale circuit upsamples video to customizable formats, including 720p and 1080i. A full set of 7.1-channel analog audio outputs and two optical and two coaxial digital audio outputs are also included.
Integra
(800) 225-1946
www.integrahometheater.com
Fujitsu
Fujitsu's new LPF-D711 LCD projector ($25,000) uses the company's Advanced Video Movement II digital video processor and houses an array of connection options like HDMI and DVI-D. The 16:9 projector uses three 1.3-inch, 1,920-by-1080 LCD panels for red, green, and blue color reproduction. According to the company, the projector has a brightness of 1,200 ANSI lumens and a 3,300:1 contrast ratio. The three-color TFT Shutter produces 16.77 million colors. Other inputs include component video, S-video, composite video, and digital and analog RGB; an RS-232 control port is also included.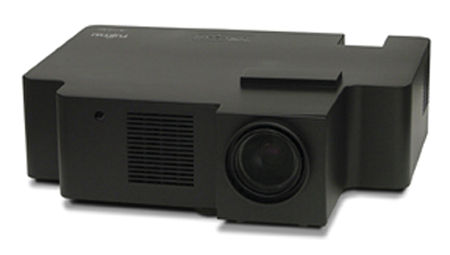 Fujitsu
(973) 575-0380
www.fujitsu.com
LATEST VIDEO