Coming Attractions

Sony HDR-TD30V 3D HD Camcorder
Who needs 3D movies from Hollywood when you can shoot your own? Sony's HDR-TD30V doubles up on wide-angle lenses, image sensors, and image processors so you can make home movies in glorious 3D. Better yet, it records 1920 x 1080 video at up to 24 Mbps so you can watch homegrown masterpieces in Full HD on your big-screen HDTV. Highlights include tracking focus to keep moving objects clear, a camera strap that doubles as a USB cable, and optical image stabilization with an active mode to compensate for herky-jerky movements. Recording is via Memory Stick or SD card.
Glasses-Free 3D: The 3.5-inch LCD screen is great for checking your videography chops on the fly—and in full 3D. No glasses required. Price: $999
Sony • (800) 222-7669 • sony.com
Klipsch Image One Headphones
Weighing in at 5 ounces, the Image One headphones feature ear cushions made of leather-wrapped memory foam, an adjustable leather headband, and a flat, tangle-resistant cable. An in-line three-button remote/microphone makes it easy to control music on an iPhone/iPad/iPod and answer calls without removing the headphones; the microphone has a 360-degree pickup pattern with echo cancellation so you don't have to worry about speaking directly into it. Available in black or white.
Space Saver: The earcups fold into the headband for convenient storage in the supplied travel case. Price: $150
Klipsch • (800) 544-1482 • klipsch.com
B&W Panorama 2 Soundbar
Yep, you read that right—another soundbar from world-class speaker maker Bowers & Wilkins. Drawing on technologies developed for B&W's 800 Series Diamond reference speakers, the svelte Panorama 2 offers improved dynamic performance, midrange-tweeter integration, and bass extension (down to 35 hertz at –6 decibels) over the original Panorama. Also new is a proximity sensor that illuminates the soundbar's display window as the user's hand approaches. Highlights include Dolby Digital, DTS, and Dolby Pro Logic II processing, three HDMI inputs, and 175 watts of power.
Sound Central: Five of its nine speakers—two woofers, two midrange drivers, and a tweeter—are dedicated to reproducing the center channel, which conveys most of the sound in movie soundtracks. Price: $2,200
Bowers & Wilkins • (978) 664-2870 • bowers-wilkins.com
McIntosh McAire Wireless Music System
McIntosh, the company whose amplifiers powered the sound system used at the legendary Woodstock Music Festival in 1969, steps firmly into the 21st century with the McAire wire- less music system. Yet the McAire retains the brand's classic appeal by way of analog level meters, silver-ringed knobs, and a black-glass faceplate. The self-contained 19 x 8 x 17–inch system houses six speakers—pairs of 4-inch woofers, 2-inch mids, and 0.75-inch tweeters—and uses Apple's AirPlay technology to stream music stored on a Mac/PC or iPhone/iPad/iPod touch. An auxiliary input and USB connector accommodate analog source components, older iPods, or the lack of a wireless network.
Mac Attack: Multiple McAires can be synced to one device for a wholehouse music experience. Price: $3,000
McIntosh Labs • (607) 723-3512 • mcintoshlabs.com
Bracketron Mushroom GreenZero Wall Charger
It may have a clunky name, but its purpose is divine. The Mushroom GreenZero (why not call it Green Mushroom?) provides an eco-friendly way to charge smartphones, tablets, and other USB devices by eliminating wasteful standby power consumption. When a connected device is fully charged, the Mushroom's charging light turns off and the device stops consuming power. Zero. Zip. Nada.
Battery Benefit: In addition to saving energy, automatically turning power off when charging is complete may extend the battery life of connected devices. Price: $28
Bracketron • (866) 237-4443 • bracketron.com
Harman Kardon AVR 3700 A/V Receiver
From the company that brought us the world's first receiver nearly 60 years ago comes the 7 x 125-watt AVR 3700 with features that were unimaginable 10 years ago, let alone 60. Among them are Wi-Fi, AirPlay and DLNA 1.5 connectivity for streaming from Apple and DLNA-compliant devices (including Android smartphones/tablets and Windows 7 computers), and a vTuner for quick access to thousands of Internet Radio stations. Other highlights include 4K upscaling for all inputs, Dolby TrueHD and DTS-HD Master Audio decoding, multizone capability for simultaneously playing two audio sources in two rooms, Harman's EzSet/EQ auto-calibration system, and eight HDMI inputs.
Eco Engineering: The AVR 3700 uses an eco-friendly digital power supply instead of the usual hefty transformer. Price: $1,000
Harman Kardon • (800) 422-8027 • harmankardon.com
Dish Hopper with Sling DVR
Last year when Dish introduced the Hopper, a DVR that automatically skips commercials on recorded prime-time shows, TV viewers rejoiced and broadcasters called their lawyers. This year, the company is offering the upgraded Hopper with Sling, which lets users watch and control live TV and DVR recordings from smartphones, tablets, and PCs, essentially replicating the living-room TV experience wherever they go. The DVR boasts a 2-TB hard drive, Wi-Fi, and a 1.3-gigahertz processor that speeds up guide scrolling.
Apps to Go: Hopper Transfers lets you move DVR recordings to an iPad for on-the-go viewing, and Dish Explorer delivers a second-screen experience that connects viewers through social media and highlights which shows are trending based on real-time viewer data. Price: Free with a two-year subscription
Dish • (888) 656-2461 • dish.com
NAD M50 Digital Music Player
PCs are great multipurpose machines, but when it comes to music, they can be noisy. The M50 Digital Music Player, the latest addition to NAD's Master Series, is the brain of a no-PC-required digital music system designed for high-resolution playback. In addition to managing your music, it facilitates 24-bit/96-kilohertz downloading, wired and wireless network streaming, and high-quality CD playback with automatic ripping to the M52 Music Vault ($2,000), which boasts 2 terabytes of enterprise-grade storage and 1 TB of backup. The M50 is upgradeable via software and decodes FLAC, ALAC, MP3, WMA, AAC, and Ogg files.
iManagement: A free music-management app for Apple devices is available, or you can use the supplied remote to control the M50. Price: $2,500
NAD • (905) 831-6555 • nadelectronics.com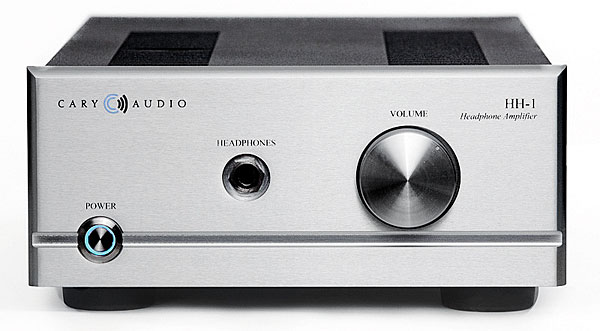 Cary Audio HH-1 Hybrid Headphone Amplifier
Think of the HH-1 as an amplifier for audio connoisseurs who demand a no-compromise music experience whether listening over speakers or headphones. Designed and built in the U.S. using top-quality parts, the HH-1 combines a tube preamp stage with a solid-state MOSFET output stage, chosen for its tube-like sonic characteristics. The amp sports a pair of RCA inputs with loop-through outputs and is designed to drive headphones with impedances between 30 and 600 ohms.
Top of the Class: The HH-1 delivers Class A operation at all output levels and features an overbuilt transformer that feeds a fully regulated discrete power supply to ensure the "best sound quality." A 30-second muting circuit prevents annoying turn-on pops. Price: $1,595
Cary Audio • (919) 355-0010 • caryaudio.com
Panasonic TC-P65ST60 3D Plasma HDTV
You can have your plasma without giving up 3D or the latest smart TV features, which in the case of Panasonic includes a built-in Web browser, Wi-Fi, Viera Connect for direct access to streaming services such as Netflix and Hulu Plus, and the new Swipe & Share 2.0 feature for quickly transferring photos and videos from Android and iOS smartphones/tablets to the big screen and sharing them with other mobile devices. To guarantee immediate enjoyment of eye-popping 3D action, two sets of active 3D glasses are included.
Let's Get Personal: Each family member can create a personalized Home Screen that provides quick access to favorite content. Price: $2,800
Panasonic • (800) 211-7262 • panasonic.com