Coming Attractions
Klipsch HD Theater 600 Speaker System
As long as you're OK with its elegant high-gloss black finish, you shouldn't have any problem integrating HD Theater 600 speakers into your room. Each satellite speaker is only 6 inches tall, and the center speaker is 9 inches wide. OK, the subwoofer with its 8-inch driver, 100-watt amp, and 30-hertz capability is pretty big, but it tucks away nicely in a corner. Wall brackets are included, or you can mount the satellites on optional floor stands.
Horn of Plenty: The defining component of each satellite is the 0.75-inch MicroTractrix tweeter, a miniature version of the horn-loaded speaker that has been Klipsch's hallmark for 66 years. Each mini horn is paired with a 2.5-inch midrange driver. Price: $600
Klipsch • (800) 544-1482 • klipsch.com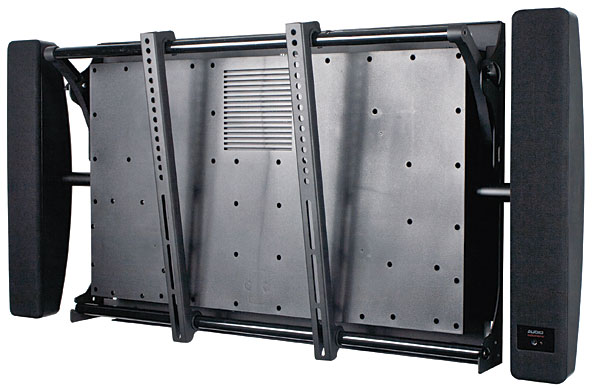 Audio Solutions TVAM2-1 Audio Mount System
With the TVAM2-1, you can mount your flat-panel TV on the wall and upgrade its sound in one shot thanks to the integrated column speakers, subwoofer, and 100-watt Class D amplifier. Each column houses a 0.75-inch silk tweeter with a midrange speaker above and below, a configuration that improves dialogue clarity by eliminating vertical lobing, and the subwoofer's 6.5-inch driver and tuned port deliver what is described as punchy bass. The mount is designed for TVs with screens from 32 to 55 inches that weigh up to 135 pounds. A remote control with bass, treble, and balance controls is included.
Pick an Angle: The TV and speakers can be independently tilted up to 15 degrees to optimize your TV experience. Price: $500
Audio Solutions • (866) 839-9187 • audiosolutions.com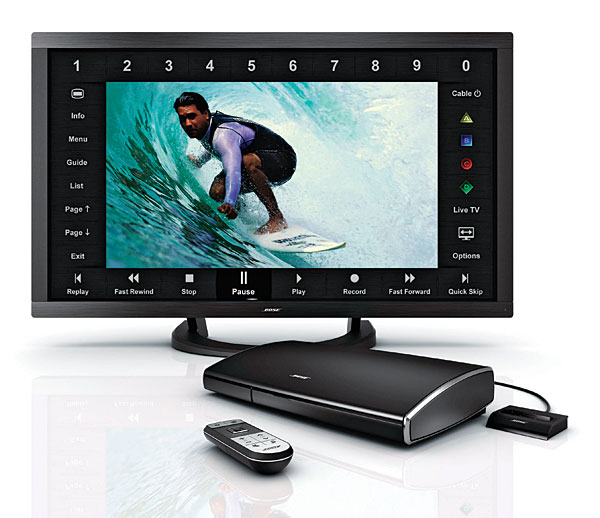 Bose VideoWave II "Speakerless" Entertainment System
The speakers are there, you just can't see them. A control center with connections for six components, an iPod/iPhone dock, and a 46- or 55-inch 1080p LED-backlit LCD TV with 13 built-in speakers comprise the complete VideoWave II system. Seven speakers hidden along the top use digital processing and PhaseGuide radiators to create surround sound, while bass comes from six woofers in the back of the display. A click-pad universal remote works with an onscreen interface to keep control simple and operates via radio signals instead of the usual line-of-sight infrared.
White Glove Service: The price includes delivery, setup, and calibration to optimize the sound for your room. Bose will even recycle your current TV. Price: $4,999 with 46-inch TV; $5,999 with 55-inch TV
Bose • (800) 869-1855 • bose.com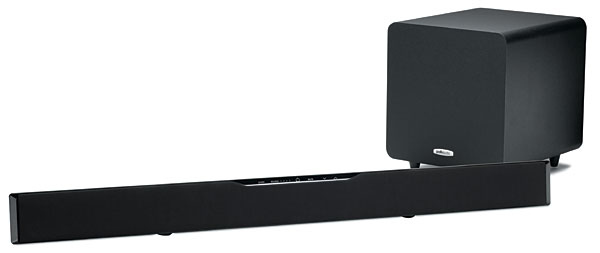 Polk Audio SurroundBar 9000 IHT
Polk's SB9000, the newest member of the Instant Home Theater (IHT) speaker family, aims to create "component-caliber 3D audio surround sound" using two boxes instead of the usual six. Put the slender 44-inch-wide soundbar on a cabinet or shelf under your TV (or hang it on the wall), find a cozy spot for the wireless subwoofer, and run cables to your TV. That's all it takes.
Power Up: The system can deliver more than 500 watts of peak power: 45 watts to each of the five 2.5-inch midrange drivers and three 0.5-inch silk tweeters plus 150 watts to the bass module, which houses an 8-inch driver and can be located up to 50 feet away from the soundbar. Price: $849
Polk Audio • (866) 764-1801 • polkaudio.com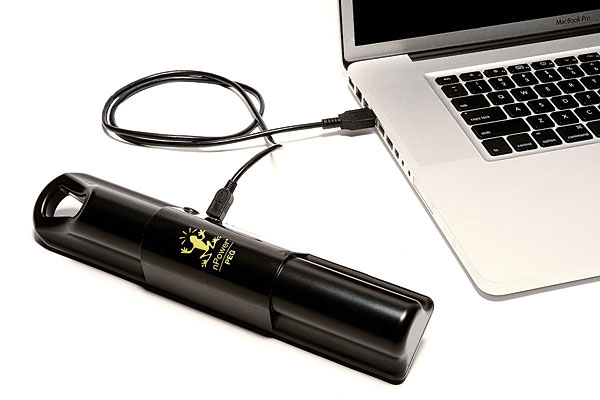 nPower Personal Energy Generator
Ever been out and about when your phone, camera, GPS, or iPod died with no AC outlet in sight? Or maybe there was an outlet but you left the charging cable at home. Keep the 10.5-inch PEG in your backpack, briefcase, or purse, and you'll always have backup power. If your phone dies, plug it into the PEG and press the button. The generator comes with a USB cable for charging its battery from a PC or USB charger (recommended before you head out for the day) and an iGo cable and micro USB adapter tip for connecting most handheld devices.
Power Walk: The PEG converts kinetic energy created by your movement into electricity and stores it in an internal battery. Price: $170
Tremont Electric • (888) 214-3137 • npowerpeg.com
Proficient Zero Wireless Music System
Problem: You want to put surround sound in your den, but running speaker wires across the room turned out to be a much bigger hassle than you imagined. Solution: Get a PZ (Proficient Zero) System, hook up its transmitter to your A/V receiver, and plug those surround speakers into the PZ amplified receiver, which puts out a respectable 35 watts per channel. Bonus: You can stream music wirelessly from a Bluetooth-compatible smartphone, tablet, or computer to the PZ Receiver for broadcast throughout the house.
Multiroom Music Made Easy: The transmitter has a range of 90 feet and supports up to four sources and eight stereo zones. Price: $680, PZ System with transmitter, receiver, and remote; additional PZ Receivers, $430 each
Proficient Audio • (877) 888-9004 • proficientaudio.com
Grace Digital MatchStick Speaker Dock for Kindle Fire
"I love my Kindle Fire, but the sound sucks…" What to do? Pop it into a MatchStick dock (a.k.a. model GDI-GFD7200) and enjoy "full-range" sound from Netflix movies and Pandora radio while it charges. Feeling lazy? Use the credit-card remote to crank up the volume without budging from your cushy chair across the room. The dock has two 3-inch speakers powered by a 16-watt amp, an auxiliary input for a second music source, and a rotating cradle so the screen can be oriented vertically or horizontally.
Nix the Power Cord: Add a rechargeable lithium ion battery pack ($30), and you can jam out anywhere for up to six hours. Price: $130
Grace Digital • (866) 446-0961 • gracedigitalaudio.com
NuForce Cube Portable Speaker
Do you cringe when the kid next to you starts blasting music from his smartphone or laptop, confirming that 85 percent distortion is possible? Sure, you have music on your laptop, but you wouldn't be caught dead playing it over those cheezoid speakers. That's where the 2-inch NuForce Cube comes in. Think of it as your mobile audio center—a "high-performance" micro speaker, mini amplifier, and "audiophile-grade" USB digital-to-analog converter (DAC) rolled up in one.
Play On and On: A fully charged lithium battery will keep your portable audio sounding good for eight hours. The Cube is available in red, silver, blue, or black and comes with USB and minijack stereo cables and a soft carrying pouch. Price: $119
NuForce • (408) 890-6840 • nuforce.com