Cleer Edge Pulse Earphone Gives Your Workout an Edge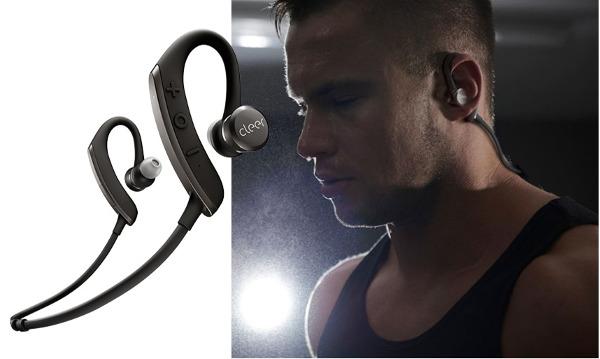 While everyone and their sister is coming out with wireless earphones (thank you, Apple), clearly there's a need for companies to give themselves an edge in a very crowded marketplace. The new Edge Pulse earphone from Cleer clearly has an edge over the competition.
The Edge Pulse earphone (MSRP $150.00) has a built-in heart rate monitor. Yes, finally you can ditch the awful chest strap and get a fairly accurate reading — more on that later. As you would expect from Cleer, the Edge Pulse sounds quite good, and has a good build quality.
The Edge Pulse is workout-ready with an IPX5 rating for water resistance, it's shockproof and available in black or red. The earpiece is soft and flexible, but can be adjusted for a perfect fit. Three eartips are supplied. The Edge uses somewhat large 5.8mm neodymium drivers for improved bass response. They do extend out a bit more than other wireless earphones, but surely people would prefer an extended frequency response over a sleeker profile.
It connects quickly via Bluetooth (Edge supports Bluetooth 4.2) or NFC pairing — it powers up in pairing mode. Voice prompts let you know things such as power on/off and pairing information. Power and volume are on the outside of the right earpiece. Note to Cleer: the beep tone when the volume buttons are pressed are a bit too loud, especially jarring when you're at a soft listening level and want it even softer.
I had high expectations from this earphone, since I'm a fan of many other Cleer products. The Edge Pulse doesn't disappoint. It has a very natural, accurate sound, particularly in the high end. Female vocals were clear without any harshness or unpleasant tones. The only fault with the sound quality was the very deepest end of the bass. I love working out listening to David Guetta, and Sia's voice on "Titanium" was clear, even at the highest range of her voice. However, this song also has a massively deep bass line. I felt the Edge was lacking the deepest frequencies unless the earpieces were uncomfortably pushed into my ears. I could get the bass response I needed by switching eartips, but then they weren't as secure during a strenuous workout.
Speaking of workouts, I'm a huge fan of the heart rate feature. As the name implies, the Edge Pulse has an infrared heart rate monitor built into the left earpiece. Voice guidance lets you know that the heart rate monitor is activated. it has 6 hours of playback time with the heart rate monitor activated. The voice lets you know when heart rate monitor is calibrated and when pulse is detected. To enable the monitor, press the outside of the right earpiece for a few seconds. Once detected and calibrated, a short tap on the right earpiece gives you an audible reading of your heart rate.
The supplied literature stated that the heart rate is compatible with MapMyRun, FitBit, and Endomondo. I was disappointed that they didn't list Zwift. I still wanted to listen to them during a workout, so used my regular heart rate strap and started in Zwift. Lo and behold, when I checked the pairing screen, the Edge Pulse was listed. I did a 20-mile ride comparing both heart rate monitors, and for the most part, they gave identical readings. For a minute, the Edge gave a false low reading. (I was on a simulated climb, working hard, and the reading went from 145 bpm down to 74.) I turned off the monitor, and started it again, and it was fine. I couldn't get it to reproduce the problem, and for the rest of the workout, it was flawless.
I have to say that extreme caution needs to be used when using earphones while exercising outdoors. Everyone needs to be situationally aware while wearing any type of headphone outdoors. The Edge Pulse don't block out all exterior sounds, but with the volume cranked, they do mask some outside sounds.
The Cleer Edge Pulse has a great sound with wireless convenience and the added advantage of a heart rate monitor. Using it is simple, and it's one less gadget to worry about forgetting before a workout. The sound alone gives the Cleer Edge Pulse an edge, and the pulse feature clearly pushes it over the top.