Sonic Windshield: ClearView Audio Clio Wireless Speaker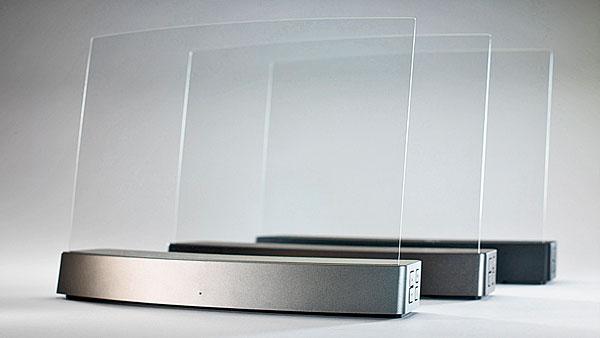 When someone says "invisible sound," the first thing that comes to my mind is an in-wall/ceiling speaker hidden behind an inconspicuous grille. ClearView Audio has a different take on "invisible" with its stylish Clio Bluetooth speaker, which uses acrylic glass to create sound. No domes, no cones, except for a tiny 2-inch "woofer" hidden in the base that supports what you might call its sonic windshield. We asked CEO Stefen Bokamper to tell us about this unusual speaker.
S&V: What was the inspiration behind Clio?
SB: A desire to give consumers a great-sounding invisible speaker. We believe speakers should be heard and not seen. No More Black Boxes!
S&V: How does it work?
SB: Our patented Edge Motion technology employs a mechanical principle that is completely different from other flat-panel or cone transducers. Instead of pushing a speaker cone from behind with a magnet, Edge Motion speakers consist of a slightly curved, flexible membrane [acrylic glass] that is actuated near its edge by piezo-electric actuators that bend the membrane inwards and outwards to radiate sound; they have an extremely fast response that contributes outstanding clarity. The membrane is a dipole speaker that generates sound from both the front and rear, resulting in a room-filling, panoramic audio experience. Moreover, the curvature of the membrane and the transducer principle contribute an outstanding off-axis acoustic characteristic.
S&V: Tell me about the design.
SB: Clio is as invisible as an in-wall or in-ceiling installed speaker—without the cost or hassle of installation. The colors and finishes of the minimalist base are designed to complement other decorative accessories found in a well-designed environment—lamps and picture frames finished in antique nickel, bronze, or brass. The buttons are designed to be flush and disappear on the base.
S&V: What type of power amplifier is used?
SB: We are employing a custom-developed Class D audio amplifier with performance comparable to other Bluetooth speakers.
S&V: Have you considered adding a subwoofer output?
SB: Clio is designed for people who want a simple, compact, single-enclosure stereo system with a small footprint that they can stream to. We are considering additional features such as wired or wireless subwoofer output as we expand our product lineup.
S&V: Who is Clio aimed at?
SB: Design-conscious music lovers who value the quality of their sound as much as the aesthetics of their interior environment. Because of our décor-friendly design, we are targeting female as well as male buyers.
Clio is available at ClearViewAudio.com for $349 with a silver, black, or bronze base.
ClearView Audio
clearviewaudio.com

SPONSORED VIDEO