Cheap for a Bryston, not for a remote
As a custom installer, I love high-end gear. Milled aluminum faceplates? Awesome. 99.9999% pure silver interconnects? For sure. Laser etched engraving? Damn straight. But when I received the e-mail touting Bryston's new BR2 multifunction remote control, even I had to step back and say, "Really?"
At $500, the price isn't outrageous. In fact, I recommend and install remotes costing more than that all the time. And I don't question the Bryston name. Their amps are so powerful that for many years rumors flew about people arc welding with them. What is surprising is that for half-a-grand you only get control over Bryston gear, and limited control at that. For example, the remote only controls volume and mute for the SP-2 and BP-6 Preamps.
On the plus side, the BR2 is made out of milled aluminum and comes in black or silver. Plus its backed by Bryston's standard 20-year warranty.
For half the price, you could snag a much sweeter Harmony ONE. And, good news! The ONE will control you Bryston gear as well! (I checked.) Plus it will control your TV and your Blu-ray player, and about any other piece of gear you can get your hands on.
For those still interested, the press release is after the jump . . .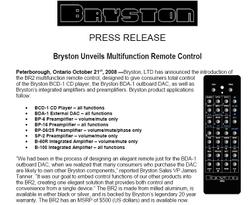 Click on image to at left to see full-size. – John Sciacca
John Sciacca is The Custom Installer columnist for Sound & Vision. His company is Custom Theater and Audio.
LATEST VIDEO