Channel Surfing Survives in the Age of Streaming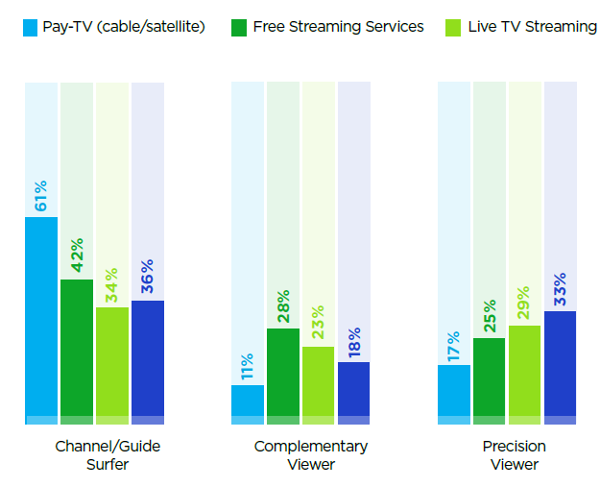 The death of channel surfing is greatly exaggerated and commercials aren't really that bad after all. These are just two of the many findings of TiVo's latest Video Trends Report.
It seems that a majority of TV viewers regard themselves as channel surfers — navigating their way through not just TV channels but a variety of viewing options while they figure out what to watch. Though the activity is still most prevalent among "pay-TV" cable and satellite viewers — 61% considered themselves "surfers" — four out of 10 viewers who watch free streaming services and about a third of those who stream live TV or subscribe to services like Netflix also identify as surfers.
Drawing on data from 4,500 adults in the U.S. and Canada, TiVo analyzed consumer behavior across different types of video services and defined five "viewing behavior types."
• Surfers click or scroll through channels, apps, guides or videos to see what looks interesting in the moment.
• Complementary Viewers are multitaskers who either watch videos while doing other activities or use content as background noise.
• Precision Viewers have a particular video in mind beforehand so they search for, navigate to, and watch that video without browsing.
•Recommendation Viewers watch the content recommended by their subscription streaming service.
• Pure DVR Viewers are cable or satellite TV subscribers who primarily watch shows or movies they have recorded.
Remarkably — at least compared with a more traditional view of TV — the survey also found that viewers (81%) would rather sit through commercials than pay for another ad-free streaming service; 83% even went so far as to say they wish services such as Netflix and Prime Video would offer a free, ad-supported option. So much for TiVo's commercial-skip feature.
More to the point, 61% of those who watch free broadcast TV from an antenna and 58 percent of those who watch advertising-based video on demand (AVOD) say they don't mind commercials when watching TV, though the type of screen and device used plays a role in shaping consumer attitudes: 31 percent say ads on a smartphone or tablet are worse than ads on a TV; 23 percent believe TV ads are worse and 38 percent think ads are equally bad on both.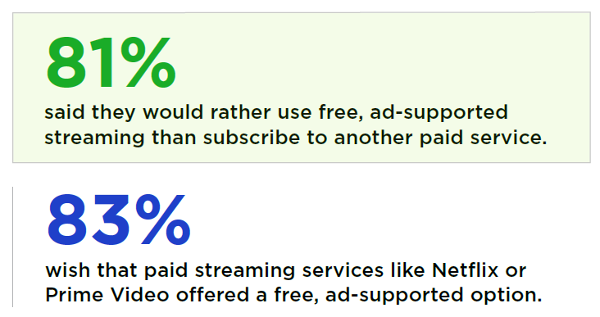 The tolerance of commercials is actually not so surprising when you consider how many subscription streaming services are vying for a share of our monthly TV entertainment dollars. The ever-expanding list includes but is not limited to Disney+ ($7.99), Apple TV+ ($4.99), Peacock ($4.99) Paramount+ ($4.99), Discovery+ ($4.99), HBO Max ($14.99), Hulu ($5.99 to $64.99 with live TV), YouTube TV ($64.99 and up), ESPN+ ($7), and Sling TV ($35 and up) plus crowd favorites Netflix ($8.99 to $17.99) and Prime Video ($8.99). It's not all that hard to rack up a TV entertainment bill that's in line with the historically exorbitant cable TV bill American's love to hate.
TV-Based Entertainment Is Getting Expensive (What Else Is New)
If you think you're shelling out too much on your TV addiction, you're not alone. More than half of the viewers who responded to the TiVo survey (55%) say they have reached their monthly spending limit and either don't have room in their budget for additional streaming services (30%) or won't pay more than $10 a month on additional streaming services (25%).
Viewers tend to gravitate toward services that suit their interests and budgets with many bundling three or four services together and skipping the rest. For cable/satellite viewers with three services, the most popular combination to supplement their pay TV subscription with Netflix and YouTube (45%) or Netflix and Prime Video (31%). About a quarter of cable/satellite subscribers who bundle four services add Prime Video to the mix.
Meanwhile, the survey revealed that, although 11% of survey respondents canceled cable or satellite TV service within the last six months (mostly) to save money, nearly three quarters (70%) of viewers from that group were not sure if they were actually saving money on TV entertainment. So it's no surprise that about a quarter of survey participants dropped one paid or live-TV streaming service within the last six months, citing cost as a key factor in their decision.
Content Overload Drives Desire for Consolidated Guide
The proliferation of content and streaming services is driving the desire among nine out of 10 (88%) survey respondents for a consolidated guide or menu that lets them view, browse, and search all of their available content; 35% are "extremely interested" in this sort of simplified content management.
Similarly, 86% of TV viewers are interested — and 33% are "extremely interested" — in paying for all of their video services from a single guide or interface, rather than having to navigate several websites or apps to pay separate bills. Add this to the desire for a single content interface and you're looking at the Holy Grail of modern TV entertainment.
In keeping with the thirst for simplified content navigation, a growing number of viewers are using voice search. Just over half (51%) of survey respondents indicated that at least one of their devices has voice-search capabilities — an increase of 9% over the final months of 2020. Of those, 71% say they use voice search to find something to watch and 88% of the respondents in this group use voice search at least once a week.
Even so, there's still a segment of the TV viewing population that thinks voice search is a gimmick. Just over a third (36%) of viewers who don't use voice search, maintain it has "no real benefit," while 12% say it's faster to simply type into a search box. This will change over time as voice search technology continues to improve.