CES 2017 Sneak Peek: A Levitating Speaker, More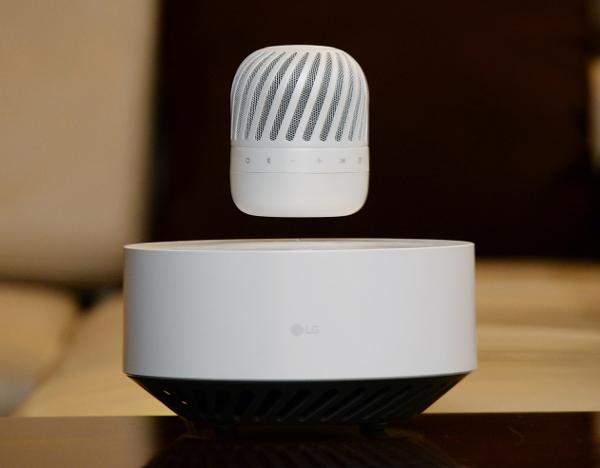 Press releases and invites teasing products and technologies slated for introduction next week at CES shows no signs of abating.
• LG will launch a Bluetooth speaker that hovers in mid-air over a "levitation station" housing powerful electromagnets and a "subwoofer." The compact PJ9 speaker, said to disperse sound 360 degrees, is weather resistant and powered by a 10-hour battery. When the battery runs low, the speaker descends to the base for wireless charging without interrupting music playback. In case you're wondering, LG is not the first company to introduce a levitating speaker.
• Enclave Audio will demonstrate an add-on wireless subwoofer and the first-of-its-kind rechargeable battery pack for its $1,200 WiSA-certified CineHome HD home theater system. The subwoofer is said to seamlessly pair to the five-speaker system, while the battery pack replaces the need for AC power to the system's rear surround speakers, making them truly wireless. The system supports 24-bit uncompressed audio, Dolby Digital and DTS surround sound, Bluetooth streaming, HDMI 1.4 with 4K pass-through and "sets up with the simplicity of a soundbar."
Hanson Robotics will introduce its Professor Einstein personal robot at the CES Robotics conference. The "educational robot" walks, talks, recognizes your voice, and responds to your questions. Cool or creepy? You decide.
• Stages will introduce Sidekick, an app-controlled accessory that lets you control ambient sound or, as they put it, "personalize" the sound you hear from "nearly all" headphones and earbuds. The company describes personalized sound as "the ability to listen to your favorite playlist and hear your coworker say your name across the room...[or] listen to your best friend sitting next to you at a busy coffee shop by tuning out the noise on the opposite side of you." Stages says Sidekick lets you to listen from a specific direction and choose when sound reaches your ears instead of having to remove your headphones.
Watch for our show coverage, which begins on Wednesday, January 4.