CES 2010: Toshiba Introduces CELL TV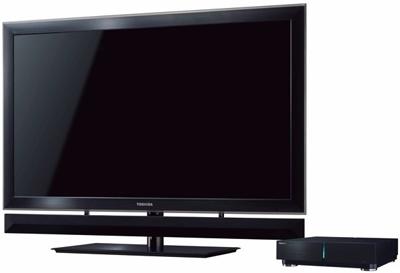 Toshiba has just unveiled CELL TV, a new image processing engine the company claims is 143 times more powerful than the engines found in previous models.
At the heart of the CELL TV is the Cell Broadband Engine, the same processor used by the Playstation 3. According to Toshiba, the Cell processor enhances both SD and HD video, offers a 480Hz refresh rate, and even upscales lower-resolution Internet-based video. The processor also uses ambient light and RGB color sensors to actively adjust multiple picture settings, including color temperature, to best suit its surroundings.
CELL TV will first appear in Toshiba's flagship ZX900 series. With wireless HDMI built-in, the ZX900 is a two-part display that features a 55 or 65-inch screen wirelessly connected to a set-top box that features a 1TB hard drive and a Blu-ray Disc player. It supports Wi-fi networking and can access a broad variety of online content provides including Netflix and VUDU. The display itself supports 3D content, and features Toshiba's KIRA2 LED backlighting, which the company claims offers a 9,000,000:1 contrast ratio.
Toshiba has yet to announce specific pricing or availability for the ZX900 or any additional CELL TV-based products, other than that the screen will be available later this year.
— Will Greenwald
[Photo: Engadget HD]
WHERE TECHNOLOGY BECOMES ENTERTAINMENT