CEDIA: Like no other we've ever had
SpeakerCraft's unconventional president, Jeremy Burkhardt, kicked off his press conference by saying this would be a CEDIA "like no other we've ever had." And he wasn't kidding. Before Jeremy took the stage, dancers/performers from the vaudeville cirque group
Jeremy didn't mince words. "This has been a really tough year for custom install." He mentioned that many integrators whose businesses have relied on construction have gone out of business. He also said that this is "the most challenging year since CEDIA has been in business."
But Jeremy is not all doom and gloom, and he assures that 2008 can be a year to be thankful. Good dealers are succeeding. And SpeakerCraft is taking a different approach to this year's show. Instead of touting a bunch of new products – which they have, including a couple of cool new outdoor speakers and the mega-sized AIM10 in-ceiling speaker with 10-inch woofer – they are using this event to educate dealers to be better at what they do. To give them tips and techniques to improve so they can continue to stay in business.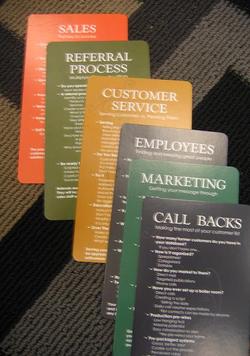 As part of this education, they have created topic cards to help dealers develop process to improve their business. Topics include sales, referral process, customer service, employees, marketing and call backs. SpeakerCraft will be conducting "standing seminars" throughout the show in their booth. – John Sciacca
John Sciacca is The Custom Installer columnist for Sound & Vision. His company is Custom Theater and Audio.
LATEST VIDEO