Capital Audiofest 2022 Kicks Off Friday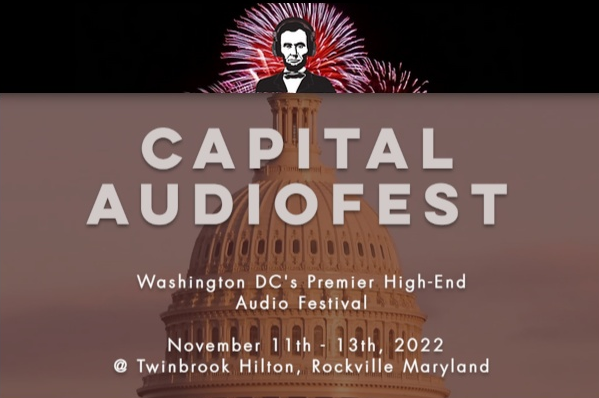 Capital Audiofest 2022 returns to the metro Washington, D.C. this Friday and runs through Sunday, November 13, offering enthusiasts the chance see and hear the latest audio gear.
Sound & Vision
will be there to cover the event.
Billed as the area's leading high-end audio festival, the show will be held at the Twinbrook Hilton in Rockville, MD, 23 miles from the United States Capital (which is abuzz with last-minute hand-wringing and politicking as midterm elections get underway across the country tomorrow morning). Attendees will also have the opportunity to peruse multiple bins of vinyl records, CDs, and accessories in the Atrium Marketplace and enjoy live music performances in the evenings.
The show is open from 10 a.m. to 6 p.m. on Friday and Saturday and from 10 a.m. to 4 p.m. on Sunday. The price of admission is $20 for a Single Day Pass or $30 for a Multi-day Pass.
Some 300, mostly smaller brands will be represented in 111 exhibits with Bryston, KEF, Klipsch, Paradigm, Q Acoustics, Qobuz, Technics, and VPI standing out among the larger brands. In Alma Audio booth 534, Technics will be presenting new Reference, Grand, and Premium class components, including the SU-R1000 and SU-G700M2 integrated amplifiers, new SB-G90M2 speakers, the SL-1200G turntable, and the new SA-C600 streaming CD receiver (watch for our review). The new SL-G700M2 networking CD/SACD player/DAC will also make its U.S. debut at the show.
Capital Audiofest started in 2010 as a small, casual show and has since evolved into an event show organizers describe as a "well-organized and well-attended event." Not to nitpick, but the name really should be Capitol Audiofest (Capitol with an "o") but I digress…
Click here for a list of the brands exhibiting. For more information on the show and to get tickets, visit capitalaudiofest.com.