Canton Movie CD 201 Speaker System and Onkyo TX-SR504 A/V Receiver
The little system that could.
Some guys fantasize about winning the Mega Millions Lottery and driving into the sunset in a $1.25-million Bugatti Veyron 16.4 supercar. Or maybe a giddy winner would fork over heaps of cash for an ultimate home theater. The market for ultrahigh-end exotica is surging, but, while I'm waiting for my big payday, I thought I'd come back down to earth and have some fun with one of Onkyo's most reasonably priced audio/video receivers, the TX-SR504 ($300), partnered with Canton's sleek Movie CD 201 speaker system ($1,999). Budgetary constraints be damned, the little system still had to sound great in my home theater and deliver the goods in a cozy bedroom, office, or den.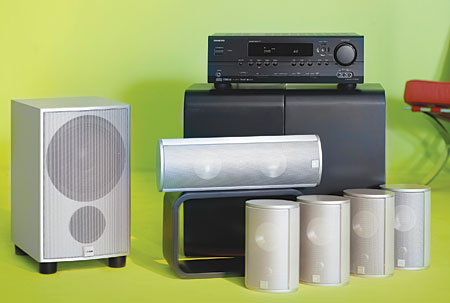 Small Is Still Beautiful
The Movie CD 201 system includes four CD 220 satellites, a CD 250 center speaker, and the AS 80 SC subwoofer. For this kind of money, you would most likely expect medium-density fiberboard boxes, but Canton's gleaming, 9-inch-tall aluminum sats feel as if they were each milled from a solid billet. The oval cabinets not only look slick, their curves reduce internal standing waves. In an effort to further quell resonance, the sat's varying cabinet-wall thickness and carefully selected damping materials enhance the speaker's clarity. But the Cantons' bling quotient is certainly high enough to ensure they wouldn't look out of place gracing the wall next to a big-bucks plasma display. I love the way a hint of the 1-inch aluminum tweeter and the 4-inch aluminum woofer ever so subtly peek through the sat's perforated grille. My review system's brushed-aluminum finish was downright snazzy, and a high-gloss piano-black option is available for the same price.
At first glance, the 16.9-inch-wide CD 250's woofer-tweeter-woofer arrangement looks pretty standard, but it's not. Both woofers deliver bass, while only one covers midrange frequencies—a design gambit that reduces midrange cancellation—so off-axis listeners hear a smoother tonal balance. The crossover networks' resistors, capacitors, and inductors are all individually tested before assembly and then tested again in completed CD 220s and CD 250s to ensure that they meet Canton's scrupulous quality standards.
The Movie CD 201 is sold as a 5.1-channel package, but, if you're into 7.1 surround, you can either add two more CD 220 ($250 each) or CD 250 ($500 each) satellites. The satellite speakers are all sealed (nonported) designs.
I get the feeling that Canton expects a healthy number of consumers to partner this system with a flat-screen display, because they package each CD 220 with its own adjustable wall mount. The audiophiles among you would probably prefer the sound with the sats sitting atop Canton's LS 80 floor stands ($150 per pair). You can wall-mount the CD 250 vertically or horizontally with the included bracket. Or you can set up the CD 250 with the included matching cast-metal table stand. That's what I did, and the speaker looked suitably high-tech perched on a shelf under my TV.
The AS 80 SC subwoofer is a compact, ported design with a 9-inch driver and a 100-watt amplifier. The silver-vinyl-clad MDF cabinet doesn't match the glamour of the sats' brushed aluminum, but it's adequate. The sub's gently curved front baffle and perforated grille match the sats' style. Line- and speaker-level options cover all of the connectivity bases.
Small Is Beautiful, Part II
Onkyo's TX-SR504 is an update of last year's popular $299 TX-SR503 receiver. Sure, many of the typical incremental feature upgrades from one year to the next are barely worth mentioning. But Onkyo has refreshed the new model's aesthetics, a more powerful Texas Instruments chipset handles the digital signal processing, there's iPod connectivity, and the new receiver is XM Satellite Radio ready. Better still, the TX-SR504 is the first receiver I've tested with XM HD Surround processing. To pull in all 160-plus XM music, sports, and news channels, you'll need to purchase an XM Passport or a Connect & Play antenna, plus an XM subscription. It's also worth noting that the Onkyo's trim 14.75-inch depth lets it squeeze into a cabinet or on a shelf that can't accommodate a more typical 18- or 19-inch-deep receiver. I noted that, after the TX-SR504 was on for more than a half hour, it generated a fair amount of heat, so you wouldn't want to stash it in an unventilated cabinet. Then again, the TX-SR504 is rated for 100 watts per channel into 6 ohms and 75 watts per channel into 8 ohms. In any case, the TX-SR504's potency was never in doubt when I played the new King Kong. Hey, we reviewers have to entertain ourselves, and this flick's Empire State Building climax is a good test of a system's stamina.
The receiver's small, well-laid-out remote was easy to use, even after I turned down the lights. Like the Movie CD 201, the TX-SR504 is available in a black or silver finish.

Surround processing modes are represented with Dolby Digital and DTS, Dolby Pro Logic IIx, Dolby Digital EX, DTS ES Discrete, DTS ES Matrix, DTS Neo:6, DTS 96/24, and Neural Surround processing for XM's new 5.1 HD Surround format. The TX-SR504's jack set has switching for three video sources, including HD/component. There are four digital inputs and a 7.1 analog jack set to hook up an SACD or DVD-Audio player or one of the new HD DVD or Blu-ray players. In addition to the seven-channel speaker connectors, there's an extra front-speaker set.
If you're one of the gazillion iPod owners out there, Onkyo's DS-A1 remote interactive dock ($100) should be a slam-dunk option. The DS-A1 picks up on the iPod's styling cues, and its white, circular, plastic docking base is a tidy 4.5 inches in diameter. The dock is just a dock and doesn't have any buttons or controls. You can use the TX-SR504's remote to operate all of the basic iPod control functions, such as play, pause, stop, skip, and shuffle/repeat. The dock also supports iPod photo display. In any case, the DS-A1 will play audio and keep your iPod's batteries charged and ready to go. The one important feature missing in action is duplication of the iPod's menu—it doesn't wind up on your TV.
Getting It Together
The Onkyo TX-SR504 lacks its own onscreen menus, so you have to navigate via the receiver's display. It's a bit trickier than the onscreen menu systems on higher-end Onkyo receivers, but I had everything squared away in a matter of minutes. Hookup chores for the XM Connect & Play antenna couldn't be easier: Plug in the teensy connector and tune XM stations just as you do with AM or FM.
The Canton satellites were unfussy regarding placement, and I achieved satisfactory midbass when the sub was close by (within 4 or 5 feet of the front speakers). I also played around with the TX-SR504's subwoofer crossover setting, jockeying between 80 and 100 hertz, before I settled on 100. With sub/sat systems this small and lifestyle friendly, it's usually nearly impossible to settle on one subwoofer volume level that suits movies and music. Not this time. The Movie CD 201 was the rare compact system that didn't put me through an aerobic workout every time I switched formats—one setting was appropriate for everything. The AS 80 SC has a two-position room-compensation EQ switch that lets you select either Normal or Narrow. Narrow optimizes a smaller room's acoustics, but I preferred this setting in my large home theater. Go figure. As always, it pays to experiment and discover what works best in your room.
The Movie CD 201 satellites' spring-loaded, all-metal connectors happily accept bare-wire ends or pin terminators, but—grumble, grumble—banana plugs are dicey, and spades aren't welcome.
Good Sounds
It's no secret that a lot of compact speaker packages barely pass muster on music. With a name like Movie CD 201, I wasn't sure what to expect, but Canton's engineers got it right. Tony Bennett's swinging Hot & Cool: Bennett Sings Ellington tribute CD amply demonstrated the system's musical poise. The live in-studio session features a jazz orchestra, and Bennett was clearly having the time of his life. The speakers' velvety treble never bites or glares, and the speakers didn't strain when the volume crept up.
The Cantons never came close to reining in the sound on the Brokeback Mountain DVD. I just loved the way the system unfurled the film's big-as-all-outdoors soundtrack. The spatial gestalt of the surround effects was seamless. The sound was very pure, and the midrange was honest and clear. Warmth, richness—whatever you want to call it—the Cantons have it.
The final episode of Six Feet Under's life-and-death saga raised a very large lump in my throat. I was a goner as soon as I heard the familiar opening music. I was sitting on the edge of my sofa, totally involved with the Fisher family's travails. It's just too bad they called it quits after season five. The wee Canton/Onkyo system loomed large that night.
The TX-SR504's XM Radio stereo sound was pretty good, and, best of all, the Neural/HD Surround processing worked quite well. I was a little skeptical about the concept, but XM HD Surround sounds way better and has superior separation than you'd get playing the stereo channels with simulated surround processing. The only catch is that, at least at the time I am writing this review, there are only two 24-hour-a-day HD Surround music channels—a free-form, pop/world/jazz/classical music channel, and a classical pops music channel. XM is promising to broadcast special shows and live music performances originating at the XM studios in HD Surround.
Some entry-level receivers have a bad habit of squashing dynamic range, but I wasn't aware of the TX-SR504 running out of juice on Robert Plant and Jimmy Page's No Quarter concert DVD. Rather than just doing an unplugged Led Zeppelin performance, the guys added hand drums and the hurdy-gurdy to "The Battle of Evermore" and "Gallows Pole." To further flesh out the tunes, Plant and Page enlisted a small army of Moroccan players and the string section from the London Metropolitan Orchestra. The mind-expanding revisionism breathes new life into the old songs, and the Dolby Digital 5.1 and DTS mixes are pretty good. Little speakers have to work harder to play loud and therefore may produce more distortion than big speakers, but the Cantons' sound remained clear as Page's power riffs filled my large home theater. The AS 80 SC sub's blend with the sats was excellent; just don't expect the lowdown punch and rumble of a more muscular sub.
This is really a sweet little system, but it's hardly a threat to the big-ticket gear I usually review on these pages. That said, the Canton Movie CD 201 and Onkyo TX-SR504 offer serious bang for the buck and have a great sense of style and an alluring sound that should keep you happy—at least until you cash in that lucky ticket.