CanJam 2019 Preview: Headphones and Related Gear
Companies have started releasing details of products they plan to introduce at the headphone-focused
CanJam SoCal 2019
show that opens tomorrow in Irvine, CA.
Periodic Audio is unveiling a new flagship set of earphones dubbed Carbon ($399) featuring polycarbonate construction and proprietary polymer-substrate diaphragms covered with a thin layer of lab-grown diamonds. A gold-plated, quarter-inch jack and airplane adapters are included, along with a stylish carrying tin. To ensure a proper fit without sacrificing sound quality, Periodic makes its own eartips and offers them as a separate accessory in three shapes said to fit 95% of all ear canals. The earphones are covered by the company's standard five-year warranty.
"Carbon sets a new bar for low distortion in a headphone/in-ear product with less than 0.1% total harmonic distortion (THD), even at sound-pressure levels (SPLs) at or above 100dB," said Periodic Audio co-founder Dan Wiggins. "Specs aside, the clarity and resolution of this IEM [in-ear monitor] let you hear things you've never heard before."
For more information, visit periodicaudio.com.
China's Helm Audio, which made its North American debut last fall, is showcasing several products it plans to deliver later in the summer, including an MQA adapter, three headphones, and the Helm Boost Cable — a "first of its kind" portable headphone power booster based on THX Achromatic Audio Amplifier (AAA) technology.
With a 3.5 mm minijack at either end, the Helm Boost Cable ($100) is said to boost volume 12 dB without increasing distortion when inserted between your smartphone and headphones. The device provides a selectable 6-dB bass boost and is good for 8 hours per charge. Release of the Boost Cable is pending final testing by THX.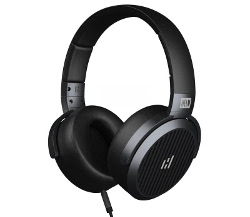 The flagship Studio Planar Headphones ($350) feature aluminum-alloy construction, rotating ear cups with padded leatherette or velour covers, and custom 2.5-inch rectangular planar-magnetic drivers. The diaphragms are said to flex more evenly than round diaphragms, resulting in increased accuracy and phase coherence; they also employ high conductivity silver coiling and high-energy neodymium magnets to maximize efficiency.
Helm's MQA Adaptor ($100) facilitates MQA playback at 16, 21, and 32 bits at sampling rates up to 384 kHz and is compatible with Android, Windows, and iOS devices.
An update of Helm's first generation True Wireless earphones, the TW5 earphones ($130) support aptX-enabled Bluetooth 5.0 for an "impressive range of 60 feet" and provide 6 to 8 hours of play time that can be extended 30 hours with the supplied charging case. The 'phones sport a unique, scratch-resistant "diamond pattern" shell and anti-slip silicone padding to ensure a secure fit. Easy access smart buttons with voice notification provide control over music and phone calls.
The company is also unveiling the Triple Driver HD SportsBand earphones ($130), featuring 25 hours of battery life, aptX HD-enabled Bluetooth, and magnetic earpieces for easy storage around the user's neck when they're not in use.
"In a sea of over-priced and overseas sourced off-the-shelf headphones, Helm's goal is to take the time to design, engineer, tune, and position our products so that everyone can enjoy superior studio-quality sound without breaking the bank," said Helm CEO Eric Johnson.
For more information, visit helmaudio.com.
Although Klipsch isn't exhibiting at CanJam, it pulled the wraps off its new T5 series of small, lightweight earphones designed for comfortable on-the-go listening. Ranging in price from $59 to $199, the line comprises four sweat-resistant models built around the company's patented True Comfort technology. Oval silicon ear tips are designed to fit snugly in the ear canal, while improving noise isolation and bass performance without sacrificing comfort.
The T5 True Wireless earphones ($199) are based on the new Bluetooth 5.0 standard and provide up to eight hours of battery life from a single charge plus an additional 24 hours from a brushed-metal charging case that resembles a classic Zippo lighter. The 'phones are finished in black and use four embedded microphones plus ambient noise reduction to ensure to clear sound. Due out in July.
The T5 Neckband wireless earphones ($119) also support Bluetooth 5.0 for increased speed and range but reduce the microphone count to two while retaining the ambient noise reduction. Features include a hand-stitched black or brown leather band, 15-hour battery life, and a three-button in-line remote with aluminum controls. Due out in July.
The Klipsch T5 Sport wireless earphones ($99) support Bluetooth 5.0 and are designed to stay put even during strenuous workouts thanks to the use of flexible ear wings and integrated cable management. Battery life is rated for 10 hours of play time and comfort is bolstered by memory foam-filled ear tips. Additional features include eighth generation cVc technology with ambient noise reduction to ensure clear sound and a three-button in-line remote for taking and making calls. Available in black or white.
The T5M wired earphones feature a cable covered in braided fabric and a new miniature single-button remote for $59. Available in black or white.
All models come with a selection of different-size ear tips. The free Klipsch Connect App, featuring battery monitoring and an equalizer, is slated for release this summer.
For more information, visit klipsch.com.