Cambridge Audio Minx S325v2 Speaker System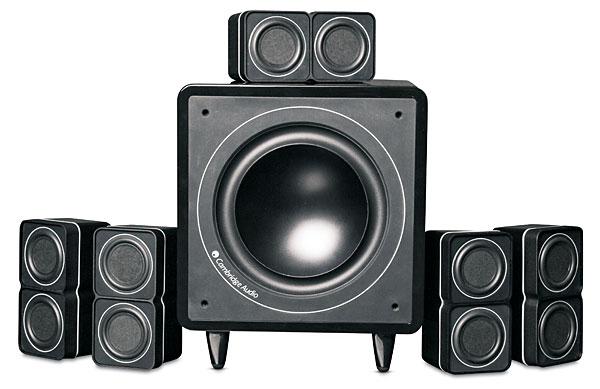 Price
: $1,449
At A Glance
: Second-gen high-end compact satellites • Mix of flat and cone drivers • Incredible dispersion
Compact cube speakers are an intriguing subset of the satellite/subwoofer speaker genre. Though not invariably high performers, cubes have achieved iconic status, and some manufacturers have made a fortune marketing them to folks whose significant others look at the diminutive geometric forms and say, "Bingo. That's what I want your speakers to look like. Now get those big tombstones out of our den."
Cambridge Audio has tapped into the cube mystique with its Minx sat/sub sets. In fact, the Minx has done so well that it is now a separate division of the company. Part of the Minx success story is, believe it or not, performance. The first-generation Min 10 (single cube) and Min 20 (double cube) earned rave reviews all over the place, and the single- cube version found a coveted perch on our Top Picks list.
Now the second-generation Min 11 and Min 21 are out. Having reviewed the single cube before, I went for the double cube in round two. But would it be double the fun?
The Two-Cube Solution
The Min 21 is 6 inches tall and actually seems smaller. It is not two discrete cubes but a single rectangular solid with a fingertip-sized groove at the sides that suggests two cubic shapes in one piece. The glossy surface is an ultraviolet-hardened, scratch-resistant plastic. A strip of silver-gray matte plastic at top and sides frames the baffle. On the back is a pair of banana sockets containing removable small metal-nut binding posts and a large screw that can be removed to install the supplied keyhole wall mount.
Pull off the fabric-covered grille, and you'll see a pair of 2.25-inch flat drivers. The diaphragms are a composite honeycomb sandwich made of a paper core and skins. They appear identical, but actually the top driver is a second-generation hybrid BMR (Balanced Mode Radiator) operating full-range, while the bottom one functions as a long-throw woofer limited to frequencies below 500 hertz. In this respect, the Min 21 is different from the outgoing Min 20, which used two identical BMRs.
The new design has a deeper chassis for the top driver, and an even deeper one for the bottom driver, to allow for greater driver excursion and longer throw. It also boasts a more refined magnetic structure, a revised crossover, and improved driver components and materials. The result is that the Min 21 slightly extends bass response, improves power handling, and removes a previous high-frequency spike at the 8-kilohertz mark.
Bending, and not always acting like a piston, is what makes BMRs different from conventional cone and dome drivers. Conventional drivers attempt to move like pistons, with the entire diaphragm moving back and forth in unison. A BMR driver creates controlled ripples in the diaphragm like a bunch of stones tossed into a pond, bending the diaphragm to generate high frequencies. Effectively, the higher frequencies are being produced with the diaphragm in a controlled version of what engineers often call "break-up mode." Once out of the driver's piston band, different frequencies cause areas of the diaphragm to move in different directions relative to one another, resulting in phase behavior that yields a sonic character that many would describe as spacious or larger than life. On the plus side, sound is disbursed so evenly horizontally and vertically that the distinction between on- and off-axis response all but disappears. This phenomenon applies here to frequencies above about 800 Hz; below that point, the driver has a more conventional pistonic movement. Shift around the sofa all you want: The sound will move with you. To anyone weaned on ordinary speakers, this can seem like a miracle.