B&W Reinvents Classic 800 Series Speakers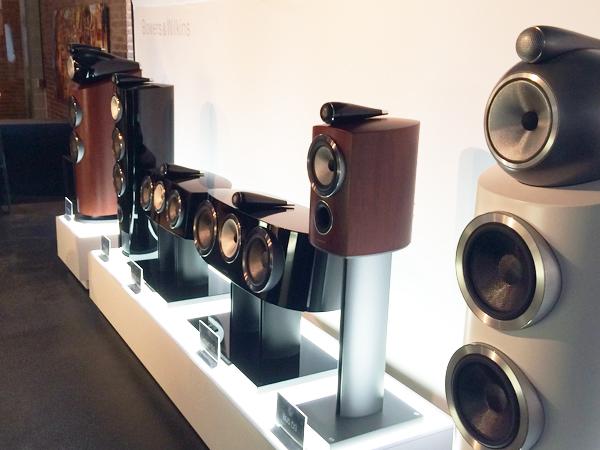 In a nod to the many classic Bowers & Wilkins 800 Series speakers still found lurking in mastering and recording studios around the globe, B&W recently invited the audio press to New York's renown Sterling Sound mastering studios to unveil the new 800 Series Diamond speaker family. But it would be wrong to call this a revision.
That's because, after five years of extensive R&D with no goal but to improve every aspect of the speaker, today's top-of-the-line model carries virtually nothing over from the last 800 Series Diamond iteration—short of the company's previously developed diamond tweeter dome and, literally, three crossover capacitors and four speaker terminals. It's more like a reinvention than an evolution.
From the cone materials to the aluminum pods that house the midrange and tweeter drivers to the main cabinet design and bracing, and even the speaker's plinth, everything has changed. In a lengthy technical presentation that touched on pretty much every key component, B&W's chief engineer Stuart Nevill described an effort that focussed much energy on eliminating virtually undetectable micro-resonances from nearly every part. The team, he said, used a technique called laser doppler interferometry that bounces a laser beam off moving objects to visually detect and measure vibrations at audible frequencies which in many cases were already so minute and so far down below the level of the music they were essentially undetectable. Then the speaker designers set about making them even more so. The end result, besides being stunning, must be the most heavily engineered loudspeaker ever made.
The innovations and evolutionary adjustments in the 800 Series Diamond are too numerous to fully detail here, but among the most noticeable highlights, sonically and visually, is a new woven composite midrange material dubbed Continuum. The silvery cones replace the yellow Kevlar drivers that have been a mainstay of B&W's speakers since the 1970s, and are said to deliver even greater accuracy and transparency through the critical midrange frequencies. There's also a new foam-core Aerofoil bass cone that can be formed with extra thickness in the area of the cone where it's most needed in order to strengthen it and prevent breakup inside the driver's operating range.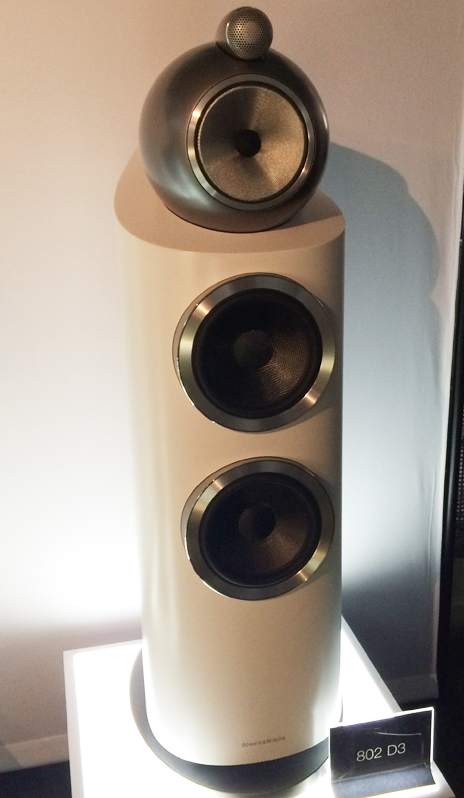 Internally, the newest version of the firm's plywood Matrix bracing structure uses a more advanced, computer-modeled design and is now reinforced with metal at key points. And the plinth at the bottom—now made from a solid piece of aluminum instead of a wood box—features integrated castors and floor spikes that can be conveniently lowered simultaneously with a twist of a cog once the speaker is in position.
Six models were introduced with availability set for October: The 802 D3 tower ($22,000/pair), 803 D3 tower ($17,000/pair), 804 D3 tower ($9,000/pair), and 805 D3 bookshelf ($6,000/pair); and two center channel speakers, the HTM1 D3 ($6,000 each), and HTM2 D3 ($4,000 each). Two floor stands were also announced for the 805 bookshelf speaker (FS-805 D3, $500 each) and the center channel speakers (FS-HTM D3, $600 each).
A new flagship model 800 D3 will aso be added next spring; pricing to be announced at that time.
You can read more about the 800 Series Diamond and see detailed model specs at B&W's Website.