"Burlesque" vs. the "Burly Q"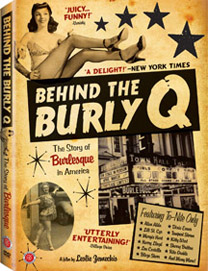 Underwhelmed by Burlesque during its theatrical run or when it came to Blu-ray last month? Looking for something a little more . . . genuine?
You might want to check out Behind the Burly Q, which arrives on DVD today (the 12th) from First Run Features. Whereas Burlesque was a fictional story of how "it takes a legend to make a star" - the former played by Cher, the latter by Christina Aguilera - Behind the Burly Q is a documentary on the heyday of burlesque.
To quote a press blurb: "Burlesque and vaudeville acts were America's most popular form of live entertainment in the first half of the 20th century - until cinema drove them from the mainstream. To add insult to injury, the art of burlesque became vilified and misunderstood, and was largely left out of our cultural history. By telling the intimate and surprising stories from its golden age through the women (and men!) who lived it, Behind the Burly Q reveals the true story of burlesque, even as it experiences a new renaissance."
The women include Dixie Evans, Betty Rowland, and Blaze Starr. (And the men? Why, up pops Alan Alda, discussing how his father, Robert, used to work the burlesque circuit as an opening act.)
By the way, the documentary was directed by Leslie Zemeckis, wife of Robert.
How do the visuals of Burly Q stack up (sorry!) against those of Burlesque? Let's see . . .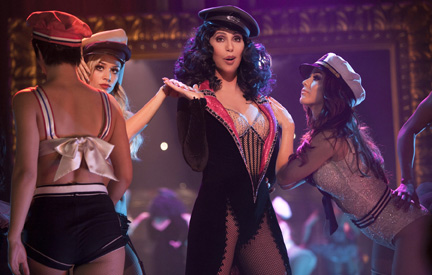 Top: unidentified dancers backstage in Burly Q.
Above: the very identifiable Cher on stage in Burlesque.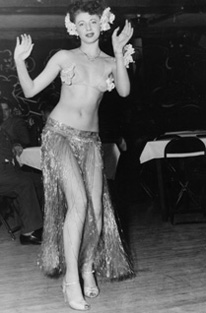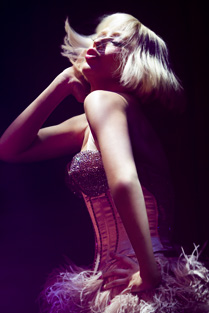 Left: Lily Ann Rose in Burly Q. Right. Christina Aguilera in Burlesque.
I don't know about you, but I vote for Lily.
By the way, Lily - real name Lillian Kiernan Brown - is now a grandmother living in Florida. And here's what she had to say about Burlesque last year: "I just saw some cuts from that, and I was really embarrassed. They would have put us in jail and thrown away the key if we did that."
For more on Lily, go to the source of that quote: a story by Matt Soergel in The Florida Times-Union of Jacksonville. And check out the site tied to her book, Banned in Boston.
What does Lily/Lillian look like today?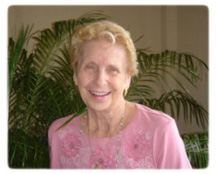 I still vote for her!
- Ken Richardson

SPONSORED VIDEO