Bringing Back Victor Records Page 2
S&V:
It's a cultural tragedy that a piece of Victor (and presumably RCA's) recording history was bulldozed and dumped into the Delaware River when RCA tore down some of the buildings in the original complex years ago. You managed to gain possession of some of those discarded treasures. I recall seeing a broken acetate master of a Louis Armstrong recording while attending a recent show. How did you come into possession of these records?
Alexander:
First, let me clarify something: RCA Records was formed in 1946 — actually 1968 — and has no modern corporate connection to the Victor Talking Machine Co. The contents of The Vault that was collapsed from the Camden waterfront into the Delaware River, were all Victor. No RCA or RCA-Victor recordings. There were different labels altogether with a different staff and different offices. There was a real post-war shakeup at Radio Corporation of America (RCA), which led to all of that.
We got the records from former RCA (corporation) employees — many of whom are current Victor associates — by acquiring archival material from third party companies and collections that took over the materials from RCA in the 1970s and '80s, and from many a dive into the basements of Victor buildings in Camden, NJ! Fun stuff, really!
S&V: Why two dates RCA Records?
Alexander: RCA was a large company, the parent company of RCA-Victor Co., which was renamed RCA Manufacturing Company in 1935. When Victor was acquired by RCA in 1929, it's easy to assume in retrospect that RCA-Victor Records existed from that point out but, actually, Victor Records, like NBC and like RKO, existed as its own entity — as a subsidiary of RCA and several sub companies until 1946. In 1946, RCA executives were flush with cash from military contracts and looking to the future in a world in which the industrial powers Japan, Germany, France, and the UK were all knocked out by war in the previous five or so years. RCA began to convert the Camden NJ plant for more military communications work and to a new field in which RCA was a pioneer, television. Remember, in 1946, Victor was a 50-year-old (ish) brand and, while records were a pastime, radio had upset the record market for many years. RCA executives believed wholeheartedly that TV would become the new national obsession, radio would become secondary (it had been primary), and records would eventually be extinct.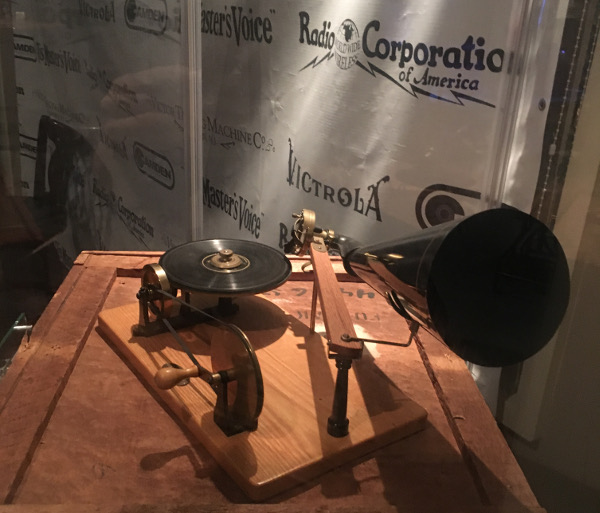 Meanwhile, after World War II, many former Victor Records executives were being offered severance packages and retiring. RCA needed to bust up the union contracts at the Camden Plant, so they began the process of shutting down Victor. Slimming this company down was no easy feat but by 1946 they were determined to open a new record label, RCA-Victor. New executives, new offices, many new studios, new equipment but about 1/40th the might of what Victor had been prior to the war, even though RCA itself had shrunk from what it was in the 1920s due to competition in radio. For the next several years, the new label was in charge of administrating the back catalog and reissuing records that would sell on RCA-Victor Records.
After being in the doldrums with no significant new artists and losing ground to Columbia, etc., RCA had a plan to upset the market by introducing RCA-Victor Records to the invention that would set a trend for the next two decades: the 45 record and drop 45 player. A format war between Columbia and RCA-Victor caused the entire industry to absolutely melt as sales collapsed even more than they had in 1946 during the industry's postwar depression. RCA, eager to introduce the first TVs, had made the right call in shutting down Victor Records in Camden, while the parent company retained a toehold in the music industry with RCA-Victor Records paying homage to the former company.
Several years later, much to RCA bigwigs' chagrin, Columbia was moving lots of LPs and 45s. The TV industry was slow to grow and, in fact, people still bought records! RCA authorized RCA-Victor Records to act and act fast in 1956 with their first major signing since becoming RCA-Victor: Elvis Presley. RCA-Victor would cater almost solely to Elvis for many years until 1968, when the label underwent another change to become RCA Records. In 1984, RCA sold 25 percent of RCA Records to a new company called RCA Ariola Records and when RCA was purchased by GE in 1986, GE sold the remaining 75 percent holding to BMG in Germany. BMG reorganized in 1990 and created the "RCA Disc Corporation," which sold 50 percent of the company to Sony in the 1990s and formed Sony/BMG. Finally, Sony purchased the remaining shares in RCA Records, creating Sony Music Entertainment, which today is the parent company of RCA Records....but not Victor.
S&V: Thanks for that fascinating history lesson, Graham. Can you talk a bit about the magnificent historic artifacts and memorabilia that adorn The Vault? What are your favorite/most prized possessions?
Alexander: Victor's Vault has so much. It would be super difficult to say what I thought was the coolest but there is something for every music fan, past and present. Victor certainly represents the birth of recorded music and its influence is never ending!
S&V: You mentioned in an interview a couple years ago that you'd like to release some of the "very best" of those archival recordings under the His Master's Voice label. Is that still in the cards and, if so, which recordings are under consideration?
Alexander: It is but we haven't set a time frame or decided which recordings to feature just yet. I do know we have talked about all sorts of unique projects. One is issuing some unreleased Rachmaninov recordings from the Victor Vault, possibly on single-sided shellac — as a collector's item — along with a digital component. Our focus at the moment is on our new headquarters, manufacturing hardware and software (players and vinyl), and new artists/projects. Having a profit base in hardware and software means we will have the budget to develop new music, as opposed to leaning on back catalog.
S&V: Back to the live music. I had the pleasure of seeing your excellent "The Art of Paul McCartney" show back in February. You're an accomplished musician with impressive credits — including the first record to be produced on the Victor label since 1945! — so it's only natural that live music would be a staple of the new Victor. What's your mission with the performance space and tell me about some of your most memorable events.
Alexander: No particular mission. We do shows that feature Victor artists and, generally, it's about awareness. We do all sorts of theme nights of all different kinds of music, both original and inspired by other artists, or full album shows like "Damn the Torpedoes" and "Rubber Soul." [Editor's note: An upcoming event will feature the music of John Lennon and an appearance by Jack Douglas who produced some of his solo works.]
S&V: I realize we've just scratched the surface here. Is there anything else you would like to add?
Alexander: Tough question! I could go on and on but it's an honor to be associated with the incredible legacy Victor started, which created the world of pop music we know today. In one way or another, their early work birthed every album and musical style we know and love.