Brazil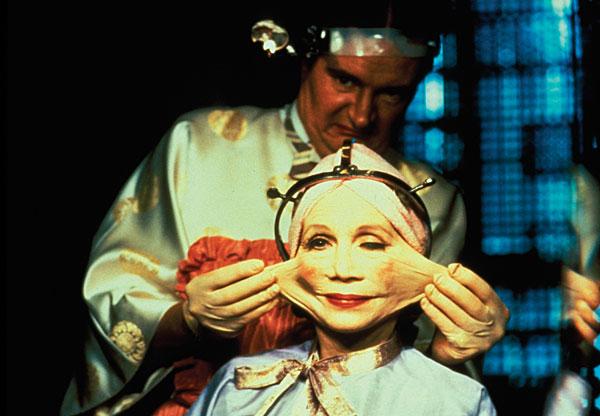 Brazil takes place in a totalitarian state that looks futuristic and laughably dilapidated at the same time. The consumerist regime and its well-to-do citizenry live under the constant threat of attack, but the only terrorist we actually see is a freelance repairman who performs rogue HVAC fixes (Robert De Niro's Harry Tuttle, subject of a deadly typo that sets the movie's frantic events in motion). While it contains soaring dream sequences that become increasingly indistinguishable from reality, it's the blackest of comedies. Whatever else it is or isn't, Brazil is an original that cemented Gilliam's place as a visionary director.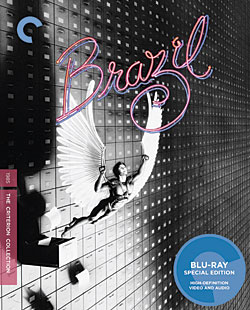 While Brazil indeed looks better than it ever has, many shots are speckled with dirt and debris. This HD transfer is noticeably sharper than previous DVDs, with much greater clarity and depth, and the blacks and contrast are improved immensely. It's a huge step up, revealing an expanse of details in the production design and photography. While surprisingly not appreciably better than Universal's 2011 Blu-ray in overall image quality, this Criterion BD release includes Gilliam's superior 142-minute director's cut, making it the preferred version.
Criterion's disc is presented in lossless matrix-encoded 2.0 surround. The results are serviceable, with good fidelity for the score and the recurring, jaunty Brazil theme. Dialogue is respectably clear, and the action sequences have impressive dynamics but are also bright sounding.
The extras are ported from previous Criterion releases, but that's no matter as they're comprehensive and definitive, with the highlights including Sheinberg's ghastly, 94-minute "Love Conquers All" version in its entirety, and the great documentary movie about the movie, The Battle of Brazil. While not visually perfect, this Criterion release is packed with extras and is the current definitive version of a true cult classic.
Blu-Ray
Studio: Criterion Collection, 1985
Aspect Ratio: 1.85:1
Audio Format: DTS-HD Master Audio 5.1
Length: 142 mins.
MPAA Rating: R
Director: Terry Gilliam
Starring: Jonathan Pryce, Ian Holm, Robert De Niro
Few films are worthy of a movie about the movie, but director Terry Gilliam's 1985 dystopian fantasy Brazil is among the legendary few. A flawed but inspired masterpiece, the film remains a Hollywood cautionary tale for the standoff between Gilliam and Universal's then-chief Sid Sheinberg, who refused to release the film and even ordered a sappy, discordant re-edit that excised some 40 minutes from Gilliam's original cut. In retrospect, the heavy-handed efforts of Universal's "black tower" to wrest artistic control from Gilliam only underscored Brazil's anti-totalitarian satire and unwittingly aided its underground success.