Brave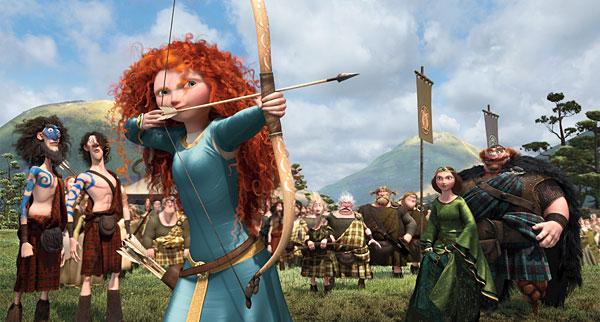 Brave's plot didn't spring from a classic fairy tale but rather is a fresh creation from the Disney/Pixar partnership that has produced a solid run of computer-animated hits. It may be Hollywood lore that while young girls don't mind male heroes, 8-year-old boys avoid like the plague movies that feature a princess as the lead character. The studios risked their wrath here and, despite the odds, produced another success. The story sags a bit in places, and it lacks the clever twists and turns of The Incredibles, Finding Nemo, and the Toy Story trilogy, but it's funny and warmhearted. And the animation is a triumph; we've never seen less than astonishing images from Pixar, and it continues to outdo itself.
The 2D disc is eye popping, with subtle and overt details in both bright and dim scenes. And while the 3D version won't match this vivid quality on most 3D HDTVs, when viewed on an adequately bright 3D display, it drew me into Merida's deeply rendered world in a compelling way. (I watched it on a Sony VPL-HW50ES projector on a 96-inch-wide, 1.3-gain screen.)
The sound is, as always, a major part of the Pixar show. The audio mix is top drawer, with extended bass and active surrounds. And Patrick Doyle's Scottish-tinged score is a delightful mix of orchestra, drums, and bagpipes.
In addition to the expected Pixar short subject that ran with the film's theatrical release (La Luna, here in both 2D and 3D), the extras include a commentary track and an exhaustive gallery of artwork used in development of the film. There's also a full helping of making-of featurettes so extensive that they spill over onto a bonus disc. They include an alternate opening and extended scenes (most of them in storyboard or partially animated form) and promotional materials that include theatrical trailers from the U.S., the U.K., and Japan.
Blu-ray 3D
Studio: Disney, 2012
Aspect Ratio: 2.39:1
Audio Format: Dolby TrueHD 7.1
Length: 93 mins.
MPAA Rating: PG
Directors: Mark Andrews, Brenda Chapman, Steve Purcell
Starring: Kelly Macdonald, Emma Thompson, Billy Connolly
Young Merida may be a princess in the misty highlands of Scotland, but she isn't happy with her lot. She wants only to practice her horsemanship, archery, and all other manner of un-princess-like behavior. Her father is delighted, but her mother is beside herself and arranges for the neighboring clans to vie for Merida's hand in marriage. Our heroine, however, isn't all that thrilled by the idea—and even less by the suitors. Fleeing into the woods, Merida stumbles upon a witch and has her cast a spell to make her mother change. Her mother does change, but unfortunately not exactly as Merida intended.