Boxed Set of the Month: Pearl Jam's "Ten"
Let's see now . . . two CDs, one DVD, four LPs, a buncha other stuff, and a cassette! What, no 8-track? Despite that, the Collector's Edition of Pearl Jam's 1991 debut, Ten (Epic/Legacy), truly goes to Eleven - and as such, it's without question our Boxed Set of the Month for March.
In an increasingly non-physical-product Entertainment Age, this box, subtitled Pearl Jam 1990-1992, is the epitome of how record companies - when they do get physical - are pulling out all the stops for certain projects. I mean, just look at that thing above.
List price for the Collector's Edition: $199.98. Amazon.com is selling it here at $134.99.
Another thing that the box doesn't have, however, is - hello? HELLO?! - a surround mix of the album itself. Sigh.
Some details:
CD1: The original 11-track Ten, remastered by Brendan O'Brien.
CD2: Ten Redux - that is, new stereo mixes by O'Brien plus six previously unreleased tracks: "Brother," "Just a Girl," "Breath and a Scream," "State of Love and Trust," "2,000 Mile Blues," and "Evil Little Goat."
DVD: The band's 1992 MTV Unplugged performance, previously unreleased. And here, at least, we do get a 5.1 mix, by Nick Didia.
LP1: Same as CD1. (All LPs are pressed on 180g vinyl.)
LP2: Same as CD2 but without the bonus tracks.
LPs 3 and 4: Drop in the Park - previously unreleased recording of the band's free concert in Seattle's Magnusson Park on September 20, 1992.
Buncha other stuff: a big poster, a small double-sided poster, three postcards, a contact sheet of photos, a sticker, lithograph photo prints of each band member, replicas of a backstage pass and a concert ticket, and - of course! - a basketball card for "Mookie" Blaylock. (For the uninitiated: Mookie Blaylock was the band's original moniker, and Ten was named after his player number.)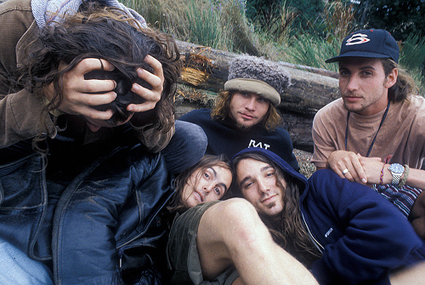 Oh, and that cassette? It's a replica of the band's original "Momma-Son" demo tape, with "Alive," "Once," and "Footsteps."
There are no historical or critical essays to be found, but you do get a marble-style Composition Book that's a scrapbook of photos, set lists, clippings, and so forth and so on.
The whole thing comes in a handsome, black-linen-bound, slipcased box.
Still, the band does realize that there's a recession on, so it's offering these three alternate editions:
Legacy Edition: CDs 1 and 2 in a mini-LP-style slipcase (list: $19.98).
Deluxe Edition: CDs 1 and 2 plus the DVD, all in a hardbound package (list: $40.98).
Vinyl Collection: LPs 1 and 2 (list: $24.98).
The Collector's Edition is so impressive, however, that you might want to ask someone for a rock & roll bailout.
- Ken Richardson
LATEST VIDEO