The A-Box: an army-worthy iPod speaker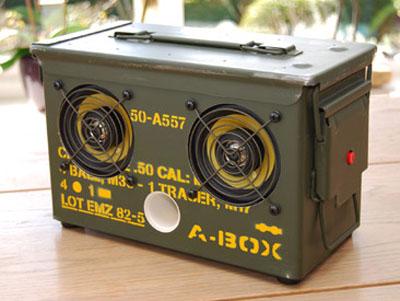 Now this is an iPod speaker system with some style. The A-Box from Thodio is an iPod speaker built inside an authentic ammunition box. Olive drab, metal, yellow stenciling, serious military chic.
The A-Box comes in two versions, a "light" model with twin 25-watt glass fiber speakers, and a "heavy" model with twin 75-watt woven kevlar speakers. The kevlar speakers are yellow, so they both match the stenciling and make the system look a little flashier.
Unfortunately, the A-Box isn't cheap. The light model costs EU350 (about $475), and the heavy model costs EU475 (about $650). Add that to the fact that Thodio is located in the Netherlands and you'll have to import your speaker directly from them, and you have a pretty pricey box.
— Will Greenwald
[Source: Crunchgear]
LATEST VIDEO
WHERE TECHNOLOGY BECOMES ENTERTAINMENT