The Bourne legacy
The first Bourne movie not based on an actual Robert Ludlum novel, Bourne Legacy gets quite a lot wrong, frankly. The story brings us back to the era of 2007's The Bourne Ultimatum, when extreme measures were being taken to maintain the secrecy of the covert, overly ambitious super-soldier program that created Jason. A whole new crop of men has become the subject of some risky new behavior/performance-enhancing experiments, and as one of these lethal lab rats, Aaron is desperate for answers—and the necessary meds to keep his edge—despite the nasty opponents pursuing him at every turn.
Possibly the biggest sin here is the same one director Tony Gilroy committed on his last outing, Duplicity: None of his characters is even remotely sympathetic. They do what they do and nothing more, in no way endearing themselves to the audience, so that the action (also a step down from the previous films) is just mediocre eye candy. The movie also takes too long to get going, raising too many questions before throwing lots of dull, talky, science-heavy answers at us. Gilroy is a talented scribe, but this one never should have been cleared for active duty.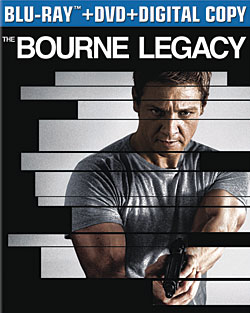 The Blu-ray looks pretty terrific at least, with a 2.4:1 image that boasts spectacular clarity as we shift from the pores and pockmarks of actor close-ups to breathtaking wide shots of unspoiled Alaskan wilderness. Legacy was shot mostly on film, with some portions utilizing digital video, and blacks are impressively deep and natural, while different portions embrace noticeably different color palettes. But for the occasional kiss of film grain, the picture is blemish free.
The DTS-HD Master Audio 7.1 soundtrack has its moments, too, beginning most memorably with a pleasingly robust explosion 'round bout the end of act one, following the nifty zipping of a missile across the soundfield. The entire movie displays a welcome richness in its sonic detail, evident in the quality of the recording and reproduction of the music. Sharp gunshots, a pharmaceutical factory, and the city of Manila are also wonderfully active all around us.
Gilroy and his cohorts provide an audio commentary, and three deleted scenes include their own optional track, while a series of short featurettes takes us behind the scenes. BD-Live and pocket BLU are supported, and a DVD and Digital Copy are also supplied.
Blu-Ray
Studio: Universal, 2012
Aspect Ratio: 2.40:1
Audio Format: DTS-HD Master Audio 7.1
Length: 135 mins.
MPAA Rating: PG-13
Director: Tony Gilroy
Starring: Jeremy Renner, Rachel Weisz, Edward Norton
I knew Jason Bourne. Aaron Cross (Jeremy Renner), you're no Jason Bourne.
LATEST VIDEO