Boston Acoustics MCS 130 Home Theater Speaker System
Personalize this.
I'm a bit reluctant to say this, but my experience with Boston Acoustics goes back a long way – to the days when the Boston Acoustics A40 and A70 speakers were the giants of the bookshelf speaker world. In fact, most of the Boston A-series speakers back then were highly regarded when it came to sound quality. Build quality was so-so but decent for late-1980s vinyl-wrap box cabinets. Just about any store that carried them sold tons of Boston Acoustics' bookshelf and floorstanding speakers, and they were proud to do it, too.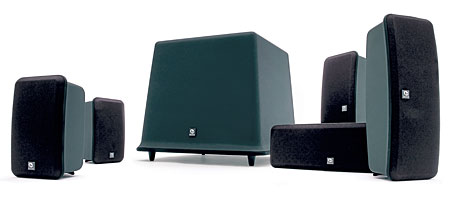 Over the years Boston Acoustics has had its ups and downs, as many companies that have been around longer than a couple of years are prone to. In just the last couple of years, after a particularly lackluster period, Boston Acoustics has re-emerged with a renewed energy (small "e") and focus. It's nice to see an old friend getting his game back on.
The new vibe at Boston Acoustics is plainly evident in the non-traditional products the company has started selling, such as the TVee Model Two, which is a two-channel TV-sound upgrade that includes a slim "soundbar" mounted on the TV and a wireless subwoofer. There is also the new shapely, multi-use SoundWare indoor/outdoor speaker that comes in seven standard colors. In other words, Boston Acoustics has decided to think outside the box – in a very literal way.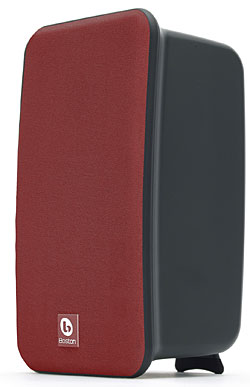 The $799 MCS 130 5.1-channel speaker package is one of the results of this new direction at Boston Acoustics. The configuration – three LCRs, two surrounds, and a powered subwoofer – isn't groundbreaking, but some of the characteristics of the speakers are.
The MCS 130's three LCRs incorporate a pair of 3.5-inch mid-bass drivers and a one-inch soft-dome tweeter (one of Boston Acoustics' claims to fame has always been its soft-dome tweeters.) The surrounds use a single 3.5-inch mid-bass driver with a one-inch soft-dome tweeter. The down-firing powered subwoofer includes a 10-inch driver and a built-in 200-watt amplifier. The back of the sub is pretty simple. There's a volume control, an auto/on/off switch, a polarity switch, and a line in jack. There are no high-level inputs, so you'll to connect it to a subwoofer pre-out on your receiver. All of the speakers are magnetically shielded.
It's the outsides of the speakers where you'll find the unique stuff. First of all, each speaker – including the subwoofer – uses rounded corners and sculpted cabinets with few parallel sides. Aside from the traditional benefit of eliminating standing waves inside the cabinet, the design makes the speakers look more modern and, at the same time, less "gadgety" or electronics-related. The subwoofer, a perennial pariah that most homeowners tolerate only because it's so absolutely necessary in a system, looks remarkably unsubwooferish. In fact, I think many people will dare to call it "cool looking".
There's a rubberized textured finish on all the speaker cabinets, too. It's not a shiny finish, so it has a softer appearance that goes well with the rounded shape. Another big plus is that it resists scratches and fingerprints.
The non-traditional design doesn't stop with the cabinets, however. The LCRs and surrounds use Boston Acoustics' P.O.P. (Personal Options Plan) grilles. Essentially, this means that although the speakers ship with Onyx-colored grilles, seven other colors are available to order from the company at any time. That means the system's looks can be personalized depending on the user's tastes and décor – and can be changed whenever a new look is desired. Since the grilles are sold separately and one-at-a-time, no two speakers need to look alike.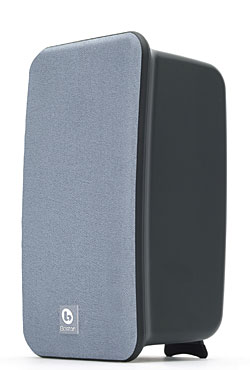 The cost for this flexibility isn't cheap, though. A single grille for one of the LCRs is $27.99. Grilles for the surrounds will set you back $19.99 each. The sub doesn't use a grille, so you're stuck with its color.
Before I get to how the system sounds, there's one more aspect of the speakers that I must commend Boston Acoustics for. I can't think of a bookshelf speaker that's been better designed in terms of mounting on a wall, a shelf, or a stand. Each speaker includes a kickstand-type foot on the back that can be placed vertically or horizontally at either the top or the bottom of the cabinet. The foot can be adjusted to angle the speaker down if necessary. Wall mounting can be accomplished by using the keyhole slot on the back.
Too often I've seen small speakers with keyhole mounts but no accommodations for speaker wire. The Bostons have built-in channels on the back so the speaker wire doesn't interfere with the mounting of the speaker when it's on the wall. When using a speaker with the included foot, the wire can be run along the channel and out through a hole in the foot, which helps keep the speaker wire neatly in place.
So, after all this buildup about how well-designed it is, how does this new Boston Acoustics speaker system sound? It sounds quite good, as a matter of fact, especially when it comes to the smoothness of the transition from the subwoofer to the satellites. Sometimes I like to torture myself by testing speakers with Loop 2.4.3's Batterie CD. They're a percussion duo that, as some people say, goes beyond conventions by hitting just about anything that will make a noise. Throughout the entire range of bass beats and impacts, the subwoofer was never once localizable. Nor was there a perceptible bump or dip as the frequency of the playback crossed from the sub to the satellites. Although they're small, I crossed over the satellites at 60 Hz in my receiver's setup, which seemed to give the best results in my room. Boston Acoustics recommends setting the subwoofer's low-pass filter at 120 Hz, but 80 Hz worked fine for me.
The imaging was excellent, as you would expect from a Boston Acoustics tweeter. It could get a tad shrill, though, when playing back upper octave female voices. One of my wife's favorite CDs, Erin Bode's Over and Over, is sibilant-happy – and tough to listen to on most systems. Listening to it with the Boston speakers got a bit fatiguing. On the other hand, with music from both Diana Krall and John Gorka, the sound was very smooth and natural.
Of course, you shouldn't expect the satellites in an $800 5.1-channel system to sound like an expensive pair of floorstanding speakers, and these don't. They're definitely not as full or as open in the midrange as a larger set of speakers would be, which I noticed on Telarc's Michel Camilo: Rhapsody in Blue SACD. With orchestral music like this, the system doesn't have an overly majestic sweep – but they're very good for the money, nevertheless.
It's a fine system for movies, too. On the Blu-ray version of X-Men: The Last Stand, just before Phoenix rises out of the water to meet Cyclops early in the movie, Cyclops is surrounded by the sound of Phoenix calling his name from all directions. The MCS 130 system worked as well as, if not better than, almost any other small HTiB speaker system in producing this haunting, surrounding effect.
The bass response of the system is good for movies, but it doesn't go down quite as low as a dedicated $500 sub would go. Here again, as part of an $800 system, it's not fair to expect that kind of performance.
On the whole, Boston Acoustic's MCS 130 system offers excellent performance for the money, and it's a perfect system for small to moderate size rooms. When you consider the cool and useful design elements, it makes the package a truly great value, and it should definitely be considered for anyone looking to spend between $500 and $1,000 for a 5.1-channel speaker system.
Highlights
• Sculpted cabinets and colored grills look cool but not "gadgety"
• Design makes wall-mount easy, with channel for speaker wires
• Excellent performance for the money