The Bob's Burgers Movie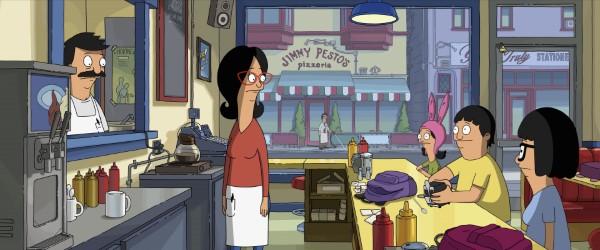 My fondness for Bob's Burgers extends all the way back to the first episode in 2011. The writing and performances are on par with the very best sitcoms, the animation has a style all its own, and they've kept us hooked on the lovably losery Belcher clan through week after week of uproarious antics.
One of the best things I can say about The Bob's Burgers Movie is that it really is a movie, taking more than a page from the Simpsons playbook in their leap to the big screen earlier this year. The filmmakers walk that tightrope of fitting in with what came before and what will follow while giving audiences ample reason to get off the couch for an experience they can't get in a 22-minute dose.
A murder mystery rocks the quiet town of Seymour's Bay when a sinkhole opens in front of the restaurant to reveal a long-buried skeleton, wreaking havoc with Bob's business just as the bank threatens to repossess their kitchen equipment. As a carrot for longtime fans, we're also given the origin of Louise's trademark ear hat.
Visually, there's no mistaking this for a TV show, thanks to the 2.39:1 aspect ratio, the thinner line art, fine patterns in the backgrounds, and multiple dance numbers incorporating actual choreography with motion that is consistently fluid. Depth and lighting are more lifelike, not attempting Pixar-level photo-realism, nor should they. And the design and execution of the animation is upgraded, notable in the harder geometry of the Wonder Wharf attractions.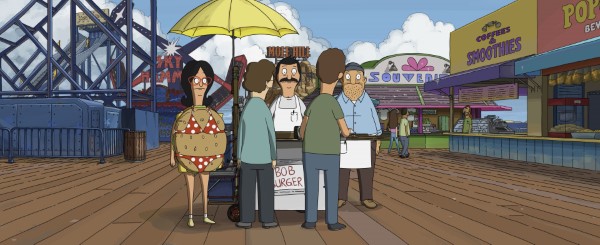 Colors, too, have a lovely aura to them, flaunted in scenes such as Tina's fantasy horseback ride along the beach at sunset with Jimmy Jr. There is a 4K disc to be had, the Best Buy-exclusive SteelBook edition, long since sold out. Still, even in standard dynamic range, this HD/1080p version is clean and extremely enjoyable.
The DTS-HD Master Audio 5.1 soundtrack likewise is big and engaging with a pleasing level of surround activity. There are songs, which I like, although my wife remarked how disagreeable the singing voices are. I let it go, although indeed, some folks are more noticeably auto-tuned than others. The movie's musical score is further distinguished by a generous variety of dramatic horns.
The audio commentary features all five lead actors and others, and some of the deleted scenes and animatics have optional commentary of their own. A theatrical short serves up another catchy tune, and a video essay from co-creator Loren Bouchard warmly sums up the show's history and movie.
Blu-ray STUDIO: 20th Century Studios, 2022
ASPECT RATIO: 2.39:1
HDR FORMATS: none (SDR)
AUDIO FORMATS: DTS-HD Master Audio 5.1
LENGTH: 102 mins.
MPAA RATING: PG-13
DIRECTORS: Loren Bouchard, Bernard Derriman
STARRING: H. Jon Benjamin, Dan Mintz, Eugene Mirman, John Roberts, Kristen Schaal, David Wain