B&O Debuts WiSA-based Wireless Theater System
With the introduction this week of the BeoLab 17 compact speaker, BeoLab 18 column speaker, and the BeoLab 19 powered subwoofer, luxury A/V manufacturer Bang & Olufsen has begun marketing its first component-quality wireless music system and the first wireless system from anyone to offer WiSA certification.
WiSA, the Wireless Speaker & Audio Association, is an industry consortium of manufacturers that has adopted a system developed by Summit Technology that wirelessly sends up to eight channels of uncompressed audio with 24-bit/48 kHz resolution to powered speakers equipped with Summit's receiver technology. Only one other speaker manufacturer, Aperion Audio, has offered a multichannel, WiSA-based speaker system to date, in 2012 before WiSA introduced its product certification program. That system is no longer offered. A test report by Home Theater magazine, recently merged into Sound & Vision, revealed some flaws with the Aperion system's ergonomics (none of which are found in B&O's execution), though the review heaped praise on the robust, high quality wireless connection. B&O officials at the company's New York City launch event commented that only the arrival of a system of this caliber allowed B&O to finally develop a wireless option for its highest quality home music and cinema products.
Sold under the marketing banner of what B&O is calling "Immaculate Wireless Sound," the new system includes the three new speakers and a transmitter module, the BeoLab Transmitter 1, which has now been fully integrated into the company's BeoVision 11 LCD HDTV series but is also available separately for retrofit to the company's earlier BeoVision 11 models or traditional 3rd party audio systems.
BeoLab 18
The top of the line BeoLab 18 ($6,590/pair, add $1,390/pair for the handcrafted natural oak lamella), is a wireless reimagining of the BeoLab 8000, a 1992 floorstanding column speaker that was regaled as much for its breakthrough industrial design as for its sound quality, and was acknowleged by company officials to be the company's best known and most iconic product. This new version sports a smaller, more subtle base while retaining the aluminum shaft housing of the original, but notably departs with a finned lamella protective grille that follows the curvature of the column and, in its native oak offering, deliberately mimics the look of a classic organ pipe (black or white fins are also offered). The unusual grill has he advantage of also providing a clear opening in an otherwise all metal metal speaker for the antennas that are required to communicate with the transmitter.
Sonics are delivered by a pair of B&O-designed 4-inch midrange/woofer drivers powered by two internal 160 watt Class D switching amplifiers; digital processing is used to custom-tune the sound and extract deeper bass from the low-volume cabinet, while helping to cancel effects that would otherwise be introduced by placing the lamella in front of the two main drivers. A 0.75-inch dome tweeter sits atop the speaker pointing into B&O's Acoustic Lens diffuser, an innovation first introduced in the company's BeoLab 5 speakers in 2003. The technology is intended to provide a more omnidirectional soundfield and widen or eliminate the traditional restrictive sweet spot. A room position switch also helps tailor the sound based on the speaker's location. Like the other B&O wireless speakers, the only cord required is for AC power to the receiver and amplifiers.
BeoLab 17
The compact BeoLab 17 ($3990/pair) features striking design it its own right; it's about as far from a traditional "box" speaker as you can get. It's quasi-triangular shape is formed from a single piece of brushed aluminum; though none of the sides shares the same width. Besides offering an unexpected visual, the intentionally off-kilter design offers aiming and placement and options, which include tucking the speaker into the junction of a wall and ceiling with a hanging bracket. Short or tall aluminum pedestal stands are an option as well. Interchangable grilles include cloth in a several colors and an unusual "broken ice" insert. The top and bottom end-caps are available in either white or black. Each speaker utilizes a custom 6-inch mid/woofer and .75 inch tweeter driven by dedicated 160-watt Class D amps, and employs digital sound processing to optimize the performance.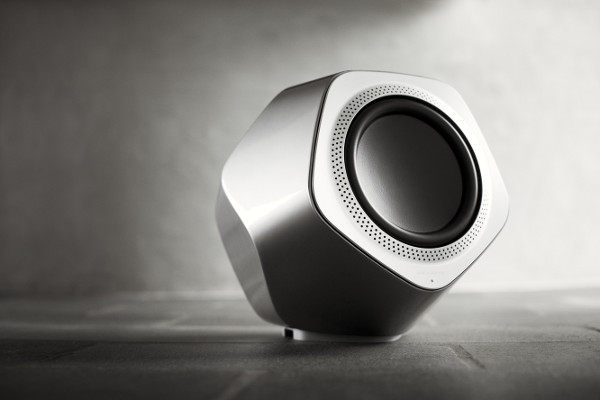 BeoLab 19 Subwoofer
Perhaps the most surprising entry in the lot is the BeoLab 19 powered subwoofer ($3,395). It's 12-sided cabinet houses a pair of 8-inch drivers firing from the front and back via dedicated 160 watt Class D amps; they operate in phase to eliminate cabinet vibration. The shape—technically called a dodecahedron, or twelve-sided polyhedron—was chosen for both it's beauty and structural rigidity, not to mention the elimination of standing waves inside the cabinent. The case is made from an formed composite material with internal bracing, then painted with a high quality matte black, gloss white, or gloss grey metallic finish. A perforated aluminum trim piece around the front driver is essentially cosmetic but successful addition, and is said to have taken its inspiration from an aircraft jet engine.
BeoLab Transmitter 1
The BeoLab Transmitter 1 ($525, or $262 for owners of first generation BeoVision 11 HDTVs) can send all eight channels of a 7.1 system throughout a room, using the WiSA platform's relatively uncongested 5.2-5.8 GHz transmission range, known as the U-NII (Unlicensed National Information Infrastructure) band. The unit is is integrated now into B&O's BeoVision 11 HDTVs; BeoVision 11 owners who purchased the set prior and wish to take advantage of the new wireless speakers can purchase the standalone unit for half-off. Along with analog inputs for 8 channels via Cat7 RJ45 ports (B&O can provide RCA adapters), the Transmitter 1 also has a single stereo RCA input and a TosLink optical audio input which can be assigned among the 8 channels. BeoVision 11 owners (or their installers) benefit from onscreen setup and selection menus—the HDTV is equipped to function as a surround processor—while retrofitting the Transmitter 1 to a traditional system would involve manual channel assignment via switches on the rear panel.
Music and movie demonstrations were conducted at the launch event of the two speaker systems in stereo and a full 5.1-channel system that featured a pair of BeoLab 18 towers as left and right mains, BeoLab 17 compacts as surrounds, and the BeoVision 11's high quality two-way/four-driver built-in speakers as the center. The sound was initially impressive despite the highly reflective, glass-walled environment of the luxury hotel suite, with a large and well-projected image being the most immediately noticeable hallmark. An explosive and ambient clip from the movie Bourne Legacy proved highly dynamic and engaging, and music clips reproduced with lifelike size and detailed vocals.
All of the new Immaculate Wireless products will be available to B&O customers in the U.S. as of November through the brand's 53 affiliated stores.