Bluetooth Headed for a Major Upgrade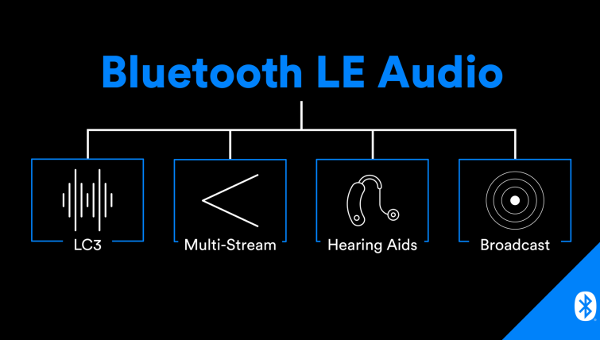 Although you may use it every day, you probably never stop to think about Bluetooth, the wireless signal-transmission standard that connects your earbuds to your phone or your phone to your car's electronics system and makes it possible to stream music from your phone (or laptop/PC) to a compatible speaker. Well, here are a couple facts that may surprise you:
1. The technology has been around for more than two decades.
2. Upwards of 1 billion Bluetooth-enabled audio products shipped in 2019.
In a word, Bluetooth is pervasive. The technology has been refined over the years but is about to undergone a major upgrade with the release of the new LE Audio format that the Bluetooth Special Interest Group (SIG) says will enhance audio performance, add support for hearing aids, and enable audio sharing that will "transform the way we experience audio and connect with the world around us."
The format will support both Bluetooth Classic (a.k.a. Bluetooth Basic Rate/Enhanced Data Rate, or BR/EDR) and Bluetooth Low Energy (LE), which will be used to develop audio products with improved performance and new features.
Let's take a closer look at these new features.
Improved Audio. Bluetooth LE will be built around a new low-power audio codec designed to deliver high-quality audio even at low data rates. Developers will be able to "make better design tradeoffs between key product attributes such as audio quality and power consumption," according to SIG.
"Extensive listening tests have shown that LC3 (Low Complexity Communication Codec) will provide improvements in audio quality over the SBC codec included with Classic Audio, even at a 50% lower bit rate," said Manfred Lutzky, head of audio for communications at Fraunhofer IIS. "Developers will be able to leverage this power savings to create products that can provide longer battery life or, in cases where current battery life is enough, reduce the form factor by using a smaller battery."
Multi-Stream Audio. With this new feature, Bluetooth LE will enable the transmission of multiple, independent, synchronized audio streams between a smartphone (or other audio source) and one or more audio "sink" devices, such as wireless earbuds.
"Developers will be able to use the Multi-Stream Audio feature to improve the performance of products like truly wireless earbuds," said Nick Hunn, CTO of WiFore Consulting and chair of SIG's Hearing Aid Working Group. "For example, they can provide a better stereo imaging experience, make the use of voice-assistant services more seamless, and make switching between multiple audio source devices smoother."
Better Hearing Aids. Bluetooth LE will enable the development of hearing aids that bring all the benefits of Bluetooth audio to the growing number of people with hearing loss.
"LE Audio will be one of the most significant advances for users of hearing aids and hearing implants," said Stefan Zimmer, secretary general of EHIMA, the European Hearing Instrument Manufacturers Association. "EHIMA engineers have contributed their specialist knowledge to improve the audio experience especially for hard of hearing people. As a result, within a few years most new phones and TVs will be equally accessible to users with hearing loss."
Personal and Public Audio Sharing. Bluetooth LE-equipped audio sources will be able to broadcast one or more audio streams to an unlimited number of audio "sink" devices, such as earbuds or speakers, for personal or location-based audio sharing. With personal sharing, family and friends can enjoy music from one smartphone. With location-based sharing, announcements and other audio information can be shared among people in airports, bars, gyms, cinemas, conference centers, and other public venues.
"Location-based audio sharing holds the potential to change the way we experience the world around us," observed Peter Liu of Bose Corporation and member of the SIG's board of directors. "For example, people will be able to select the audio being broadcast by silent TVs in public venues, and places like theaters and lecture halls will be able to share audio to assist visitors with hearing loss as well as provide audio in multiple languages."
Specifications for Bluetooth LE are expected to be released over the coming months.
Click here for a historical look at the development of Bluetooth. For information on LE Audio, visit Bluetooth.com.