Blu-ray Review: Beauty and the Beast (1946)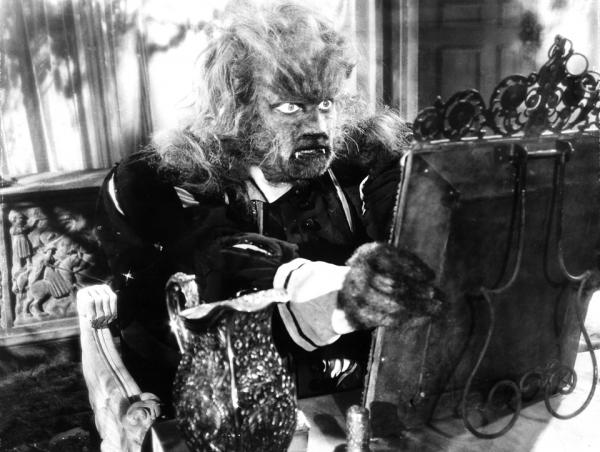 La Belle et la Bête, Jean Cocteau's modernist and poetic interpretation of Jeanne-Marie Leprince de Beaumont's story, is full of symbol and metaphor but uses the simplest cinematic tricks to enchant and deceive. And now, it continues to work its magic on Blu-ray. Slow motion, reverse motion, and sets where chandeliers and torches are held by helpful hands jutting out from castle walls: All create a world from which the ordinary has been expelled.
On this magnificent disc, there are two soundtracks — which, in effect, create not merely two films but two utterly different experiences. There is, of course, the masterful 1946 score by Georges Auric, but there's also the 1994 opera by Philip Glass that was originally composed to be performed on stage while the film was screened behind, with the singers syncing their sung dialogue to the movie actors' lip movements.
Auric's score, in uncompressed PCM mono, is a composition of romance and big momentous waves of strings and horns that beguile and seduce. Choirs combine with or echo the instruments in a glorious, sweeping sea of music. Sadly, though, despite being restored in 2002, the 65-year-old recording is a bit screechy and hissy, sometimes breaking up in the higher registers, particularly at the beginning.
Glass's opera La Belle et la Bête, in DTS-HD Master Audio 5.1, is full and open, all channels engaged and engaging. The many organ-filled passages conjure the old accompaniments to silent movies. Other times, you're enveloped by harps from the surround channels while horns come flooding from the front. Voices are deep, clear, and sonorous. It's a superb, state-of-the-art soundtrack.
Once you've heard and seen each version, it's also fascinating to use the technology of home video to compare the composers' treatments of a scene and discover how they bring forth the dreamlike qualities in such different ways. Unsurprisingly, Auric is often more successful in this specific role. His more traditional, romantic themes fit the scenes without overwhelming them — assisted by the memorably majestic performance of Jean Marais as the Beast, with his mesmerizing voice. Glass, however, does employ his hypnotic cycle of strings to create an equally moving effect. Ultimately, each soundtrack has its pleasures — and the great thing about this disc is that you have both of them.
The transfer of the 1.33:1 picture is glistening and crisp, with excellent contrast. There are rich blacks in the Beast's cloak and the outfits of pilgrims — whose collars, meanwhile, are as bright white as their souls. There's always plenty to see in the deep images, and the wide range of grays allows for differentiation of each tree, twig, and leaf in the forest scenes. At times, visuals are purposely softened to add to the beautiful fairy-tale feel, but there's still a great amount of detail in close-ups; you can see individual hairs in the Beast's furry features. Thanks to the 2002 restoration and Criterion's usual digital handiwork, the picture has been cleansed of all scratches, damage, and debris.
Two soundtracks not enough? How about two commentaries? One, by film historian Arthur Knight, fills in the backgrounds of the film, the actors, and the writer/director, with much quoting of Cocteau's diarized ideas about each scene. The other commentary, by cultural historian Sir Christopher Frayling, is more astute and analytical, bringing out the aesthetics of a scene and the meaning of the story. He also discusses the film's quotations — from the works of painters, authors, and filmmakers as well as from Cocteau's own Surrealist-like creations.
Other extras include a featurette on the restoration of the film negative and the original audio, an interview with cinematographer Henri Alekan, and a stills gallery that allows a glimpse of the process of making up Marais into the Beast. Most wonderful, though, is an informative, intimate 30-minute French documentary from 1995 that looks back on the production, taking Marais and Belle actress Josette Day to all the locations where Cocteau created his astonishments.
LATEST VIDEO