Blow-Up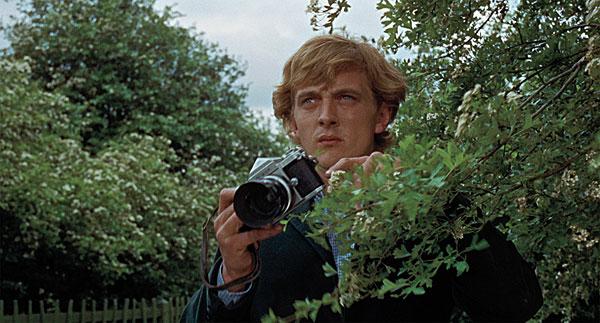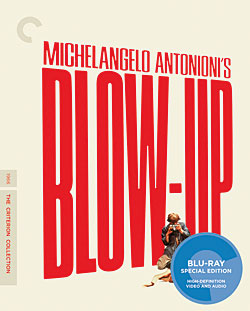 All these striking visuals look stunning in this beautiful fully restored, near-faultless, high-def transfer created in 4K resolution from original camera negative and a 35mm interpositive. Contrast is excellent, David Hemmings' slacks a bright white and Chelsea boots a deep black, with the drab gray and brown streets of London set off by the intensely rich colors of '60s fashions. Skintones—there's infamously a lot of skin in the film—are natural. Plentiful detail is revealed in see-through dresses, bare arms, and strands in feathers and dollybirds' hairdos.
Herbie Hancock's score—performed by him and many other other jazz greats including Freddie Hubbard on trumpet, Joe Henderson on tenor sax, Jimmy Smith on organ, and Ron Carter on bass—is mixed with pop and rock songs including the "live" performance of "Stroll On" by The Yardbirds featuring Jimmy Page and Jeff Beck both performing on guitar and Keith Relf on vocals, and they sound fab. All is well defined, full, and vibrant, with plenty of the required bass. Remastered from the original magnetic 2-inch 24-track DME/MFX track, all hiss and other damages wrought by the past 50 years has been removed. The all-important atmospheric, restlessly rustling trees and constantly clicking camera are very open natural sounding, while dialogue is clear (though it doesn't always make sense).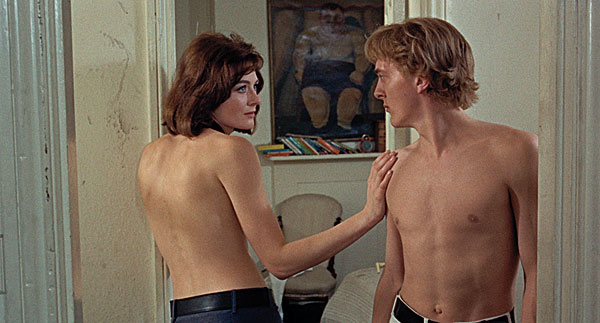 The fascinating, in-depth extras leave plenty to digest. They include a 2016 documentary with crewmembers talking about the production, an analysis of the film and Antonioni's themes from an art historian's perspective, and an interview with the director at Cannes where Blow-Up won the Palme d'Or. Wonderfully honest recent interviews with Vanessa Redgrave and Jane Birkin and an archival one with Hemmings that's illustrated with footage of the era and the shoot are all intoxicating and will inevitably lead to an even closer look at the film in search of its meaning.
Blu-Ray
Studio: The Criterion Collection, 1966
Aspect Ratio: 1.85:1
Audio: Linear PCM mono
Length: 111 mins.
MPAA Rating: NR
Director: Michelangelo Antonioni
Starring: David Hemmings, Vanessa Redgrave, Sarah Miles
Auteur Michelangelo Antonioni set his story of a photographer who gradually looses perspective in the perfect place—swinging London of 1966. In the course of his jam-packed day, the freewheeling image-obsessed artist goes undercover in a shelter to snap pictures of homeless men, physically invades the spaces of various vacuous fashion models, and stakes out a couple in the park to capture pictures of their private, intimate moments. Through his medium, he unwittingly witnesses something (maybe) and, through blowing up prints, explodes his own reality. Throughout, the disintegration of sense and sensibilities is reflected in Carlo Di Palma's abstracted images with heads or bodies blocked off by beams, scrims, and gels, figures lost in extreme long-shot landscapes, and objects transformed through changing their context.