Beta Version of New Dirac Live Now Available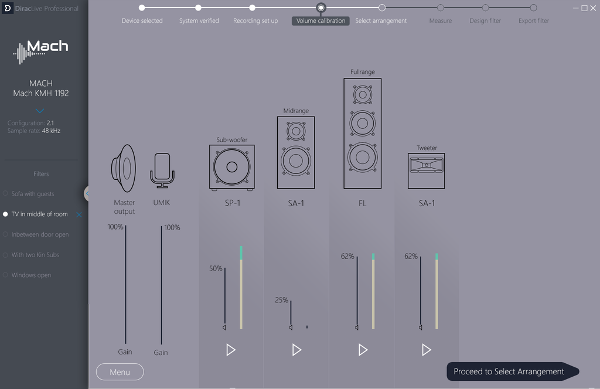 Dirac Research, the Swedish company specializing in sound optimization software, has announced that the beta version of its second generation Dirac Live room correction software is now available for owners of Arcam, Lexicon, AudioControl, and NAD gear, with broader availability to follow.
The updated version of Dirac Live, which will be demonstrated next month at CEDIA 2018, features a refreshed user interface (UI) that's less technical than the previous version, a simplified system setup procedure, upgraded technical performance, and multi-language support, according to the company.
Usability has been improved through the use of a new "highly-intuitive app that uses a more guided process" to confirm optimal settings are being implemented. New mobile compatibility also provides users with increased flexibility whether they use a laptop, tablet, or smartphone for set-up.
In addition to English, the new Dirac Live also supports Spanish, French, Mandarin, Japanese, and Swedish languages.
On the technical side, Dirac has incorporated an enhanced phase correction algorithm to improve stereo reproduction. Whereas the previous version of the software measured the phase of each stereo speaker individually, the new version also analyzes speakers in pairs to ensure the phase responses are matched to each other.
The new Dirac Live has also been reconfigured as a modular platform with "Dirac Live Modules," which will allow users to customize performance. "Our modular approach to the future of Dirac Live will allow our platform to forever be equipped with the last and greatest in room correction functionality," explained Niklas Thorin, Dirac's general manager of high performance audio.
"As new features are developed, we can efficiently deliver them to the market as 'Dirac Live Modules', so users can customize their platforms based on individual requirements and use-cases," Thorin continued. "Home theater systems aren't one-size-fits-all so neither should be their room correction solutions." Dirac expects to release new modules roughly on a yearly basis.
"Dirac Live has served as the industry's reference room correction solution since it was first unveiled over five years ago," Thorin said. "It established a new standard in room correction technology and allowed home theater systems to achieve a new degree in acoustical perfection. However, new UI design and technical advancements have inspired us to reimagine the Dirac Live solution for its second generation — combining the brilliance of the first-generation solution with recent market developments to usher in a new era of Dirac Live."
For more information on Dirac Live and to sign up to receive a beta installation package, visit, dirac.com.
Related:
Dirac Live Room Correction Now Available for Hi-Res Audio Streaming
Ridding the World of Bad Sound: 15 Minutes with Dirac Founder Mathias Johansson